Switching on to IP
April 2011
When Mr. Noh Si Chung set up his business in Yangju City, Republic of Korea (ROK), in the mid-1970s, intellectual property (IP) was not at the forefront of his mind. His company, Feelux Lighting, suffered the consequences of this in the 1990s, when it found it was powerless to fend off competition from an overseas competitor that undercut its business by imitating its most successful product. This bitter experience triggered Mr. Noh's interest in IP and brought about a transformation in his company's approach to managing innovation and IP. This article takes a closer look at the experiences of this medium-sized company and the lessons it learned about the importance of integrating IP into its business strategy to drive its commercial success in the highly competitive lighting sector.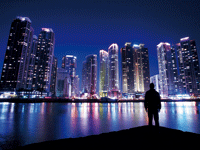 Image from Feelux Lighting Museum's
Campaign to raise awareness about the
seriousness of lighting pollution. (Photo:
Feelux Lighting)
In the 1990s, the mainstay of Feelux's commercial activity was its triple wavelength bulb, a product that was similar to, yet distinct from, those then sold by other market leaders, such as Osram and Philips. The company's order books were full and sales were expanding for this competitively priced product. In 1994, however, Feelux fell foul of an overseas competitor that had copied its technology and undercut its revenues by selling triple wavelength bulbs at a fraction of Feelux's retail price – Feelux was charging US$12 per unit whereas the competitor was selling identical units for US$3. Absent a patent or any other IP right, the company was unable to defend itself against these predatory practices – with devastating consequences. A year later, Feelux was forced to shut down its manufacturing operations for triple wavelength bulbs. To make matters worse, a number of companies dropped Feelux as a supplier of lighting components.
Bruised from these bitter experiences and recognizing how vulnerable his company was without an IP strategy, Mr. Noh resolved, from then on, to "never develop or produce products without a patent." Today, the company is a champion of IP.
Through its extensive research and development efforts, its commitment to innovation and to the use of IP, Feelux has emerged as a leading high-end lighting technology company. Feelux, "is positioning itself as one of the most competitive electronic and lighting companies in the world," notes Mr. Noh.
Today, IP is a hallmark of Feelux's business culture. On arrival, new employees are versed in the company's approach to IP. Twice each year, all employees are offered IP rights training programs. The company has developed a database of its IP assets, including details of existing patent holdings, patent applications, other ongoing projects and ideas submitted by employees. This provides a bird's eye view of the status of the company's IP holdings.
Feelux has its own IP department, which enables it to cut costs and ensure efficient handling and management of its IP interests. The department's expertise offers a cost-effective alternative to paying patent attorneys' fees, generating significant savings for the company. The IP department files the company's trademark and design applications directly, monitors uses of these rights, identifies infringing activity and generally oversees the company's branding strategy to ensure its trademarks remain distinctive and do not become generic.
The IP culture characterizing Feelux's business operations encourages employees to submit innovative ideas to weekly "ideas meetings". An employee compensation system, introduced in 2008, further encourages innovation by rewarding the employee-inventor. Under the system, every employee carries a special "idea" notebook in which to record new ideas. These are reviewed at weekly meetings. Employee engagement in this process is reflected in performance assessments, with five idea submissions being considered equivalent to an idea that management deems a suitable candidate for patent protection. Twice each year, the company organizes an exhibition featuring the 20 best ideas submitted, from which it selects those it believes worthy of patent protection. The employee responsible for each selected idea receives a cash reward upwards of US$1,000 depending on its business value and degree of creativity. In 2009, 115 ideas were displayed, of which 13 were selected for patent protection.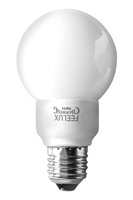 Feelux has taken full advantage of government programs for small and medium-sized enterprises (SMEs) designed to improve the sector's management and use of IP rights. The company's remarkable commitment to IP, its growth potential and its "outstanding patented technology" resulted in its winning the Republic of Korea's Patent Star Award in 2008. The US$60,000 prize that accompanied the award is being used by the company to further improve its IP management systems.
In 2009, the government's forward-looking SME development program, through which IP experts support businesses in managing their IP assets, provided Feelux with expertise equivalent to some US$45,000. A government brand development program for SMEs also enabled the company to enhance its trademark portfolio and to acquire its "Orchestra of Light" trademark in Russia.
"Patents have enabled us to increase our sales by up to 60 percent," said Mr. Noh. Now that Feelux has integrated IP into its business strategy and operations, it "can confidently market its innovations," and command premium prices for its products, without fear that competitors will "free-ride" on its technology and infringe its rights.
Today, Feelux has an impressive patent portfolio of 201 patents in 11 countries and a further 165 patent applications pending. The company has also filed a number of international applications through WIPO's Patent Cooperation Treaty (PCT), which facilitates the process of obtaining international patent protection. Additional revenue streams have been created by selling and/or licensing certain technologies which the company is not in a position to exploit. These are identified by undertaking regular IP audits, a process that is greatly facilitated by the existence of its IP database.
Innovation is a key factor in enabling companies to remain competitive; but, innovation without adequate IP protection can spell disaster. An effective IP strategy enables a company to sharpen its competitive edge and to secure its long-term financial interests. Feelux's commitment to IP is yielding significant dividends for this highly innovative company. Its experiences underline the critical importance of integrating an IP focus into business strategies.
About Feelux
Established in 1975
Activity: Designs and manufactures high-end innovative lighting products
Headquarters: Yangju City, ROK
Sales office: Seoul, ROK
R&D center: Weihai, China
Overseas network: 8 subsidiaries in China, Indonesia, Malaysia, the United States and Singapore
The company's Lighting Museum traces historical developments in the use of lighting – from torches, candles and oil lamps to the electric light bulb, fiber optics and LEDs (light-emitting diodes). It also features a Lighting Art Pavilion that introduces an exciting world of light to children and adults. In the Sun in Home (SIH) System Pavilion, the company demonstrates the influence of light on human well-being. The company's trademarked SIH System - an adjustable-color temperature and illumination system - is based on a lighting philosophy rooted in the hypothesis that lighting conditions influence mood and mental health. Cool light is associated with greater alertness and is thought to assist concentration; warmer tones are associated with a more mellow and relaxed state and enhanced mental well-being.
Every autumn, Feelux organizes a Lighting Concert combining lighting and music to showcase the company's latest products. Its Dreaming Tomorrow Training Center is a cultural facility, offering a range of lighting experiences and training programs for the general public, employees, engineers and designers.
In 2004, Feelux obtained ISO 14001 status as an environmentally-friendly company.
by Alexander Park and Cathy Jewell
The WIPO Magazine is intended to help broaden public understanding of intellectual property and of WIPO's work, and is not an official document of WIPO. The designations employed and the presentation of material throughout this publication do not imply the expression of any opinion whatsoever on the part of WIPO concerning the legal status of any country, territory or area or of its authorities, or concerning the delimitation of its frontiers or boundaries. This publication is not intended to reflect the views of the Member States or the WIPO Secretariat. The mention of specific companies or products of manufacturers does not imply that they are endorsed or recommended by WIPO in preference to others of a similar nature that are not mentioned.