FESMAN III – A Global Celebration of African Culture
For three weeks at the end of December 2010, Dakar, Senegal, was the cultural capital of Africa in its role as host to the Third World Black Arts Festival – also known as FESMAN III. The event attracted some 3,200 participants, including several heads of state, as well as accomplished artists and creators from 80 countries. A celebration of African arts and culture, the Festival offered a rich program of conferences, exhibitions and musical and cultural events. In this article, René Massiga Diouf, a journalist with Senegalese National Television offers a taste of what was on offer.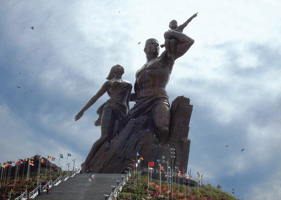 African Renaissance Monument, Dakar, Senegal. Bronze
statue designed by Pierre Goudiaby. (Photo: Montillot)
In December 2010, Senegal set the stage for a global celebration of the wealth and diversity of African traditions, culture and achievements, bringing together artists and intellectuals from dozens of African and African diaspora countries, including the United States, Brazil, Haiti, France and Cuba. The Festival was an invitation for all those who share a common African heritage to showcase the richness and variety of African cultures. As the Festival's Artistic Director, British playwright and actor, Kwame Kwei-Armah put it, the Festival was "an exercise in asking fundamental questions about Africa's place and how it relates to the rest of the world and how it intends to move itself into the 21st and 22nd centuries."
The expansive program, which reflected the theme of the Festival - "African Renewal, Cultural Diversity and African Unity" – was broad and diverse, ranging from modern and traditional musical concerts and dance shows to plays, exhibitions, fashion shows, literary cafés and conferences. An unprecedented line-up of artists, actors, musicians, and creators were featured, representing 16 disciplines, including, the visual arts, photography, dance, theatre, music, design, fashion, crafts, literature, sculpture, architecture and urban culture. Brazil, "a country rich with artistic cross-pollination and cultural diversity" and with some 80 million inhabitants of African descent, was invited as the guest of honor. Some 200 Brazilian artists showcased Brazilian heritage, arts, traditions, music and cuisine throughout the Festival.
History of the Festival
The First World Festival of Black Arts was set up in 1966 in Dakar by Senegal's first President Léopold Sédar Senghor and was organized around the theme, "Significance of Black Art in the Life of People and for the People". It was an opportunity to celebrate African creativity and "to allow artists of black origin to be known and appreciated in an atmosphere of tolerance, mutual esteem and intellectual fulfillment." The second Festival took place in Lagos, Nigeria in 1977 around the theme, "Black Civilization and Education." Many eminent personalities from across the globe participated in each of these prior events.
The 2010 Festival "conveys a new vision of Africa as free, proud, creative and optimistic" and emphasized "dialogue between peoples and cultures,"1 according to the event organizers. Mr. Kwame Kwei-Armah said the Festival was, "about the Africa we want to create for tomorrow. It's about artists across disciplines talking about the future of their art form."2 He noted that a multi-disciplinary festival such as Fesman was important because "art can be a magnificent catalyst for debate on any subject … we are using these art forms to articulate a new African identity, to articulate African renaissance."
The opening ceremony, which took place in the Léopold Sédar Senghor stadium on 11 December 2010, set the tone of the Festival, highlighting the richness of African culture. Renowned African artists such as Manu Dibango, Toumani Diabate, Angélique Kidjo, Baaba Maal, Ismaèl Lô and Youssou Ndour, performed before an audience of 50,000 people, including several African heads of state. In a spectacular sound and light show, the Ivorian choreographer Georges Mamboye brought together on the stage some 2,000 dancers from across the continent to portray the history of black peoples from ancient Egypt through the slave trade to the independence of African nations and the current African renaissance movement.3 Underscoring the theme of unity, the choreographer noted, "I think that culture will be the best way to reconcile everyone… What I wanted in this choreography was to get away from African roots… and give them a contemporary tone."
In his remarks, Senegal's President Abdoulaye Wade recalled that the message of the Festival was not only to contemplate the Continent's "brilliant past", about which Africans "should be proud" but to build its future and to strengthen relations within Africa and diaspora countries. He appealed for unity and said, "Let us refuse to remain in stagnation while our continent is rich but which… has been impoverished."
(Photos: Festival)
Reggae singer Tiken Jah Fakoly from
Côte d'Ivoire at FESMAN III.
Internationally recognized afro-pop
singer-songwriter, Salif Keita from Mali
at FESMAN III.
The Festival's rich and varied program also offered an opportunity to reflect on the contribution of African peoples to human progress. It included a series of roundtable discussions on issues of major concern featuring eminent intellectuals from Africa, Europe, the United States and diaspora countries. These included different aspects of the African renaissance, the impact of the African brain drain, and the contribution of black peoples to science and technology, art and culture. Speakers included the Senegalese philosophers, Professor Souleymane Bachir Diagne and Mr. Mamoussé Diagne, Dr. Cheikh M'Backé Diop, Congolese historian, Mr. Théophile Obenga, Egyptian economist, Mr. Samir Amin, and many others.
The eminent Senegalese writer, historian, politician and President of the Forum and Colloquium Commission, Professor Iba Der Thiam, predicted that "Africa will be the continent of the twenty-first century". In his view, the biggest challenge lay in releasing Africans from the dictates of imposed thought. He called on intellectuals to do their utmost to support a process of "mental decolonization".
Many commentators recognized that the continent enjoys impressive wealth and acknowledged the view that "Africa is not poor, it has been impoverished" and that the real battle lies in its future restoration and "construction".
The roundtable discussion on the contribution of black peoples to science and technology underscored the many scientific and technological achievements of the peoples of Africa and diaspora countries. It offered a forum to exchange ideas on ways to enhance cooperation between Africa and diaspora countries in the use of science and technology for sustainable development in Africa. WIPO's representative in the debate, Mr. Marc Séry-Koré, said that an effective intellectual property system is an essential element in creating a favorable environment for scientific and technological innovation, effective knowledge transfer and the commercialization of goods and services. These, he stressed, were essential factors in enabling social, economic and cultural development in Africa and the continent's full integration into the global knowledge economy.
Two other roundtables organized by WIPO provided an opportunity for policymakers, film producers, artists, consumers and many other stakeholders to explore the link between IP protection and the promotion of the arts, culture and innovation in Africa and beyond. Participants exchanged views on the various challenges confronting African creators, particularly the menace of counterfeiting and piracy, which was threatening the livelihoods of many of them. These events helped raise awareness among the artistic community about copyright and how it can be used to license, distribute and commercialize creations in Africa and across the globe.
A range of literary activities enabled members of the public to meet with leading African authors and stimulated debate among school children and students about the challenge of African renewal. Theater productions about African tradition helped many of them to understand the origin of Negro-African civilization.
Concerts were also held in several cities across the country. In Dakar, these featured major names from the world of music, including Wyclef Jean, To Face Idibia, Angélique Kidjo, Akon, Salif Keita, the great diva, Aïcha Koné, Bembeya Jazz, Lokua Kanza, and the French rapper Saïd M'Roumbaba alias Soprano. The party atmosphere also spread to regions such as Saint-Louis and Ziguinchor, where artists including Alpha Blondy, Tiken Jah Fakoly, Youssou Ndour, and Urban Bush Woman performed. The Beninoise singer-songwriter, Angélique Kidjo said, "as an artist, to celebrate the richness of African culture that goes beyond the borders of Africa is an honor, a joy." An Ivorian singer interviewed by the Senegalese newspaper Festival noted that "an event of this scale gives a different image of Africa… an event of this kind enhances African culture. The other Africa, the Africa which is not continually crying. With Fesman III, it is an Africa which is not wailing but is laughing. We are celebrating love and our culture".
The continent as a whole lived in time with the Festival. Access to the event was free of charge to encourage broad participation. Two purpose-built Festival villages (in Ngor and Almadies) each offering 2,400 places, were home to the many performers who displayed cultural aspects of their respective countries, highlighting the specific character of their identity in this area. A dancer from the Moroccan delegation confided, "Our group performs all kinds of urban dances, the atmosphere is explosive here, we show what we are able to do, which is the essence of our being as Moroccans and Africans, and we are happy to express all our talent before such an audience". Another performer from Mali, Victor Sangaré, thought the village was a great idea, bringing people into contact with each other. Here "it is total involvement," he noted. For Kwame Kwei-Armah the artist's village was "like the UN… you sit in the cafeteria and Mauritians are jamming, the Guadeloupeans are giving impromptu readings – it's artistic heaven,"4.
This three-week cultural extravaganza, billed as the biggest global celebration of black culture, has been characterized as "an unqualified success" by Senegal's President Abdoulaye Wade.5
The director of the Festival, Mr. Abdul Aziz Sow, speaking at the end of the 3-week extravaganza congratulated all the artists and festival-goers. He said that the event had "not only been one of singing and dancing, but of a sober reflection during plenary sessions during which intellectual discourses focused on the past and future role and contribution of black people in developing the creative art and culture sector." The reflections resulting from these discussions will, he noted, help shape the future of arts and culture in Africa and the world as a whole.
WIPO: an official partner of FESMAN III
WIPO was a natural choice as an official partner of the Festival given its commitment to developing a balanced and accessible international IP system which promotes and rewards creativity, stimulates innovation and contributes to economic development while safeguarding the public interest.
The Organization's participation in this major cultural event offered an opportunity to raise awareness about how strategic use of an effective IP system can bring economic, social and cultural benefits. In taking the initiative to organize the Forum on Intellectual Property in Art and Culture on December 17, 2010, the Organization was able to reach out to members of the artistic community, intellectuals, policymakers, consumers and other stakeholders to explain the role of copyright in safeguarding the interests of African creators and in promoting cultural development generally.
___________________________________
1 http://blackworldfestival.com/wp/en/spirit/foreword/
2 http://artsbeat.blogs.nytimes.com/2010/12/07/world-festival-of-black-arts-announces-lineup/
3 http://nehandaradio.com/2010/12/16/zimbabwe-enters-world-black-arts-festival/
4 www.guardian.co.uk/stage/2011/jan/03/world-festival-of-black-arts-kwei-armah
5 Reported by the Senegalese Press Agency

The WIPO Magazine is intended to help broaden public understanding of intellectual property and of WIPO's work, and is not an official document of WIPO. The designations employed and the presentation of material throughout this publication do not imply the expression of any opinion whatsoever on the part of WIPO concerning the legal status of any country, territory or area or of its authorities, or concerning the delimitation of its frontiers or boundaries. This publication is not intended to reflect the views of the Member States or the WIPO Secretariat. The mention of specific companies or products of manufacturers does not imply that they are endorsed or recommended by WIPO in preference to others of a similar nature that are not mentioned.