Raising IP Awareness in West Africa
In this article, the Director General of the African Intellectual Property Organization (OAPI), Mr. Paulin Edou Edou, explains how OAPI is reaching out to members of the public in each of its 16 member states to raise awareness about the economic, social and cultural benefits of effective intellectual property (IP) protection.
What is your main priority in raising awareness about intellectual property (IP) in OAPI member states?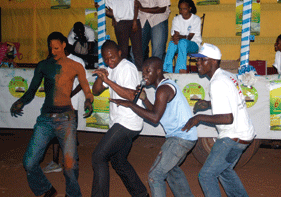 Singers performing at an OAPI outreach events (Photo: OAPI)
As IP is still rather an obscure and specialized subject in the OAPI region, one of our main priorities is to inform and educate our target audiences about IP, its role and advantages. IP information is key in this endeavor. We can't do anything without it. We are, therefore, working to improve access to information about the IP system and how it can support business and development interests. There is a great deal to be done to ensure researchers, academics, companies, students, magistrates and other legal professionals have a solid understanding of the importance of IP as a tool for economic development. The OAPI Action Plan, which covers 2007-2012 and which I launched in 2007, puts a great deal of emphasis on information and effective communication.
Why is IP awareness important in the OAPI region?
IP is an essential element in promoting economic development. Today, the countries with the strongest economic performance are knowledge-based. They use the IP system to add value to information, knowledge and ideas and to transform these intangibles into concrete economic assets. IP and economic growth are closely intertwined in today's highly competitive globalized economy. The countries in the OAPI region need to know more about IP in order to use it to promote economic development. Used effectively and strategically, IP has the potential to generate significant social, economic and cultural benefits - inventors and creators can earn a living, companies can advance business interests, researchers can leverage results and governments can promote economic well-being.
How is OAPI reaching out to its target audiences?
The OAPI Media Initiative allows us to communicate with our target audiences. The media – television and radio networks, newspapers, magazines, the Internet and journalists – are vital partners in helping us to communicate the message of IP.
Raising IP awareness among journalists – how IP works, why it is important – is another important aspect of the OAPI Media Initiative. That is why, in cooperation with WIPO, we regularly organize training seminars on IP for journalists. This helps them to better understand IP and its relevance to economic development. Thanks to these seminars – three so far: in Yaoundé (2008), Libreville (2009) and Brazzaville (2010) – a growing number of journalists are able to report effectively on the different aspects of the IP system. The training courses also enable journalists to ask politicians and IP specialists more relevant and probing IP-related questions.
With WIPO's support, OAPI also launched a new website in September 2010. This upgraded, user-friendly site offers access to a wide range of IP-related information and helps fill the IP information gap in OAPI member states.
Is there any evidence that your outreach efforts are paying off?
Yes, we are seeing a growing number of radio and television programs and newspaper reports about IP in the region, and more interviews of political figures dealing with IP-related questions. In Côte d'Ivoire, IP features regularly in the local press; in Benin, there's a dedicated IP website run by a journalist trained by us; and in Mali and Cameroon, IP-related programs and documentaries frequently air on national TV networks and are covered in the written press. In Gabon, EYO'O, the first-ever TV program dedicated to IP, raises awareness about IP issues, in particular copyright, with programs featuring some of Africa's biggest artists.
The number of requests for information on IP received at OAPI's headquarters in Yaoundé (Cameroon) and in national offices has also increased. Many more students are visiting OAPI, keen to learn more about the subject. With WIPO's support, OAPI launched a Master's course on IP at the University of Yaoundé II in October 2010. This is a first in French-speaking Africa and promises to further strengthen IP expertise in the region.
Are there any other initiatives in the pipeline?
We are currently developing a video-clip to show how geographical indications can add economic value and prestige to local products and generate concrete benefits for communities and regions. Thanks to partnerships with national TV networks in the region, we plan to broadcast the clip in each of OAPI's 16 member states.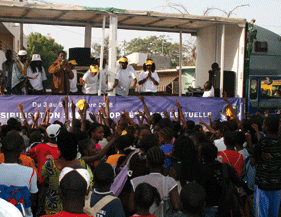 OAPI's Caravan Initiative introduces IP to the public.
(Photo: OAPI)
Building partnerships with media actors is, we believe, another key element in enabling us to reach the widest possible audience and in optimizing impact.
Our aim is to continue to expand and strengthen the network of IP-aware journalists through seminars for journalists organized with WIPO. The goal is to have contacts across the region, so that wherever an IP-related story unfolds, there is a journalist on the spot to cover it. We also seek to stimulate debate on IP issues by making this network as interactive and as dynamic as possible. This is quite a challenge, because the network extends across 16 countries and the journalists are separated by long distances. OAPI's new website includes a forum for journalists to exchange information and views, and will also give them ready access to OAPI's IP experts. We are in the process of recruiting a journalist to manage and develop the network.
OAPI's quarterly magazine, reporting on recent IP developments at OAPI and, more broadly, within OAPI's member states, is an important vehicle for IP outreach. We aim to expand the magazine's circulation and make it a reference for users of the IP system.
How do you hope the landscape will evolve in the next five years?
We need to take the mystery out of IP. It needs to become a subject of general conversation, something that people talk about as easily as they do the weather.
The OAPI Caravan Initiative is proving to be an effective means of introducing IP to the general public. For any high-profile event in one of our member states, the OAPI Caravan sets up at a local university or marketplace to attract, and engage with, a wide range of people. So far, we have used the Caravan at events in Dakar (Senegal), Yaoundé (Cameroon), Bissau (Guinea-Bissau) and Bamako (Mali), and it has been met with great enthusiasm by young people, students and businesspersons alike. The Caravan enables us to reach a broad public including, most importantly, those who might not have anyone else to speak to about IP. For example, there's a general perception that if a product is cheaper it's better, regardless of whether it is genuine or counterfeit. By discussing with the public, we can explain the risks and threats associated with purchasing counterfeit goods. Once they understand this, they are very supportive of our efforts to crack down on such illegal trade.
The OAPI Caravan distributes T-shirts, runs quizzes, and engages with passersby to discuss IP, explain what it is all about and why it is of relevance to them. It's an innovative approach and, while we will only see the concrete benefits in the coming years, it is proving a cost-effective way of raising public awareness about IP.
We still have much to do, but I hope that over the next five years, we will have succeeded in transforming the IP landscape of the OAPI region. Building broad-based awareness of IP is a key factor in achieving this goal.
The WIPO Magazine is intended to help broaden public understanding of intellectual property and of WIPO's work, and is not an official document of WIPO. The designations employed and the presentation of material throughout this publication do not imply the expression of any opinion whatsoever on the part of WIPO concerning the legal status of any country, territory or area or of its authorities, or concerning the delimitation of its frontiers or boundaries. This publication is not intended to reflect the views of the Member States or the WIPO Secretariat. The mention of specific companies or products of manufacturers does not imply that they are endorsed or recommended by WIPO in preference to others of a similar nature that are not mentioned.