Anyone for coffee? The story behind the coffee capsule
September 2010
The invention of the coffee capsule has revolutionized coffee drinking, fuelling the increasing popularity of one of the most distinctive beverages available - the small but strong black coffee known as the espresso. Coffee is brewed in many ways, but the espresso is fast becoming the connoisseur's cup of choice. An espresso coffee is brewed under great pressure by forcing hot water through finely ground beans in less than 25 seconds. The result is a concentrated shot of coffee crowned with its hallmark, delicate, chocolate-brown froth known as a crema. In June 2010, Eric Favre, a prolific and pioneering inventor in the field of portioned coffee, shared his insights and experiences as an inventor and entrepreneur with participants at a seminar organized in the context of WIPO's first Open Day. This article draws on his comments to trace the development of the technology that has transformed the coffee-drinking experience for millions.
The Origins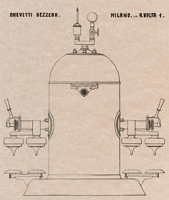 Photo: Enrico Maltoni Collection
(www.espressomadeinitaly.com)
Espresso originated in Italy – it means "fast" in Italian – in the early 1900s when Luigi Bezzera, frustrated at how long it took to make his morning cup, added steam pressure to his coffee machine. In doing so, he not only accelerated the brewing process but found that he obtained a stronger, more robust cup of coffee. Although technically gifted, Mr. Bezzera enjoyed little success in marketing his product. It was Desidero Pavoni, an Italian businessman, who, having acquired the patent rights to Mr. Bezzera's machine in 1905, successfully introduced espresso to the Italian market and changed the way we drink coffee.
Evolving Technology
The technology for brewing the perfect espresso has been constantly improved and fine-tuned over the years. In 1938, Mr. Cremonesi's development of a coffee machine with a piston pump eliminated the burnt flavor associated with using steam or boiling water. Mr. Achille Gaggia's spring-lever piston pump subsequently made it possible to apply pressure to the coffee independently of the boiler – earlier machines forced water through coffee using boiler pressure. In 1961, the company, Faema, created a machine with an electric pump to force the water through the coffee. This marked the beginning of the pump-driven machines from which modern espresso machines derived.
"When you are an inventor, you have to be an entrepreneur".
The birth of an invention
The son of an agricultural inventor, Eric Favre, was counseled early in his engineering career about the importance of inventing something that could sell. With this in mind, in 1975, he began his career in the packaging department of the Swiss headquarters of Nestlé. This enabled him to be in constant touch not only with the research and development (R&D) side of the company's work but also with sales, marketing and production. In the mid-seventies, instant coffee was all the rage, but Mr. Favre's coffee adventure was sparked by an ambition to make it possible for anyone to prepare and savor the best Italian espresso in the comfort of their home. Eureka!
Together, he and his Italian wife scoured Italy in search of the perfect espresso, which they felt they had found in Rome at the Café Sant'Eustachio where local Italians lined up to sample a cup of the barista, Mr. Eugenio's best. Not only was his espresso a cut above those they had sampled across Italy, its distinction also lay in the way it was prepared. "Mr. Eugenio still used the old classic four-piston coffee machines," he said, "to prepare a coffee, he didn't pull the piston down once like everybody else; he pumped it three or four times." By doing so, Mr. Eugenio was in fact aerating the coffee; this was the key to Mr. Favre's invention. "Mr. Eugenio helped me to understand that for a good espresso coffee you need to introduce a maximum amount of air into the water before it comes into contact with the coffee. Air is 20 percent oxygen. This oxidizes the aromas or the essential oils and makes it possible to extract them more rapidly," he explained. "Espresso is made of a mix of air, water and coffee oils. It is very simple, but nobody had thought about it before. In fact, I didn't invent a capsule; I invented a formula, and that is much stronger," he said.
Following his "eureka" moment at home in Switzerland, Mr. Favre set about testing his idea. He understood almost instantaneously that "filtered coffee is to water what espresso coffee is to fizzy water." Espresso coffee is more densely aromatic and flavorsome because "the little air bubbles contained in the liquid burst on your palate and wake up your taste buds," Mr. Favre explained. While the concept was clear to him, one of the biggest challenges that inventors face, Mr. Favre noted, is communicating their vision to others: "the problem is that when you have understood everything and you know what your idea can become, nobody really understands what you are talking about because it is something new and there is no language to describe it."
Mr. Favre set about proving his concept and began work on creating an "extraction cell in which all the flavors are concentrated." Drawing on his engineering knowledge, he decided on a half sphere which enabled him to incorporate a filter and a membrane at the base. He soon came up with a capsule that initially resembled a bowler hat and later evolved into its present form.
Having played a key role in establishing and commercializing the original Nespresso capsule, Mr. Favre established his own company, Swiss-based Monodor S.A. in 1991. Since obtaining a patent on his original capsule in 1976, over 30 years ago, Mr. Favre, has continued to innovate and to perfect his invention. Mr. Favre and Monodor hold a number of patents over their technology and have used WIPO's Patent Cooperation Treaty (PCT) as a means to file for international protection on a number of occasions.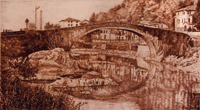 Ponte Vecchio a Montecchio, Brescia,
Italy (Photo: Renzo Gaioni - www.renzogaioni.it)
The Monodor concept is a refinement of his earlier invention. His original capsule, commercialized up to 1994, weighed 3 grams; but the filter alone weighed 2 grams and was made largely of aluminum. As the filter was an integral part of the packaging, tons of aluminum were being thrown away. For Mr. Favre, in today's eco-conscious world, this "was an unthinkable loss of energy."
Inspired by the architecture of a 2,000-year-old bridge in Italy, he developed a new capsule that creates a filter as it collapses under the pressure (some 150 kgs) that builds up during the extraction process. The capsule, or more precisely the extraction method used in the new capsule, eliminates the need for a filter inside the capsule. With this method (see PCT application number PCT/CH91/000222) the machine pierces the top of the capsule, injects pressurized water causing the coffee grains contained in the capsule to swell to five times their volume. This creates pressure inside the capsule which builds until the membrane forming the bottom of the capsule is deformed and pushed against spikes located at the bottom the coffee machine where the capsule is placed. The liquid flows through this filter into the cup. In this way, "you get the totality of aromas, especially if the water is well aired during the infusion process," Mr Favre explained.
Monodor's capsule uses minimal packaging compared to many other capsules. It is made from seven different layers of polypropylene. The casing represents just 12 percent of the capsule – the rest is coffee.
The enormous commercial potential of the coffee capsule means Mr. Favre and his company, Monodor S.A., have to be vigilant in defending their patent rights. "It seems very simple, but it is a formula that we needed to patent," he said. "We need to protect it with great care… If we didn't have this protection there would be hundreds of copies," he added.
Monodor, a family-run business, is competing successfully in the market by working with some 400 experts specializing in each stage of the production process. "This has allowed us to achieve results comparable to big, commercial research laboratories... very quickly, and that is why we… have the possibility to expand," Mr. Favre said.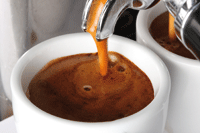 Photo: iStockphoto.com / Adrian Baras
To date, Monodor has produced more than 500 million capsules under license. "Today, we are evolving. Monodor is (becoming a sort of Tetrapak1) giving other large groups the possibility to sell our product under various forms," he said. There is growing demand for these capsules in bars, restaurants and other high consumption locations, but this means thousands of machines need to be produced quickly. "That is why we have more and more large groups behind us," Mr. Favre explained. In 2000, Monodor – registered as a trademark under WIPO's Madrid System for the International Registration of Marks – signed a licensing agreement with Lavazza allowing them to manufacture, sell and distribute the Monodor concept internationally under the Lavazza Blue label. In 2004, the company signed an agreement with Swiss company Migros allowing them to manufacture, sell and distribute the Monodor concept in Switzerland under the Delizio label.
With a largely untapped market - coffee capsules currently represent around one percent of the multibillion dollar coffee market and this is expected to rise to 20 percent over the next decade – the future looks bright for Monodor. Mr. Favre's ingenious invention has brought the art of espresso-making within the reach of millions of consumers. Where, once, a good espresso was a rarity, today, coffee drinkers can enjoy the pungent aromas and rich flavors of the world's coffees easily and conveniently.
Driven by his passion to invent, Mr. Favre continues to expand the application of his revolutionary concept with the launch of Tpresso2 in China (Beijing and Shanghai) in October 2010. This unique process of brewing tea involves a hermetically sealed capsule containing finely clipped tea leaves and is said to be very effective in retaining tea's subtle aromas and flavors.
The company's driving goal is to constantly innovate and research new and improved processes. It continues to search for new ways of optimizing the high-pressure extraction of aromas from food products and is focusing its research efforts on a range of areas including coffee (ristretto, espresso, cappuccino, etc.), teas and infusions (black, green, mint teas, etc.), milk products (chocolate and milk, etc.), culinary products (broths, soups, sauces, etc.) and baby food.
___________________
1 A global leader in food processing and packaging solutions
2 Tpresso is registered as a trademark under the Madrid System for the International Registration of Marks.
The WIPO Magazine is intended to help broaden public understanding of intellectual property and of WIPO's work, and is not an official document of WIPO. The designations employed and the presentation of material throughout this publication do not imply the expression of any opinion whatsoever on the part of WIPO concerning the legal status of any country, territory or area or of its authorities, or concerning the delimitation of its frontiers or boundaries. This publication is not intended to reflect the views of the Member States or the WIPO Secretariat. The mention of specific companies or products of manufacturers does not imply that they are endorsed or recommended by WIPO in preference to others of a similar nature that are not mentioned.