Innovation Promotion in Brazil
September 2010
In this article, Mr. Ricardo Camargo Mendes, Partner/Manager, and Mrs. Claudia Mancini, Consultant, both at Brazil's Prospectiva Consultoria in International Business and Public Policies, highlight how Brazil is honing its IP policy to create a more favorable operating environment for business.
Over the last 20 years, emerging economies have generally benefitted from global trends in research and development (R&D) which have helped to boost national development and nurture broader international cooperation. An emphasis on innovation, its promotion and associated intellectual property (IP) aspects are key features of any policy that seeks to effectively promote economic growth and development.
Brazil's wealth of natural and human resources, its highly qualified researchers and the recognition earned by its research institutions over the last decade make it a key player in innovation circles (see, for example, "The Inova Success Story," WIPO Magazine 6/2009). Thanks to the government's commitment to promoting a culture of innovation, Brazil's domestic IP environment is increasingly primed to attract foreign investment and stimulate the full participation of its private sector and research institutions in international knowledge networks.
Brazil hones its IP Policy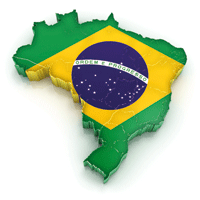 Photo: iStockphotos.com / skibac
In 1996, Brazil undertook a major reform of its patent law - for the first time granting patents for pharmaceutical products and processes (see "Brazil harvests the wealth of its rain forests," WIPO Magazine 2/2007). This led to the implementation in 2004 of the Lei da Inovação (Law of Innovation) which facilitates private/public research partnerships and the transfer of innovation from public research institutions to the private sector. Shortly afterwards, Brazil's parliament passed the Lei do Bem (Law of Goods) providing the private sector with fiscal incentives to invest in R&D.
These measures were adopted as part of a government plan to increase the R&D:GDP ratio to 1.5 percent by 2010. The government also aims to increase private sector investment in R&D. Currently, the bulk of Brazil's R&D spending – some 53 percent - comes from the public purse.1
In spite of these significant developments, there is scope to further enhance Brazil's innovation landscape. For example, the gap between the number of scientific articles published by Brazilian researchers and the number of patent applications filed suggests a general lack of awareness about the potential benefits to be derived from filing patents. Further incentives, therefore, may be needed to raise awareness about the patent system and to encourage individual inventors, researchers and companies to patent their inventions. A further fine-tuning of the IP legal framework, an enhancement of the services offered by IP institutions and tax incentives to stimulate R&D would also go a long way in encouraging broader use of the IP system and in generating increased economic benefits from innovation in Brazil.
There are, however, indications that awareness of the IP system and its use are expanding. Statistics from Brazil's National Institute of Industrial Property (INPI) show a net increase in the number of patent applications filed by residents in the last decade. Filings rose from 5,666 applications in 1997 to a peak of 7,502 applications in 2004, tailing off in 2007 to 6,975 applications.
While Brazil's most innovative companies may have smaller patent portfolios than some of their international competitors, a study by Prospectiva Consultoria shows that these companies - which include, Vale, Petrobas, Tigre and Grendene - are also top exporters and some of the top Brazilian investors overseas.
As an emerging economy, Brazil's delivery of ground-breaking technologies to the global marketplace in areas ranging from aviation to medicine and bio-energy, clearly indicates its enormous innovative potential.
Brazil's future lies in its continuing commitment to foster the development of new technologies, especially in those areas in which it has already made a global name for itself. A fully-fledged domestic IP infrastructure that meets internationally-agreed norms will support the further development of Brazil's innovation landscape by protecting and serving the interests of Brazilian companies and by attracting foreign companies to do business there.
Innovation promotion in the region
The IP legislation of developing countries is often the subject of close scrutiny by wealthier nations. This detailed inspection is one of the primary reasons for the polarization of IP debates in international fora. Quite often these debates are split down the middle, with developed countries, the owners of much of the R&D and IP licensed around the world on one side, and developing countries seeking to create domestic environments conducive to innovation and facilitated access to foreign technologies on the other side.
Access to a balanced and effective international IP system is a "must" for emerging countries seeking to:
attract foreign investment;
integrate domestic companies into international innovation networks; and
defend the interests of companies operating increasingly in the international marketplace, as is the case for Brazil.
Recognizing this, on May 31, 2010, Brazil's Minister for Science and Technology, Mr. Sérgio Machado, signed an agreement with the United Nations Economic Commission for Latin America and the Caribbean (ECLAC) to provide training programs for the promotion of new science, technology and innovation policies in Latin America. "The first priority of this plan is to heighten international cooperation in this field, especially in Latin America, and that is precisely what the agreement with ECLAC pursues," Mr. Machado said.
The agreement calls for the creation of country offices to train science, technology and innovation policy professionals. The aim is to strengthen national capacity in these fields and to facilitate dialogue among national and regional policymakers. Specialized training programs focusing on current issues and new challenges in science, technology and innovation are to be organized in cooperation with universities and scientific research institutions. Subsidies for designing and improving national policies in these fields will also be promoted.
Brazil's new Patent Act, its accession to the Agreement on Trade-Related Aspects of Intellectual Property Rights (TRIPS) and the innovative dynamism of a number of sectors, send a clear signal that the country offers interesting investment opportunities in an increasingly volatile and competitive global marketplace.
Brazil and the PCT
The first international patent application filed by a Brazilian applicant under the Patent Cooperation Treaty (PCT/BR78/000010) was submitted in 1978, the same year in which Brazil became a PCT contracting state. The number of international applications filed under the PCT by Brazilian applicants has risen slowly over the years. This is attributed to the preference among researchers to publish their scientific articles rather than to file patent applications. The number of international applications filed under the PCT by Brazilian residents increased from 16 in 1997 to 29 in 2004, rising to 37 in 2007. INPI statistics indicate that patent filings by non-residents jumped from 8,741 in 1997 to 15,456 in 2007, evidence of the expanding commercial interest in Brazil. All international applications filed under the PCT in 2009 – some 155,500 – designated Brazil as one of the countries in which patent protection was sought.
________________
1 See www.mct.gov.br/index.php/content/view/9058.html

The WIPO Magazine is intended to help broaden public understanding of intellectual property and of WIPO's work, and is not an official document of WIPO. The designations employed and the presentation of material throughout this publication do not imply the expression of any opinion whatsoever on the part of WIPO concerning the legal status of any country, territory or area or of its authorities, or concerning the delimitation of its frontiers or boundaries. This publication is not intended to reflect the views of the Member States or the WIPO Secretariat. The mention of specific companies or products of manufacturers does not imply that they are endorsed or recommended by WIPO in preference to others of a similar nature that are not mentioned.