The Green Debate: IP Perspectives
June 2010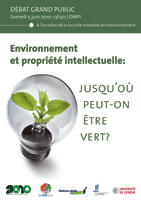 WIPO's Open Day featured a lively and insightful public debate on intellectual property (IP) and the environment. Moderated by WIPO Director General Francis Gurry, accomplished panelists from academia, industry and the non-governmental sector examined the link between the IP and green innovation and reflected on how the IP system can contribute to developing climate change solutions.
This article offers an overview of the different perspectives presented and the key issues raised. The line-up of speakers included Prof. Jacques de Werra, University of Geneva, Mr. Philippe Boydell, DuPont European Technical Center, Switzerland, Mr. Pedro Roffe, International Centre for Trade and Sustainable Development (ICTSD), and Ms. Maria Julia Oliva, Union for Ethical BioTrade.
Opening the discussion, Mr. Gurry drew attention to the enormous challenge confronting humanity – to move away from a carbon-dependent economy to one that is carbon-free. Technology, he noted, will play a key role in this transformation. From a public policy viewpoint, the key question is how to encourage this transition to a green economy? Mr. Gurry explained that one of the roles of IP is to encourage investment in research and development (R&D) by protecting or granting a right over new inventions. This gives a commercial advantage that allows inventors and their commercial partners to recoup their investment, allowing the cycle to continue.
What color is IP?
Is IP essentially green? In Professor De Werra's opinion, "no." IP is technologically neutral – it protects all types of creativity. It is not green in and of itself but with political will it can be made "green." He pointed to the practice of certain national IP offices, such as in the U.S., to fast-track patent applications for "green" technologies. He noted that many "green" technologies already exist in the public domain and are freely available for use. This suggests that the IP system, by granting an exclusive right to use and exploit a protected technology, is not an obstacle to the development and use of green technologies.
Technology transfer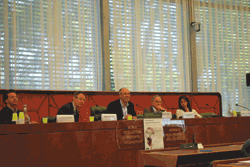 Professor Jacques de Werra, University of
Geneva, Mr. Philippe Boydell, DuPont
Photovoltaic Solutions, Francis Gurry, WIPO,
Pedro Roffe, ICSTD, Maria Julia Oliva, Union
for Ethical Biotrade (Photo: WIPO/Jewell)
For Mr. Roffe, IP is an important but insufficient condition for technology transfer. Other macro-economic conditions are of equal importance. IP is important but in appropriate measure. Too little IP undermines innovation. Too much can kill its diffusion.
Mr. Roffe held that the twin challenges of climate change and energy security call for massive and rapid deployment of clean technologies, and policies that support the diffusion and rapid transfer of these technologies and that provide incentives for innovation and investment in new ones. One thing is clear, he added, the process of transferring technology is complex, it is "not simple, it is not an easy process and is neither automatic nor free."
Innovating solar solutions
Philip Boydell from DuPont, famed for its development of Nylon, Lycra, Kevlar and Teflon, outlined his company's commitment to producing affordable solar-generated electricity. DuPont's European Technical Center in Geneva is focusing on improving its solar photovoltaic (PV) technology using Teflon for simpler, more flexible and cost-effective solar panels. Patent protection enables DuPont to invest in the next generation of technologies, to reduce costs and to obtain a return on its investment.
Biotrade or biopiracy
The debate surrounding patents and biodiversity is complex and often controversial because, Ms. Oliva noted, there is a fear that "a patent allows biopiracy." She explained that while patents can be an economic incentive for biodiversity conservation and benefit sharing, there are concerns about who owns and who benefits from biological resources and traditional knowledge and the implications for the rights of countries and communities over these resources.
Ms. Oliva explained that while on-going international discussions were examining ways to ensure that patents are used in support of biodiversity – through prior consent and equitable benefit sharing – a move to establish rules requiring national IP authorities to ensure that patent applications conform to the Convention on Biological Diversity (CBD) would go a long way in addressing concerns. She noted that a lack of information about the origin of resources and broadly drafted patent claims were two additional areas of concern and pointed to the need for company directives on patent usage and a patenting ethics policy to be established in parallel with meaningful benefit sharing practices.
The debate
What plans are there to dispose of PV panels at the end of their life?
Mr. Boydell said that the lifespan of a PV panel was as yet unkown. Those made 25 years ago are still working very well today. The industry's "PV Cycle" initiative has put environmentally-sensitive PV waste disposal mechanisms in place.
While we need to favor development of new technologies, having a patent is not enough. Government incentives are also needed but these vary from country to country. How can these be standardized?
"IP is not the complete solution," Mr. Gurry agreed, but part of a complete social and political transformation that needs to happen. He said that this was an extremely complex task, citing the example of electric vehicles. "If you want to use electric vehicles there needs to be a certain infrastructure in place to recharge the vehicle and this infrastructure needs to be compatible across countries; otherwise, it isn't possible to drive from one country to another. This compatibility is only going to come about with a process of standardization or, in other words, a process of international cooperation," he noted.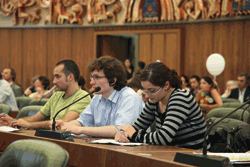 (Photo: WIPO/Migliore)
In relation to technology transfer, why is more not being done?
Mr. Roffe explained that there are no magic solutions to this complex problem. The UN and WIPO are important forums for dialogue to identify problems and possible solutions, but finding equitable solutions is not easy, nor is their practical implementation.
Can you explain the process of technology transfer?
Technology transfer takes place at various levels, explained Mr. Boydell, between universities and industry and between countries. In the former case, universities link up with companies or start-ups financed by big players who bring technologies to the market by investing in machinery and marketing, and by guaranteeing the functionality of an end product. Prof. de Werra noted that universities are keen on technology transfer because it enriches research and is an important means of ensuring that the technology resulting from research is given appropriate value.
It is very complicated to set up the infrastructure and the ecosystems necessary for technological development in countries where these structures do not yet exist, Mr. Boydell noted. He pointed to financial mechanisms, such as micro-financing initiatives and funding agencies which go some way in allowing the development of these ecosystems but noted that it is a process that "with the best will in the world takes not only money but time and effort at many levels."
Can you imagine a scenario in which the paternity of an invention is attributed to more than one inventor to bring about an amalgam of downstream technologies and applications?
Mr. Gurry noted that such arrangements, known as "open innovation," were an emerging trend. Prof. de Werra explained that IP law allowed for this type of cooperation although managing such arrangements might be challenging. Mr. Roffe agreed that open systems of cooperation between the public and private sectors had an important role and expressed his confidence that the IP system was becoming more responsive to the challenges of the knowledge economy.
How do companies contribute to environmental protection and how does environmental protection contribute to economic development?
Mr. Boydell said that the survival of all industrial operations hinged on respect for the environment. He noted that in addition to DuPont's in-house environmental sustainability objectives, the company had in 2005 directed its focus to broader environmental objectives by, for example, focusing on developing its low carbon PV technology as a replacement for more carbon-intensive technologies. He noted that environmentally responsible consumers also influence company behavior as they are more likely to buy products from a company that respects the environment.
Mr. Roffe expressed his conviction that economic development is linked to technological development and requires the mobilization of human and financial resources and innovation.
Biodiversity protection and economic development are interlinked according to Ms. Oliva. Biodiversity protection, she noted, is not philanthropy; it is in the economic interests of governments and companies. She cited the experience of Brazilian company, Natura, whose share value rose by some 400 percent as a result of its commitment to biodiversity protection.
Rounding up the debate
The lively debate was a clear indication that IP is opening up and that it touches us all. While the system is facing challenges, there are processes, forums and mechanisms to help ensure that it evolves in an informed way that responds to present day needs and concerns. Ms. Oliva held that IP has the potential to become a tool for sustainable development and challenged the audience to think about how this potential can be realized.
Mr. Boydell said that the environment is too important for companies to ignore – economic development and the environment are inseparable, he affirmed. Patent protection, he underlined, is an absolute necessity. It enables companies to get a return on their investment, to fund new technological development and by commercializing these technologies to make them more accessible.
A challenge
Current silicum crystal solar panel technology loses 4.5 percent of its output per 10 degree rise in temperature. To date, no commercially viable technology has been developed to solve this problem.
Mr. Boydell challenged inventors to come up with a solution noting that anyone who did so and patented it would not only become very, very rich, but would also do a great public service!
The WIPO Magazine is intended to help broaden public understanding of intellectual property and of WIPO's work, and is not an official document of WIPO. The designations employed and the presentation of material throughout this publication do not imply the expression of any opinion whatsoever on the part of WIPO concerning the legal status of any country, territory or area or of its authorities, or concerning the delimitation of its frontiers or boundaries. This publication is not intended to reflect the views of the Member States or the WIPO Secretariat. The mention of specific companies or products of manufacturers does not imply that they are endorsed or recommended by WIPO in preference to others of a similar nature that are not mentioned.