Is Sampling Always Copyright Infringement?
November 2009
By Tomasz Rychlicki and Adam Zieliński
In this article, Polish IP lawyers Tomasz Rychlicki and Adam Zieliński present a case for the recognition of musical works that use sampling to make new derivative works.
Have you ever turned on the radio, heard a song for the first time, and thought there was something vaguely familiar about parts of it? Well, you may have been listening to what today is termed "sampling." Over the last couple of decades, it has become an increasingly popular way to make music. Sampling is simply the extraction of fragments from existing musical works, which are used in the composition of creative, new pieces. One can immediately see why it has engendered a number of copyright litigation cases.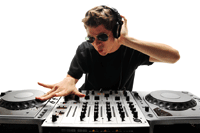 Photo: iStockphotos
One example that caught the headlines earlier this year was the hit song "Please don't stop the music" by Rihanna. Parts of the song had been sampled from Michael Jackson's 1983 hit "Wanna be startin' something" for which Rihanna claims she sought his permission. However, it turns out that Jackson had, himself, sampled that fragment from "Soul Makossa", by Afro funk jazzman Manu Dibango from Cameroon. First recorded in 1972, it is considered by many to be the first disco song. Manu Dibango, now 75 years old, is suing both Jackson and Rihanna for copyright infringement in the French courts.
The U.S. case: thou shalt not steal
The U.S., the cradle of sampling, also saw the birth of the first music sampling litigation cases. In federal court case Grand Upright Music Ltd v. Warner Bros. Records1 (1991), the judge began his sentence with a biblical quote – "thou shalt not steal." He then granted an injunction to Grand Upright Music to prevent further copyright infringement of the Gilbert O'Sullivan song "Alone Again" by Warner Bros. Records, whose signed artist, rapper Biz Markie, had sampled it in a track on his I Need a Haircut album. The quote was symbolic of the way in which U.S. courts would thereafter deal with sampling. The decision changed the modus operandi of the hip-hop music industry which, from then on, had to ensure all music sampling was preapproved by copyright owners.
The authors of this article ask: Are there legal arguments that could enable courts to decide differently on sampling? This article discusses the possibilities by analyzing the current situation in Poland.
The Polish case
Sampling is common in Poland, and not just with rappers. Some artists who sample seek, and are granted, approval from the original authors; others turn a blind eye to this requirement. The music industry has been effective in discouraging cases involving sampling from being taken to court. As a result, there has been little development of Polish case law on sampling. If even a shadow of a dispute threatens to arise, the parties manage to swiftly reach an agreement.
Consider the following hypotheses, which fall well within the boundaries of the Polish Law on Authors' Rights and Related Rights:
Can sampled works be considered derived works?
Can sampled works be considered new works based on the right of quotation?
Samples – derived works?
Polish law does not use terms such as "sample" or "sampling." It does, however, define derived works (derivatives), which are understood to be transformations or adaptations of existing works bearing features of originality, creativity and individuality. Authors of derivative works intending to disseminate their creations need the consent of the author of the original work.
Works that feature sampling, therefore, can be deemed derived works containing elements of artistic works taken from an original source, but they are, nevertheless, the creative works of their makers. In which case, the original author should be mentioned as the creator/author along with the creator of the new work, and the derivative work must cite the name of the original track that was sampled. A derived work encapsulates both the creative features of an original work and the innovative endeavors of another person, and both must be recognized.
If that is the case, could the sampling in the U.S. cases mentioned in the previous article be considered derived works? Apart from significant departures from statutory requirements – non-recognition of the author and title and, above all, failure to seek the consent of the original author – in most cases, probably yes. If so, however, should all cases of sampling be considered derived works? In our opinion – no! Here is why.
Using quotations
Article 29, Paragraph 1 of the Polish Law on Authors' Rights provides for the possibility that authors and creators may quote other works: "it shall be permissible to reproduce in the form of quotations, in works that constitute an integral whole, fragments of disclosed works or the entire contents of short works to the extent justified by explanation, critical analysis or teaching or by the characteristics of the kind of creativity concerned." By extrapolation, new works containing samples as part of the creative work of an artist – but that are not simply mixes and remixes of other works – could be recognized as cases of lawful quotation.
In other words, a work created in such a way could be recognized as an independent work incorporating quotations. An example of a musical quotation from the "pre-sampling" era would be a musical variation – defined as a work "referring to a subject, motif or another work" and the result of "a creative processing of that work." In which case, creative sampling can be recognized as an activity justified by the type of works involved and, by the same token, fulfilling the Article 29 requirement. This signifies that, to avoid a charge of plagiarism, the author or original artist and source of the work must be mentioned – but not necessarily in the title – without the need to seek permission, the quotation right being a statutory license.
Sparking controversy
The above arguments regarding the Polish Law on Authors' Rights may well spark controversy, since sampling has never been extensively covered in Polish case law or legal and academic analyses. But it is the legal opinion of the authors that sampling does not constitute copyright infringement if the right of quotation is properly executed.
There is of course an enormous difference between the cheap plagiarism understood by some as "derivative works," and the original and creative endeavor in which samples form a starting point for creating new works that could fall under the "right of quotation" rule rather than be considered derivative works. Each case requires thorough, individual analysis. But creative freedom, such as sampling, can, and should, be defended and treated as a part of the progress of art, which, in turn, furthers the development and enrichment of human culture.
Kutiman, ThruYou
One of the finest examples of a work created from sampling is Kutiman's ThruYou. Ophir Kutiel, his real name, produced all the music and videos for ThruYou using YouTube clips. He painstakingly meshed together little bits from disparate clips to create a work that has been described in several reviews as "brilliant."
Using mostly the works of amateur musicians – what he calls "ordinary people like myself sitting in their homes" – he created ThruYou in two months and released it on the Internet in March this year. He has not made a penny from the album, but in less than a month it had rocketed him to fame.
_________________
1 780 F. Supp. 182 (SDNY 1991).
The WIPO Magazine is intended to help broaden public understanding of intellectual property and of WIPO's work, and is not an official document of WIPO. The designations employed and the presentation of material throughout this publication do not imply the expression of any opinion whatsoever on the part of WIPO concerning the legal status of any country, territory or area or of its authorities, or concerning the delimitation of its frontiers or boundaries. This publication is not intended to reflect the views of the Member States or the WIPO Secretariat. The mention of specific companies or products of manufacturers does not imply that they are endorsed or recommended by WIPO in preference to others of a similar nature that are not mentioned.