Collective Management of Audiovisual Works: Facing the challenges, then and now
By Catalina Saffon and Corinne Chantrier
Each time a film is retransmitted on cable, or similar means, royalties may be owed to the producer. The Association of International Collective Management of Audiovisual Works (known by its French acronym AGICOA) undertakes the often complex and time-consuming task of obtaining payment of these royalties from operators and redistributing them to entitled right holders.
AGICOA regularly sees conflicts arise when right holders register works, and has set up a conflict resolution procedure for such occasions. However, in order to have more time to focus on its core competencies, in early 2008 the Association requested the WIPO Arbitration and Mediation Center (WIPO Center) to develop an arbitration procedure tailored to the particular features of disputes between its right holders.
This article, prepared by Catalina Saffon and Corinne Chantrier of AGICOA, looks at the history and work of the Association before zeroing-in on its conflict resolution procedure and WIPO's contribution to it.
Genesis of cable television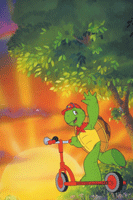 The Canadian animated cartoon Franklin is one of the many productions enjoying worldwide popularity for which AGICOA collects royalties for redistribution to the right holders. (Credit: ® & © Nelvana TM & ® Kids Can Press © P. Bourgeois & B. Clark CORUS is a trademark of Corus Entertainment Inc.)
Cable retransmission rights are granted to right holders in the Berne Convention for the Protection of Literary and Artistic Works, in particular Article 11bis, which states that when a work is distributed by a means other than the original broadcast, there is a liability issue with respect to copyright when that distribution is done by an organization not responsible for the original broadcast. The Berne Convention refers to "an or ganization other than the original one." Cable operators do not form part of the same "organization" since they have no relationship with the broadcasters whose programs they retransmit. That is why they need the authorization of all right holders in a broadcast program.
Many European countries started building cable systems in the 1960s and 1970s to eliminate unsightly aerials from crowded rooftops, but savvy entrepreneurs soon saw a new commercial opportunity. Cable operators began retransmitting programs for a fee to consumers who had difficulty tuning into weak television broadcast signals. These operators did not agree that legislation obliged them to honor the claims of right holders whose works they distributed. They argued that a cable system was only an extra technical support system for existing broadcasting networks – and further claimed right holders would be remunerated twice if cable operators had to clear the rights.
The Dutch Supreme Court issued a judgment in a lawsuit brought by a number of U.S. film producers and the Dutch Cinema Association against the cable network of the city of Amstelveen, a small town south of Amsterdam (Case No. 12.281). The decision, handed down in 1984, left no room for doubt: Cable retransmission of existing broadcasting programs is a new communication to the public and, as such, is subject to copyright. A number of similar judgments followed in other European countries.
Consequently, cable operators were obliged to seek right holders' permission before retransmitting their programs – in practice, an impossible task. To find a workable solution, right holders began to form organizations specifically dedicated to dealing with cable rights and started negotiations with cable operators. The first contract between right holders and cable operators, concluded in Belgium in 1984, covered all right holders: authors, composers, photographers, broadcasters, producers of audiovisual works and films, etc. It guaranteed their rights on the one hand, and, on the other, protected cable operators from potential claims by right holders who did not feel bound by the global licensing agreement.
Many other countries followed suit. In order to standardize all these global agreements, the European Commission published Council Directive 93/83/EEC of September 27, 1993, on the coordination of certain rules concerning copyright and related rights applicable to satellite broadcasting and cable retransmission. It expressly states that right owners cannot exercise their rights individually vis-à-vis cable operators, but that the services of a collecting society must be used. The Directive confirmed existing practice in many European countries and gave further protection to cable operators against possible claims from individual right holders. Broadcasters fall outside the scope of this obligation and retain the right to negotiate individually with cable operators.
What is AGICOA?
"At AGICOA we are committed to obtaining, collecting and distributing the royalties that lie beyond the reach of individual right holders," says the Association's Chief Executive Officer Paul Duggan. The international, not-for-profit organization was established in 1981 to track and distribute royalties on retransmissions of audiovisual products by independent producers. Since 2000, AGICOA has collected and distributed over half a billion euros in royalty payments for a portfolio of more than 700,000 audiovisual products.
The Association is directed by, and accountable to, an international board of directors, including right holders' representatives as well as individuals with a range of professional skills and experience relevant to its activities. This form of governance offers two significant advantages: the organization is truly "neutral" – without any national bias – and all right holders are treated equally, regardless of their commercial weight and importance.
International operations are facilitated through the AGICOA Alliance, a network of associates in key media markets focused on the retransmission, and other secondary uses, of audiovisual works on television channels. Through such local partners, right holders can access the advantages of local languages, market insight and negotiating skills.
AGICOA: How it works
The administration of secondary property rights across a kaleidoscope of languages, registrations, rules, formats, ownership and time periods is difficult and complicated – and the end result is that many right holders give up, leaving revenues uncollected and returns on creative investment much lower than they should be.

Since 1981, AGICOA provides a simple alternative for right holders and cable operators, offering both parties one point of contact. The single registration of an audiovisual product with a company of the AGICOA Alliance avoids right holders having to register country-by-country. For retransmission operators, agreeing terms for a wide range of programming through a blanket license (a single, binding contract) is preferable to negotiating separate contracts with many different program makers and is far more efficient.
AGICOA's monitoring system takes over global tracking responsibilities, handles negotiation and collection of all retransmission rights and maintains detailed records of use, royalty allocation and payments that can be consulted by any client at any time. These operations deliver multi-country economies of scale beyond the reach of national operations. Registration is free for right holders; the Association is financed by a fee (7.82% in 2009) charged on the royalties collected.

AGICOA's repertoire covers all audiovisual works produced by independent producers (i.e. a producer that is not a broadcaster). Audiovisual works produced by the broadcaster being retransmitted by cable, such as news programs, live retransmission of sports and other events, infomercials and commercials, are usually excluded.
Conflicts between right holders
Conflicts arise when two or more right holders register a work with a partner company of the AGICOA Alliance, declaring the same rights, for the same territory, the same language version, or for the same television channel and resulting in an overlapping percentage of rights (higher than 100%).
When a declaration generates conflict, right holders are informed by the portfolio manager and invited to check the declared rights. If the conflict persists at the time of payment, AGICOA blocks the remuneration. Payment is released only once the right holders agree to update their rights and settle the conflict. Thanks to this simple conflict resolution procedure – launched in 2003 – AGICOA released and distributed some €7.5 million to legitimate right holders.
But as the market for audiovisual products becomes increasingly global and complex, the number of competing claims on a given audiovisual work has also risen. If, after the simple resolution procedure, the conflict remains unresolved, AGICOA provides additional data and offers further facilitation processes to help resolve the issues: this represents an important part of its right holder management services – real added-value for right holders.
Once right holders have been informed of the conflicting claims, the following procedure is started:
Direct contact is established among the parties involved in the conflict, and they are encouraged to settle the conflict amicably. If one of the parties does not respond to an attempt to resolve the conflict, article 13 of AGICOA's Conflict Rules provides a mechanism for resolving the conflict in favor of the solution-seeking right holder(s).
If both parties respond but fail to resolve the conflict on their own, procedures have been put in place for:

Small and non-evolving conflicts – defined as conflicts with frozen royalties of €200 or less not linked to a broadcast of the work in the previous five years or more. Once informed of the conflict, should right holders fail to find a solution, the conflicting rights are canceled.
High-value conflicts – for which AGICOA's Legal and Business Department launches a Conflict Resolution Procedure (CRP) according to the Conflict Rules. The parties are invited to analyze the conflict and decide whether they maintain or withdraw the rights at issue. If the conflict persists, AGICOA makes recommendations on how to resolve the conflict, based on the evidence provided during the CRP.
In the event AGICOA's final recommendation is rejected, the parties can opt either to go to Court or to initiate arbitration, in particular under the "WIPO Expedited Arbitration Rules for AGICOA."
WIPO's role
In order to concentrate on the CRP itself (and, of course, on its principal licensing activities), in early 2008 AGICOA decided to outsource the optional arbitration part of the conflict resolution procedure – formerly administered internally – to the WIPO Center.
In collaboration with AGICOA's Legal and Business Department, the WIPO Center drafted the WIPO Expedited Arbitration Rules for AGICOA, which were approved by AGICOA's Executive Board on September 30, 2008. This set of Rules, based on the standard WIPO Expedited Arbitration Rules, has been specially adapted to respond to the specific characteristics of AGICOA right holder disputes.
Submission of disputes to WIPO Expedited Arbitration for AGICOA is facilitated as follows:
The procedure can be used by AGICOA right holders when they conclude an arbitration agreement stipulating that any dispute would be submitted to the WIPO Expedited Arbitration Rules for AGICOA; or
Where no such arbitration agreement exists, claimants can simply notify their intention to file a request for arbitration, upon receipt of which the WIPO Center enables the parties to sign an arbitration agreement.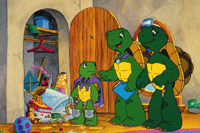 (Credit: ® & © Nelvana TM & ® Kids Can
Press © P. Bourgeois & B. Clark CORUS is
a trademark of Corus Entertainment Inc.)
It is widely recognized that the effectiveness of arbitration depends primarily on the quality and expertise of the arbitrator. For AGICOA disputes, the WIPO Center has therefore identified a special panel of highly qualified and well-known copyright and entertainment law arbitrators from various jurisdictions. Parties in WIPO Expedited Arbitration for AGICOA are free to choose an independent and impartial sole arbitrator from this panel, or to agree on a person outside the panel. The sole arbitrator decides the dispute after having given the parties equal opportunity to present their factual and legal arguments. Parties can opt for electronic online case communication, using the WIPO Electronic Case Facility (WIPO ECAF).
The procedure is flexible, allowing parties to file submissions in AGICOA's official languages – English or French. Choosing the language of the procedure is at the discretion of the sole arbitrator and depends on case circumstances and parties' observations.
Cost-effectiveness is a concern for parties, especially in times of economic recession. As some AGICOA conflicts involve only small royalty amounts, the WIPO Center created an adapted Schedule of Fees with appropriate rates for AGICOA conflicts. The schedule provides that, unless the parties agree otherwise, the arbitrator's fees shall not exceed USD 300 per hour and are capped at a maximum of USD 20,000.
Arbitration is effective only if the arbitrator's decision (the arbitral award) can be executed. The WIPO Expedited Arbitration Rules for AGICOA provide that AGICOA will implement the award by updating the rights and releasing the corresponding royalties blocked by the conflict. The arbitral award is also internationally enforceable under the 1958 New York Convention.
Tomorrow
AGICOA's Annual Report 2008 shows that the number of countries in which the Association collected revenues tripled from 2000 to 2008, increasing from 13 to 36, whiles the number of rights holders doubled from 3,118 to 7,220 and number of works soared from 400,000 to 854,000. During that same period, AGICOA steadily decreased its fees. "Currently, digital technology is transforming the media landscape and adding new dimensions to broadcasting in choice, content and rebroadcast platforms," says CEO Paul Duggan. "This offers huge potential for growth and revenue opportunities, and the associated challenges for right holders in tracking secondary use of their products."
Having prepared a strategy to face the challenges of the global marketplace, AGICOA stands ready for the promising future ahead.
________________________________
The Setting-up of New Copyright Societies
In line with the evolution of digital technology, the advent and increasing pervasiveness of the practice of downloading music, films and other works protected by law, the collective management of copyright and related rights remains one of the simplest and most reliable means for collecting and distributing royalties to rights owners for the use of their protected works, especially in the field of music.
A new CD-ROM published by WIPO, with the financial support of the Korean Fund-in-Trust, "The Setting-up of New Copyright Societies," is designed to enable users to have a better understanding of the complexities of collective management of copyright and related rights, and of the concrete steps to be followed to appropriately administer the rights of music composers, authors and publishers, through the establishment of collective management organizations and their strengthening in countries where they already exist.
The CD-ROM contains a useful and practical workplan that sets out a time-line for the different steps to be taken in setting-up collective management organizations. The plan can be chronologically adjusted to suit local circumstances. It provides links to extensive documentation contained in the CD-ROM and information that provides users with the possibility of accessing supplementary information at websites on the Internet.
The CD-ROM targets a large audience, including governmental officials, owners of copyright and related rights, specialists and non-specialists in the field of copyright and the collective management of rights, lawyers and staff of existing collective management organizations.
The CD-ROM is in English and available free of charge on the WIPO website or on request from the WIPO E-Bookshop.
____________________________
Next article: Feeling groovy - Music therapy
The WIPO Magazine is intended to help broaden public understanding of intellectual property and of WIPO's work, and is not an official document of WIPO. The designations employed and the presentation of material throughout this publication do not imply the expression of any opinion whatsoever on the part of WIPO concerning the legal status of any country, territory or area or of its authorities, or concerning the delimitation of its frontiers or boundaries. This publication is not intended to reflect the views of the Member States or the WIPO Secretariat. The mention of specific companies or products of manufacturers does not imply that they are endorsed or recommended by WIPO in preference to others of a similar nature that are not mentioned.