Authors, Composers, Artists: Music "Inspired by Life"
September 2009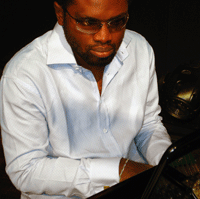 (Photo courtesy CAMP)
Cobhams Emmanuel Asuquo
WIPO had the pleasure of hosting on July 13 a performance by Nigerian musician, songwriter and producer Cobhams Emmanuel Asuquo. Born blind in Lagos in 1981, Mr. Asuquo overcame both the challenges of being visually impaired and being from a developing country, to gain international recognition as a songwriter and music producer.
Although he trained to become a lawyer, Mr. Asuquo chose a career in music, his first love, instead. In 2005, Sony ATV London signed the then 24-year-old musician as a songwriter. He founded his own production company CAMP – Cobhams Asuquo Music Productions – in 2006. He is probably best known for the hit single "Fire on the Mountain," which he wrote, and co-produced, for singerAsa's debut album. He has worked with Asa since 2004.
Following his performance, Mr. Asuquo agreed to be interviewed for the WIPO Magazine. He spoke about copyright, piracy, his inspiration, being visually impaired and much more.
Learning to play
"I play classical music by hearing. I've learnt to listen and reproduce. In some cases it may not be 100 percent accurate but it gets the job done, especially because I pay attention to detail in music. My fingering is a bit tricky because I didn't learn how to play formally. I may not have some of the techniques to run some of the notes with the required speed. I've devised my own technique and it pretty much works for me. I listen, I listen over time, I love and then I play."
Finding inspiration
"I'm greatly inspired by someone I don't see. It sounds nearly foolish but it's the truth for me. I'm greatly inspired by God. I think about the things that I have read in the Bible and it just inspires me.
"I'm greatly inspired by certain environments, by a certain ambiance. For instance, the bathroom is probably one of my favorite places in the world because that's where I get to be an astronaut, a physicist, an army general, a preacher, a musician.
"I'm inspired to write when I'm not very happy about the situation around me. I see myself in a lot of senses as a social commentator and there's a lot that comes out of society that grieves me. When this happens, I'm inspired to write.
"I like long bus or train rides; they inspire me to write too. I like taking trips to foreign places, places I've never been before. I realize that once I'm cut out of my usual regular habitat, I get quite creative and I write. I get inspired by conversations – deep and wide, sensible conversations that get to the core of things, conversations that bring out the reason behind certain things. I'm inspired by life, by people's testimonies, by my experience, by love. I'm quite a romantic; the experience is very inspiring and I take advantage of it to create.
"I'm also inspired sitting at my piano: I love to play. I love to play. I love to play. I find music just by tinkering on the keys. Music comes to me naturally sometimes."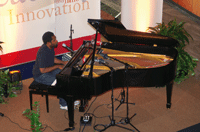 Photo: WIPO/M. Martínez Dozal
Influences
"I've been influenced musically by tons of people: I grew up listening to all kinds of music. I listened to hip hop in detail, to jazz in detail, to the classics of the Sufi mystics, Hilda Garn, to a lot of traditional Nigerian music from highlife to juju, to fuji, to akbala – my musical influences are very, very, very, very wide.
"I've been greatly inspired and influenced by Stevie Wonder. Stevie Wonder is an icon. Stevie Wonder is phenomenal. However, I choose to see me as me. I have a clean sheet in front of me. I have a new course to chart, and that's precisely what I'm doing with my life. There's a lot to learn from the likes of Ray Charles and Stevie Wonder. But I'm not sure I want to be another Stevie Wonder or Ray Charles. I think I just want to be me, because I've got something to say. I've got something to offer. I want to share my thoughts about life, about social issues, about values. My opinions may not necessarily be the same as Stevie's or Ray's. I'm one out of 6 billion people in life with something to say, with a different course to chart and with a different print to leave on the sands of time."
"There's a healthy, vast amount of talent coming out of Nigeria... We can become a supplier as an industry of international material to the rest of the world."
Nigerian music on the international scene
"The main source of income from my production company comes from the work we do for advertising agencies and artists. We work with a lot of advertising agencies in Nigeria, and we work with artists in Nigeria and outside our shores. It's lucrative, it's sensible, it keeps us going.
"Quite a number of Nigerian musicians have been able to break into the international scene, and that's very encouraging for me. We can tell that the industry is beginning to blossom. Ours is a music industry that is coming out of years and years of successive military rule, and things are beginning to happen. Having an international platform is definitely a good thing – it means that there is more to come. There's a healthy, vast amount of talent coming out of Nigeria. The industry needs to build a structure that would help it turn out more, so that it interrelates sensibly with the international scene, so that its success is not seen as a fluke.
"I think that we can create a platform to just create international material. We can become a supplier as an industry of international material to the rest of the world. Part of what we do at CAMP is to create that atmosphere. My garage is a rehearsal studio and I like to hang out with people and make music. You'd be amazed at the things that come out of a little jam session in a garage playing music. These are potentials – materials that are capable of going out there and making a mark on the international scene. So if in our little garage we're doing that, imagine what would happen if the industry builds a structure that supports that on a larger scale."
Copyright: strengthen awareness
"We have to deal with a number of issues as regards copyright where I come from. One of them is awareness, then there's piracy and structure in general. I think that awareness is very, very important. Not many musicians, artists or people creating works of art are aware of the importance of copyright. We have the [Nigerian] Copyright Commission, but not too many people are aware of the benefits of the Commission, what they're there to do, what they're available to do. People are not sensitized enough to take advantage of copyright. That in itself is a situation.
"Artists do not get to enjoy their rights to the full, because a lot of the materials that they create are pirated and the benefits don't necessarily come to them. Royalty checks don't come to them. The culture in some places is for artists to actually hand their works over to pirates because they're the ones who have reasonable distribution outlets. I think the danger of doing that is something that should be brought to the fore so that they realize they should oppose these people. Working with pirates creates an unhealthy system.
"We don't have a structure yet that fully supports protection of works in terms of copyright. The government needs to see the creative sector in industry as lucrative, as any other viable source of income for the country. They may then enact more effective copyright laws. I think that we also need to make decrees that protect copyrighted works and decrees that come down hard on pirates. Piracy needs to be taken more seriously.
"We should go back to the foundation, build a more sensible system that is based on a new distribution outlet altogether – a new, sensible, integrated network where people are aware of their responsibilities as artists to deal with the right kind of people."
Challenges of the visually impaired

WIPO Assistant Director General Geoffrey Onyeama greets Mr. Asuquo after his performance. (Photo: WIPO/S. Shamoon)
"Being blind is one of the best things that happened to me, because I've been challenged – I've been challenged to get up and go. I realize the importance of making things happen and the results of a lack of action. One challenge I've had to face being a blind person working in the music industry is, for want of a better way to describe it, the loneliness. I have to deal with a lot of the challenges all by myself.
"I have become a voice on behalf of other aspiring blind persons who want to come into the industry. Can you trust a 17 year-old doctor? Can you trust a blind driver? It can be that way with trusting a blind musician or producer who is not able to keep up with the changing times because he doesn't have as much access as far as running interfaces and running sequences are concerned. That's something I've managed to deal with to a point where I'm trusted for the work I do. But I'm hoping that this doesn't just start and end with me. I'm hoping that same amount of trust is given quite as freely to any other visually-impaired person who gets into the industry to do what I do.
"The main challenge facing visually-impaired people in the field of music would be access. To take advantage of technological advancement, they need to know how to manipulate, how to run, whatever interface it is. Then, how to get materials that would help them improve their art, better their skills. These materials are available but not put out in Braille or in talking versions.
"I do more reading by hearing than I do in Braille because there is not enough Braille material out there. Braille equipment is generally expensive in Africa. You can get a Braille Note, equipment you can use to read, for what? About £4,000, which would be about 1 million Naira? It's just too expensive. I'm fortunate to afford it, but the same does not go for every other blind person who lives and works in Nigeria.
"The Internet has sort of made things easy, but there's a lot of stuff on the Internet that's not properly licensed. That makes it all the more difficult…or easy for anyone who doesn't have scruples. The Internet doesn't favor people from the developing world in terms of using a credit card to buy software, books, an interface or a sequencer, so it is a problem. It's a problem, and I think that in Africa and in other developing countries it's even worse.
"For other visually-impaired people who want to take up music as a career, my advice would be to get up and go. Whatever it is you have been thinking of doing, there are 300,000 people thinking of doing the same thing and 10,000 people already making moves to do it. It's more than just wanting to do it, it's about taking the bold step of going out there and doing it."
By Sylvie Castonguay, WIPO Magazine Editorial Team, Communications Division
Acknowledgements Jean-François Arrou-Vignod, WIPO Film and Multimedia Section, Geidy Lung, WIPO Copyright Law Division, and Samar Shamoon, WIPO Media Relations Section
____________________________
Next article: High-Level Forum Discusses the IP Needs of LDCs
The WIPO Magazine is intended to help broaden public understanding of intellectual property and of WIPO's work, and is not an official document of WIPO. The designations employed and the presentation of material throughout this publication do not imply the expression of any opinion whatsoever on the part of WIPO concerning the legal status of any country, territory or area or of its authorities, or concerning the delimitation of its frontiers or boundaries. This publication is not intended to reflect the views of the Member States or the WIPO Secretariat. The mention of specific companies or products of manufacturers does not imply that they are endorsed or recommended by WIPO in preference to others of a similar nature that are not mentioned.