Taking the heat out of bushfires with innovative technology
July 2009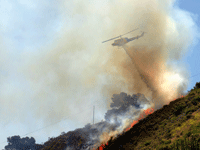 (Photos.com)
By Nick Hunter
Patent attorney Nick Hunter, who wrote this article for the WIPO Magazine, is part of the Griffith Hack Bushfire IP Group, led by Robert Wulff. The Group comprises attorneys in Griffith Hack's Melbourne, Sydney, Perth and Brisbane offices with experience in protecting and commercializing bushfire technologies.
February 7, 2009, will long be remembered by Australians as "Black Saturday" – the day on which almost 200 people perished and thousands were left homeless as a result of bushfires that raged out of control on the outskirts of Melbourne. The Black Saturday tragedy is generally thought to have resulted from record high temperatures (around 46°C) on the day, significantly below-average rainfall over the five previous years and a "stay and defend" stance taken by many rural residents.
Hotter summers and a drier year-round climate suggest that conditions likely to increase the frequency and intensity of bushfires will persist in Australia for some time. And Australians are now looking to technology to help reduce bushfire impact in rural communities.
By their very nature, bushfires are difficult to predict and control – above and beyond the effects of other variables such as terrain and winds. Extinguishing them is a daunting task. So, in a world of video-playing iPods, mass-printable thin-film polymer solar cells and nanoparticles for targeted cancer treatment, what technologies are being developed for bushfire protection?
Elvis to the rescue
Generally, very few ideas conceived in the aftermath of bushfires have been converted into bushfire protection technologies. Even where patent applications are filed, they are often not followed through on. Some ideas, however, are translated into tangible solutions. One such tool – currently the subject of patent protection in Australia and other countries – is a water-bombing helicopter, colloquially known as "Elvis." At the frontline of bushfire fighting, the helicopter, produced by the U.S. company Erickson Air-Crane Incorporated, is hired each summer by Australian state governments to assist in their protection efforts.
The Bushfire Co-operative Research Centre
In Australia, the Bushfire Co-operative Research Centre (Bushfire CRC) is at the heart of research aimed at generating bushfire protection solutions. The Bushfire CRC receives input from more than 30 fire and land management agencies in Australia and New Zealand, as well as the Australian government-funded Commonwealth Scientific and Industrial Research Organisation (CSIRO).
The Bushfire CRC's research focuses on three main areas: (1) fire behavior; (2) human behavior and safety issues; and (3) building (infrastructure) and planning issues. It is anticipated that this research, particularly in the third area, will lead to bushfire protection technology that can be applied to building design and materials and, as a result, will give rise to a new generation of safer homes.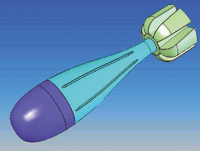 An illustration of inventors Marc Hartmann and Derrick Yap's football-sized water-filled bomb that can be dropped from a helicopter or plane. (Photo: Courtesy Marc Hartmann and Derrick Yap)
The mist bomb
Research and development work is not, however, limited to collaborative groups and government-funded bodies. Many individuals and companies are now seeking bushfire fighting solutions. Sydney-based inventors Marc Hartmann and Derrick Yap have taken up the challenge and developed a water-dispersing "bomb" that extinguishes fires by extracting heat from them.
The device is a football-sized, water-filled vessel that can be dropped from a helicopter or airplane. It is fitted with a detonator that triggers on, or slightly before, impact with the ground. This transforms the water into a fine mist that rapidly disperses in the vicinity of the "explosion." The mist droplets have a considerably larger surface area than the water droplets associated with conventional water-bombing techniques. This enhances their ability to remove vast amounts of energy from the fire front, making the mist bomb an extremely effective fire extinguisher.
Bearing in mind that bushfires generally occur in remote forest areas, Hartmann and Yap designed the bomb from biodegradable materials so that bombing campaigns do not pollute the environment. The combination of mist-generation and eco-friendly materials makes this a unique tool for fighting bushfires.
With the assistance of Griffith Hack, the inventors filed a PCT international patent application (WO 2008/12884). They also established Wildfire Suppression P/L to commercialize their invention and export their technology. Technical development is still continuing on certain aspects of the mist bomb, but Hartmann and Yap expect to conduct extinguishment trials later this year. They hope that the trials will involve the Bushfire CRC and CSIRO because their approval of the technology would go a long way to bolstering commercialization efforts.
In the meantime, the inventors are pursuing discussions with a provider of aerial fire suppression services to adopt the mist bomb technology. They have a strong view that the technology is well suited to fighting fires in remote or mountainous areas, and therefore applicable to the terrain of Australia, North America and Europe.


A test detonation of a mist-dispersing bomb. (Courtesy Marc Hartmann and Derrick Yap)
It is to be hoped that successes such as that of Hartmann and Yap and the cutting-edge research being undertaken at the Bushfire CRC as well as the memory of the recent Black Saturday tragedy, will motivate individuals, companies and research organizations to follow through on their ideas for innovative bushfire protection technologies. Communities in bushfire-prone areas in Australia and elsewhere will live to thank them.
___________________________________
Fire Fighting Technologies: Early Detection and Management
In North America, California wildfires make the headlines every summer. In Europe, the dire news of the countryside in flames often comes from France and Portugal. In South Africa, bushfires are the scourge of Zululand. In these and other regions, new technologies are being used to fight the fires that, each year, destroy millions of hectares and take many lives.
The first defense against fires is early detection and firemen are getting much-needed assistance in this area from FirehawkTM, a computerized camera system that detects smoke by day and heat by night. The system was developed, patented and trademarked in South Africa by Digital Imaging Systems in 2000. Firehawk cameras rotate 360 degrees every four minutes and can detect a fire up to 20 km away on a clear day. Installed and tested in Zululand, Firehawk provides early first alerts that allow fire fighters to arrive on site before fires are out of control. The system is being extended to other areas of South Africa and has been in use in California since 2006.
Getting a roaring forest fire under control is a daunting task. A change of winds can modify the course of a fire in seconds. The Spatial Fire Management System (SFMS) was developed in Canada, which has 10 percent of the world's forests, more than 3 million hectares of which is devastated annually by an average of 9,500 wildfires. The System monitors and predicts the behavior of forest fires based on data collected from 50 years of fire research by the Canadian Forest Service and input information, such as weather forecasts, vegetation, topography, temperature, relative humidity, wind speed, wind direction and precipitation, etc. This information is sourced from inter-connected databases and is used in weather prediction models to determine fire risk and behavior. It provides qualitative predictions, information firemen can use in deciding on fire prevention measures or on strategy and tactics to suppress a fire. It is currently in use in Indonesia, Malaysia, Mexico and New Zealand. No licensing fee is charged for the System, but license keys are provided to users for upgrades and support.
By Sylvie Castonguay, WIPO Magazine Editorial Team, Communications Division
The WIPO Magazine is intended to help broaden public understanding of intellectual property and of WIPO's work, and is not an official document of WIPO. The designations employed and the presentation of material throughout this publication do not imply the expression of any opinion whatsoever on the part of WIPO concerning the legal status of any country, territory or area or of its authorities, or concerning the delimitation of its frontiers or boundaries. This publication is not intended to reflect the views of the Member States or the WIPO Secretariat. The mention of specific companies or products of manufacturers does not imply that they are endorsed or recommended by WIPO in preference to others of a similar nature that are not mentioned.