Barefoot College, Teaching Grandmothers to be Solar Engineers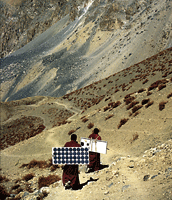 (Photos: Barefoot College)
The first and the hardest hit by climate change are the rural poor around the world. Millions of dollars have been spent on awareness raising, training in alternative technologies and preparing vulnerable rural communities to face the challenge. One of the striking success stories is that of India's Barefoot College. Its approach has already made a difference for many.
It may seem an incredible idea, but Barefoot College has trained hundreds of semi-literate and illiterate women – many of them grandmothers – from developing and least developed countries to be solar engineers. And they have gone back home to install solar panels and batteries, maintain and repair them and change life in their remote villages forever. More than that, they have trained others in neighboring villages to do the same. How did it all start?
There are myriads of remote villages in India that can only be reached after days travelling on hard dirt roads in rugged vehicles followed by long treks on foot. Photovoltaic (PV) systems offer the only source of electricity to populations in these remote areas. Access to electricity through simple effective solutions such as the Barefoot approach can dramatically improve the lives of villagers and contributes to development. It lowers lighting costs, enables income-generation and supports educational activities as well as reducing the fire hazards and indoor pollution generated by traditional kerosene lighting..
Barefoot College in Tilonia, India, is the brainchild of Bunker Roy. He founded the College in 1972 with the conviction that the solutions to the problems of the rural poor lie within the community, in their traditional heritage and in new technologies that simply require some adapting to their situation. The 7,430 square meters (80,000 square feet) college complex stands as a testimony to this potential – it was designed and built with locally-sourced materials by villagers using traditional knowledge passed down from one generation to the next, but its energy needs are taken care of by modern technology: solar panels.
Barefoot College started training young people and semi-literate and illiterate rural women to be solar engineers in the 1990s. The trainees came from all over India but language was not a barrier; trainees learned to identify parts by shape and color, to develop the skills required by following mimed instructions, and to execute technical tasks by example. But the College soon realized the best candidates were middle-aged women, most of whom were grandmothers. Speaking at the 3rd International Conference on Appropriate Technologies (see box) held in November in Rwanda, Mr. Roy explained, "Illiterate grandmothers are humble and easy to teach. Grandmothers have a vested interest in the village and have no desire to leave. Give a youth a piece of paper and he is off to the city to find a better job."
"By giving the rural poor access to practical technology, Barefoot College demystifies technology and puts it in the hands of the villagers themselves." – Mr. Bunker Roy, founder of Barefoot College
India's Barefoot Solar Engineers
The solar engineering program at Barefoot College started in India in the 1990s. As of December 2007, Indian Barefoot solar engineers had installed – with absolutely no aid from urban professionals – 8,700 solar units, generating 500 kilowatts (kW) per day, and manufactured 4,100 solar lanterns. As a result, 574 villages and hamlets (nearly 100,000 people) as well as 870 schools now have solar electricity (several villages have more than one school; average attendance is 25 to 30 children).
In the remote Himalayas, 270 Barefoot solar engineers (57 of them semi-literate rural women) have installed 16 solar power plants of 2.5 kW each. The women also built 40 parabolic solar cookers and 71 solar water heaters as well as trained others in their communities so they could assist in the establishing of 23 rural electronic workshops.
Empowering villages and women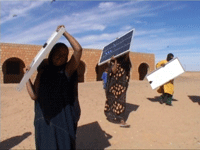 Transport of solar panels in the village of Tindjambane, in the region of Timbuktu, Mali
Barefoot College believes that the village community has to be sensitized to manage, control and own the technology. Poor village communities can run solar units on their own if they are trained to make the solar equipment at the village level as well as repair and maintain it. Illiterate rural women have demonstrated that this is possible.
The College has many villages from which to choose, but for solar projects to work and last, the villagers themselves must also make a commitment. The community must make the choice in a transparent and collective manner so they have a sense of ownership of the project – controlling, managing and making all the decisions from the beginning.
When the College's Village Energy and Environment Committee (VEEC) visits, everyone gathers together to learn the advantages of electricity and the possibility for the village to be solar powered. The villagers are informed that the service will not be free: they must decide how much they can contribute monetarily each month for maintenance and repair – an amount that is usually based on what they currently spend on kerosene. They must also choose two villagers to send to Tilonia for six months of training. The VEEC gives the villagers some time to think it over. According to Mr. Roy, the villagers often think the VEEC representatives are a bunch of crazy people from the city who will disappear after the decision is made, never to be seen or heard of again. Obtaining electricity, they surmise, just cannot be so easy and affordable.
Once the villagers have signed on to the project, deciding how much they are prepared to pay per month, the VEEC guides them to selecting the women for solar engineer training in Tilonia: two women in their mid to late 40s. The reaction of villagers and selected women is generally one of stunned surprise, but the Committee insists and, after much persuasive argument, gets its way.
During their six months of training, the women are taught by other semi-literate and illiterate women:
to handle sophisticated charge controllers and inverters (solar cells produce direct current (DC) which is converted into standard alternating current (AC) using an inverter),
to install solar panels and link them to batteries,
to build solar lanterns and
to establish a local electronic workshop where they can carry out all major and minor repairs to the solar power system themselves.
The solar projects empower the villages but especially the women. As one Barefoot engineer whose husband and in-laws did not want her to go for training explained, "My husband will never say it, but I know he's proud of me. Now he asks me to maintain his accounts for him." Another said, "I now look back at my childhood when I always dreamed of doing something big for my society. My mother used to laugh at me. Today my family, my neighbors, and even the village elders respect me and value my contribution. It feels wonderful."
"Amongst the poorest of the poor, one-third of total household income may go towards light." – The International Energy Agency
Exporting Barefoot College
In view of the success of the Barefoot approach in India, especially in the remote Himalayas, the College decided to go global and replicate the program in developing and least developed countries. Ethiopia and Afghanistan were the first to benefit.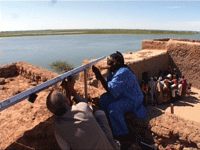 Installation of solar panels in the village of Dejegalia, Timbuktu, Mali.
In 2004, Ethiopia's first solar installation was completed by a woman in the village of Tukul. The United Nations Development Programme (UNDP) and the Government of Ethiopia then joined the project. By 2006, a total of 36 semi-literate and illiterate villagers had been trained and had completed solar installations in 19 Ethiopian villages, building 250 solar lanterns in 11 rural electronic workshops that they set up themselves. The UNDP and the Skoll Foundation funded the six-month training period in Tilonia for 34 of them.
The first 10 Barefoot engineers from Afghanistan included made solar installations in five villages (150 houses) in 2005. With further funding from Norway, at the end of 2008, 21 more Afghan women had been trained and100 villages solar powered.
With support from Fondation Ensemble (Together Foundation) and the Dutch organization Het Groene Woud (The Green Forest), the Barefoot College successfully trained women from remote villages in Benin, Bolivia (Plurinational State of), Bhutan, Cameroon, Gambia, Malawi, Mali, Mauritania, Rwanda, Sierra Leone and the United Republic of Tanzania. All have returned home to install PV systems in their villages and maintain them.
Training has also just started for women from Senegal, Djibouti and Sudan.
Not just solar engineers
Barefoot College is a non-governmental organization. The training and initial purchase of the solar panels, tools and equipment for the villages are funded by diverse organizations. For example, the airfare and six-month training fees for all the rural women coming from nearly 15 African countries in 2007 and 2008 was covered by the Indian Technical and Economic Cooperation Division (ITEC), part of India's Ministry of External Affairs.
Barefoot College runs 549 night schools in India, offering classes to children who cannot attend daytime school because they assist their parents at home. The College's adult education includes training in rainwater harvesting (www.globalrainwaterharvesting.org) and building piped water systems. There are handicrafts courses to assist women who stay at home in making an income. Barefoot College also provides health services – charging a nominal amount for medicines – and builds awareness on issues of hygiene.
"The College follows the life and work style of Gandhi, which is based on very simple living, eating and working. People come for the challenge rather than the money. No one in the college can earn more than US$100 a month," says Mr. Roy. "It's the only college where paper degrees, diplomas and doctorates are a disqualification because the worth of the person is judged by his or her honesty, integrity, compassion, practical skills, creativity and their ability to work with people without discrimination." In 2006, Barefoot College was awarded the US$1 million Alcan Prize for Sustainability.
By Sylvie Castonguay, WIPO Magazine Editorial Team, Communications Division
Acknowledgement Bunker Roy, Founder, Barefoot College
________________________________
What is Appropriate Technology?
Appropriate technology (AT) is difficult to define and its development and implementation a source of great debate, however there is general agreement on some of the governing characteristics:
AT should require only small amounts of capital.
AT must emphasize, wherever possible, the use of local materials.
Implementation of ATs should focus on labor intensive technology solutions that individuals in communities can participate in.
The technological solution being developed should be understandable, controllable and maintainable without high levels of education and training and adaptable to include local communities in innovation and implementation.
Adverse impacts on the environment should be avoided and the technological solution should be sustainable.
The rational of AT resides in empowerment of people at the grass roots community level. Local needs are more effectively met when the community works to address the problem, lowering economic, social and political dependency. Examples from the 3rd International Conference on Appropriate Technologies held in Rwanda include sun cookers that individuals can build themselves using a simple box and aluminum foil, which are readily available and cheap in even the poorest of countries, and the Barefoot College solar technology initiative.
Source: The Relevance of Appropriate Technology, John Tharakan, Department of Chemical Engineering, Howard University, Washington, DC, U.S.
The WIPO Magazine is intended to help broaden public understanding of intellectual property and of WIPO's work, and is not an official document of WIPO. The designations employed and the presentation of material throughout this publication do not imply the expression of any opinion whatsoever on the part of WIPO concerning the legal status of any country, territory or area or of its authorities, or concerning the delimitation of its frontiers or boundaries. This publication is not intended to reflect the views of the Member States or the WIPO Secretariat. The mention of specific companies or products of manufacturers does not imply that they are endorsed or recommended by WIPO in preference to others of a similar nature that are not mentioned.