New Rice for Africa – Plant Breeding Technologies Fighting Hunger
March 2009
Climate change, drought, desertification, soaring food prices, hunger …Nowhere do these intertwined threats to development menace more starkly than in Africa.
To mitigate the threats, UN Secretary General Ban Ki-moon called, at the annual meeting of the Commission for Sustainable Development in May 2008, for a fresh generation of agricultural technologies to usher in a second green revolution, - "one which permits sustainable yield improvements with minimal environmental damage and contributes to sustainable development goals."
Plant-breeding technologies – often combining traditional knowledge with cutting edge biotechnological techniques – are already making real impact in meeting the challenge. The Food and Agriculture Organization (FAO)'s Rice Market Monitor reports that rice production in Africa has risen consecutively for over seven years, and is forecast to rise further in 2008 to 23.2 million tonnes. A major factor in this growth has been the success of a new type of rice, known as the New Rice for Africa – or NericaTM.
The new rice was the result of years of work by a team of plant breeders and molecular biologists led by Sierra Leonean scientist Monty Jones at the West Africa Rice Development Association (WARDA – now the Africa Rice Center). When Dr. Jones set up the biotechnology research program in 1991, some 240 million people in West Africa were dependant on rice as their primary source of food energy and protein, but the majority of Africa's rice was imported, at an annual cost of US$1 billion. WARDA's objective was to produce a rice variety which was better suited to the harsh conditions in African.
Traditional varieties
There were two basic traditional rice varieties available to African farmers, each with very different characteristics:
Native African rice (Oryza glaberrima) had been cultivated in the region for some 3,500 years. It is tough and rugged. Its prolific leaf growth smothers weeds, and it has developed a high genetic resistance to disease and pests such as the devastating African rice gall midge, rice yellow mottle virus and blast disease. But its yield is poor, not least because the plants are prone to falling over when grain heads are full and losing grain through "shattering" before they can be harvested. As a result, O. glaberrima has been almost totally abandoned by farmers in favor of the more productive Asian rice.

Asian rice (Oryza sativa), introduced into Africa by Portuguese sailors some 500 years ago, has largely replaced the African rice strains. Asian rice is high yielding. But it requires a plentiful water supply to thrive. Its smaller sized plants are easily overcome by weeds and are vulnerable to African diseases and pests. It is particularly ill-adapted to the upland rice growing areas in Sub-Saharan Africa, where small holder farmers do not have the means to irrigate the land or to buy chemical fertilizers and pesticides.
The obvious solution was to cross the two varieties. But having evolved separately over millennia, the two species are genetically so different that they will not inter-breed naturally. Repeated attempts to cross them had produced only sterile or unstable hybrids.
Working with partners from across the region and overseas, Dr. Jones' team collected and classified all available rice strains – including a gene bank of 1,500 strains of the native O. glaberrima species, which had been in danger of extinction. They then began the painstaking process of selecting parents for the best combination of characteristics, crossing them to produce offspring and backcrossing the offspring with the O. sativa parent to fix the desired traits. After a series of failures, they turned to "embryo rescue" techniques, in which the cross fertilized embryos were grown on artificial media. By the mid 1990s they succeeded in producing robustly fertile plants, and so the first Nerica was born. Field testing of the new rice started in 1994, and with improved techniques many more lines were generated each year. There are now more than 3,000 Nerica lines.
Best of both worlds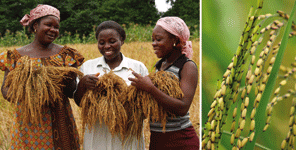 Women farmers in Benin have seen their income rise since switching to Nerica. The new rice varieties are rugged, high yielding and fast growing. (Photos: Africa Rice Center (WARDA))
While genetic differences between the two species had made breeding difficult, it gave the resulting new rice variety a high level of heterosis, i.e. the phenomenon in which the progeny of two genetically different parents outperforms both parents.
New Nerica varieties can smother weeds like the African parents, resist drought and pests or can thrive in poor soils. Like its Asian parents Nerica has a high yield. The grain head holds 300 to 400 grains compared to the 75 to 100 grains of traditional varieties grown in the region. Its strong stems and heads prevent shattering, and the taller plants make harvesting easier.
Moreover, the most popular Nerica lines take only three months to ripen, as opposed to six months for the parent species, thus allowing African farmers to "double crop" it in a single growing season with nutritionally rich vegetables or high-value fiber crops. As a further bonus, some of the new lines contain up to 12 percent protein, compared to about 10 percent in the imported rice sold in the local market. As WARDA director-general Papa Abdoulaye Seck comments, "Nerica is a powerful weapon on Africa's fight against hunger and poverty."
" Though we wish it were not so, scientists in Africa are engaged in the greatest war on earth. They are waging war against poverty and hunger." – Dr. Monty Jones
Technology from Africa for Africa
Monty Jones' technological advances in the war against hunger won him the World Food Prize in 2004, and he was named last year by Time magazine as one of "The World's Most Influential People." The World Food Prize committee also highlighted Dr. Jones' leadership and innovation in the follow-up phase of getting Nerica rice technology quickly into farmers' hands. He built partnerships between WARDA, policy makers, NGOs and research services, trained farmers to become seed producers, and introduced community-based, participatory programs to disseminate the seeds rapidly and allow rice farmers – a majority of whom are women – an active role in planting and evaluating the new rice varieties and continuing outreach in rural areas.
As an upland rice, Nerica is not restricted to growing in paddies, thus enabling African farmers to grow rice in places not previously thought possible. In Nigeria, the new rice has resulted in over 30 percent expansion in upland rice cultivation. In Guinea the Nerica area has quickly superseded the modern varieties introduced by the national system. Since Uganda launched the Upland Rice Project in 2004, in which Nerica is a major component, the Ugandan National Agricultural Research Organization (NARO) reports an almost nine-fold increase in the number of rice farmers from 4,000 to over 35,000 in 2007. At the same time, the country has almost halved its rice imports from 60,000 tonnes in 2005 to 35,000 in 2007, saving roughly US$30 million in the process.
And intellectual property? Helping agricultural research centers manage their intellectual assets as public goods is the raison d'être of the Central Advisory Service on IP (CAS-IP), a unit of the Consultative Group on International Agricultural Research (CGIAR) to which WARDA belongs. WARDA and CAS-IP are holding ongoing workshops to determine how IP mechanisms could best support the impact of this agricultural success story. Nerica was registered as a trademark with the USPTO in 2004, and as the expanding range of Nerica products are adopted by ever more smallholder farmers, CAS-IP notes that it will be increasingly important to protect the quality associations that have been so carefully established by WARDA, and to ensure that any Nerica seeds acquired by a farmer are the real thing.
As WARDA declares with pride on its webpages, the New Rice for Africa, a technology from Africa for Africa, has become a symbol of hope for food security in a region of the world where one-third of the people are undernourished and half the population struggle to survive on US$1 a day or less.
By Elizabeth March, WIPO, Office of the Director General
Related Links
The WIPO Magazine is intended to help broaden public understanding of intellectual property and of WIPO's work, and is not an official document of WIPO. The designations employed and the presentation of material throughout this publication do not imply the expression of any opinion whatsoever on the part of WIPO concerning the legal status of any country, territory or area or of its authorities, or concerning the delimitation of its frontiers or boundaries. This publication is not intended to reflect the views of the Member States or the WIPO Secretariat. The mention of specific companies or products of manufacturers does not imply that they are endorsed or recommended by WIPO in preference to others of a similar nature that are not mentioned.