In the News
February 2009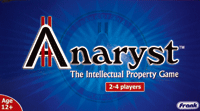 IP Board Game
Move over Monopoly, Scrabble and Checkers, there is a new board game in town: AnarystTM – The Intellectual Property Game. Created by Mr. Pravin Anand, of the Anand and Anand law firm in New Delhi, India, the game is aimed at those 12 years' old and above. It can be played by 2 to 4 players, who receive equal amounts of Ana (the board game currency) at the start of the game. Four industry areas – automobiles, beverages, computer systems and pharmaceuticals – are represented on the board. Each player chooses his industry at the start of the game and is given a card which shows the industry's IP portfolio, which he will have to acquire as he goes around the board. Trespassing fines must be paid by players who fall on an industry square that is not their own. Players can buy the IP of an industry that is not their own, but should beware as they then become patent trolls!
_____________________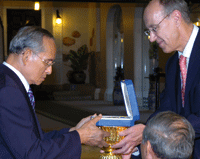 His Majesty King Bhumibol Adulyadej of Thailand is presented with the WIPO Global Leader Award by WIPO Director General Francis Gurry. (Courtesy Ministry of Foreign Affairs, Thailand)
King of Thailand Receives WIPO Award
The King of Thailand, His Majesty King Bhumibol Adulyadej, received on January 14 the WIPO Global Leader Award in recognition of his extraordinary commitment to promoting intellectual property and his important contribution to society as a prolific inventor. The award was presented by WIPO Director General, Mr. Francis Gurry, at a ceremony at the Klai Kangwon Palace in Hua Hin, Thailand.
The King of Thailand is an acclaimed artist with a portfolio of over 1,000 works, including paintings, photos and musical and literary works. He is also an accomplished inventor, holding over 20 patents and 19 trademarks. Many of His Majesty's inventions, which include a water aerator and artificial rainmaking technology, have generated concrete and practical benefits for rural communities in Thailand.
_____________________
Global Economic Slowdown Impacts the PCT
International patent filings under the Patent Cooperation Treaty (PCT) grew by 2.4 percent in 2008, to nearly 164,000 (provisional estimate) applications. While the rate of growth was modest, compared to the average 9.3 percent rate of growth in the previous three years, the total number of applications for 2008 represents the highest number of applications received under the PCT in a single year.
_____________________
Nanotechnology – Science Fiction Becomes Reality
Monash University in Clayton, Australia, has developed a nano-robot 250 nanometers in diameter – the thickness of 2 or 3 strands of hair. Proteus, so-named after the miniature submarine in the science fiction movie "Fantastic Voyage," can, potentially, be injected into the body and maneuvered by remote control to perform brain surgery or unblock blood vessels. The difficulty is in motorizing the robot so that it can withstand currents in the bloodstream and perform the expected tasks – making incisions or chiseling. Researchers believe that it will be possible to control Proteus remotely with waves with a power of 2 to 3 watts.
_____________________
Happy 50th BarbieTM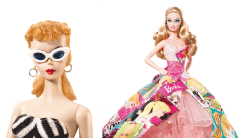 Photo: Mattel
Barbie will celebrate her 50th birthday on March 9, which marks the opening day of the American International Toy Fair in New York where she made her debut in 1959. The doll was inspired by the German doll Bild Lilli, itself inspired by a character in a German newspaper comic strip. Ruth Handler, wife of Elliot, a co-founder of Mattel Inc., purchased three Bild Lilli dolls while vacationing in Europe in 1956. When she got home, she gave one to her daughter Barbara and the other two went to Mattel where the design was reworked – thus Barbie, named after Ruth's daughter, was born.
Like Bild Lilli, Barbie was tall and slim with long legs and a tiny waist. No other doll in the American market looked like her. She was an instant success; Mattel sold some 350,000 dolls in the first year of production. Over the years, over a billion Barbie dolls have been sold in 150 countries – Mattel claims that three are sold every second.
Mattel acquired rights to Bild Lilli in 1964 and stopped its production. But Barbie has remained a subject of controversies – many of which now center on the unrealistic body image she presents to young women – and lawsuits. The most recent of these was launched by Mattel against MGA Entertainment Inc., makers of Bratz dolls. Mattel won a court order banning MGA from selling the infringing Bratz doll on December 3, 2008, a decision that MGA announced it would appeal.
Barbie sales are still going strong – she remains the most popular doll for girls. But she may need freshening up for her 50th birthday; last year's fourth quarter sales worldwide fell 21 percent.
_____________________
IP Rights to Ka Mate
The government of New Zealand and Ngati Toa, a tribal community (or, "iwi"), signed an agreement on February 12 to settle their historical Treaty of Waitangi claims. This agreement contains a special provision for the Ka Mate haka, a traditional Maori dance form and cultural expression. Ngati Toa's ancestor, Te Rauparaha, composed the dance. The iwi's concern is with the inappropriate use and commercial exploitation of the haka which was used in a 2006 Fiat commercial and a recent Hollywood movie about rugby, Forever Strong. The settlement, which still needs to be transposed into legislation, records "the significance of the haka."
The agreement will not affect the popular performance of the haka by the All Blacks, New Zealand's rugby team, or its use by fellow New Zealanders. "It's when it is appropriated for quite explicit commercial exploitation that we would want to have some sort of say," said an iwi spokesperson.
WIPO's Intergovernmental Committee on Intellectual Property and Genetic Resources, Traditional Knowledge and Folklore (the IGC) is examining the international dimension of issues such as those canvassed in this agreement. In 1998, WIPO conducted a fact-finding mission to New Zealand and met with several Treaty of Waitangi claimants to hear their concerns and aspirations.
Source www.nzherald.co.nz
The WIPO Magazine is intended to help broaden public understanding of intellectual property and of WIPO's work, and is not an official document of WIPO. The designations employed and the presentation of material throughout this publication do not imply the expression of any opinion whatsoever on the part of WIPO concerning the legal status of any country, territory or area or of its authorities, or concerning the delimitation of its frontiers or boundaries. This publication is not intended to reflect the views of the Member States or the WIPO Secretariat. The mention of specific companies or products of manufacturers does not imply that they are endorsed or recommended by WIPO in preference to others of a similar nature that are not mentioned.