Green Innovation - Keeping Airplanes Up and Carbon Output Down
February 2009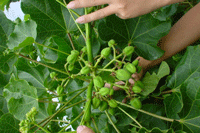 Jatropha plant (Photo: Terasol Energy)
It seems far-fetched, almost inconceivable that a simple shrub, jatropha curcas, and plain algae, could offer a viable alternative to oil – that black gold on which we have become so reliant. But within the next few years this could become a reality for the air transport sector. Faced with volatile energy markets and the urgent need to cut greenhouse gas emissions, the airline industry is fully engaged in the search for viable fuel alternatives which, it is widely believed, will come on stream within 3 to 5 years for jatropha-based fuels and within 10 years for algal-based fuels.
Air transport offers an interesting example of an industry that is embracing technological and design innovation to secure an economically sustainable and carbon-free future.
A united approach
Air travel is central to the global trading system, responsible for transporting 35 percent of goods (by value) of international trade, and over 40 percent of international tourism traffic. A global employer, it directly generates 5.5 million jobs and contributes some US$408 billion to global GDP. Aviation currently accounts for approximately 13 percent of global transport emissions, equivalent to 2 percent of global carbon dioxide (CO2) emissions.
Giovanni Bisignani, Director General of the International Air Transport Association (IATA), believes that "no other industry is as united in its approach" to reducing emissions. The industry has a "firm and strong" commitment to environmental responsibility and the IATA vision is to achieve carbon-neutral growth on the way to a carbon-free future by 2050. Aviation is the first global transportation sector to try to understand the environmental impact of its operations, commissioning in 1999 a special Intergovernmental Panel on Climate Change (IPCC) report on Aviation and Global Atmosphere.
Steps taken by the industry to mitigate its environmental impact have generated significant emissions reductions and translated into sizeable cost savings. Since 2004, the industry as a whole has saved some 59 million metric tonnes of CO2 – equivalent to US$12.2 billion in fuel costs. In 2008 alone, 15 million tonnes of CO2 were saved.
Progress in fuel efficiencies
Today's aircraft are 70 percent more fuel-efficient than in the 1970s.
Since the late 1990s aircraft operations (landing, routing, etc.) have become 20 percent more fuel-efficient and fuel efficiency is set to improve annually by 1.3 percent.
Hydrocarbon emissions have been cut by 90 percent and oxides of nitrogen have gone down by 50 percent.
Biofuel test flights
Access to fuel that is affordable, clean and efficient is an important element in reducing greenhouse gas emissions. The industry is actively steering efforts to identify and develop viable alternatives that are equivalent to, or better than standard jet fuel, that are renewable, and that have minimal impact on biodiversity. IATA, which is committed to using 10 percent alternative fuels by 2017, believes that biofuels offer the most promise in reducing aviation's carbon emissions.
In December 2008, Air New Zealand made aviation history when it tested a passenger jet powered by a blend of standard jet fuel that derived from the plum-sized jatropha fruit. In January 2009, Continental Airlines and Japan AirLines also undertook test flights using jatropha plant-based biofuels. These test flights are part of a collaborative, industry-led effort – under the aegis of the Sustainable Aviation Fuel Users Group – to accelerate the development, and demonstrate the viability of, sustainable biofuels.
The technology process used to convert plant-based oils into fuel was developed by Universal Oil Products (UOP) – a subsidiary of Honeywell. UOP has been developing technology for fuel production for 95 years and holds over 2,600 patents; it uses the Patent Cooperation Treaty (PCT) to protect its technology internationally. The biofuel conversion technology is based on traditional hydroprocessing technology used in refineries around the world for more than 40 years. This means that integration into existing refineries will be quick, simple and cost effective. UOP plans to start licensing its technology to fuel producers in the first half of 2009, bringing commercial production one step closer to reality.
Advantages of jatropha biofuel
The higher energy content of this biofuel mix means that less fuel is needed per flight and its lower specific gravity offers advantages over many standard jet fuels. It is an excellent "drop in" replacement for standard jet fuel, avoiding the need to make expensive modifications to the existing fleet.
These second-generation, plant-based biofuels do not compete with food production or fresh water resources nor do they contribute to deforestation. Unlike biofuel crops such as soybeans and corn, jatropha needs little water or fertilizer, can be grown in harsh, non-fertile environments, and is drought and pest resistant. Each seed produces 30 to 40 percent of its mass in oil and therefore has a higher yield per acre than many other plant oils (one hectare (2.47 acres) of jatropha produces approximately 600 gallons of oil). These plant-based fuels are considered to be carbon neutral as any CO2 emitted during production and use is offset by the plants' absorption during growth.
Test results show that a 50/50 blend of standard jet fuel and fuel from jatropha, and other plant-based oils, meets, and in some instances exceeds, industry technical specifications. According to UOP, "the fuel that our technology produces is virtually indistinguishable from kerosene-based jet fuel. Both are hydrocarbons. The only difference is source." UOP's goal is to produce fuels that perform as well as or better than their petroleum-based alternatives and that leverage the existing fuel infrastructure and fleet technology to lower capital costs and simplify adoption. UOP expects production levels to reach the hundreds of millions of gallons per year by 2012.
Improving the plant variety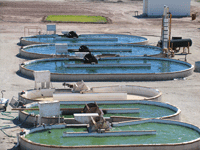 Carbon Capture Corporation algae production ponds. The company believes that technological breakthroughs in effective pond design and processing techniques will bring production costs down. (Photo: CCC)
The jatropha oil for the Continental test flight was sourced by the New York-based Terasol Energy whose President, Sanjay Pingle, reckons that the research is in its early stages: "Lots more work needs to be done on improving yields, disease resistance, synchronization of flowering and fruiting." He is also aware of the "need to be careful that fuel crops are sustainably grown. We cannot allow them to be grown in areas that are used for food or to be a cause for deforestation."
Terasol Energy works with plant breeding companies to get varieties of seeds that it can adapt and develop for its purposes. According to Mr. Pingle, "over time, if trials are successful, we will register new varieties of jatropha that we can develop as Terasol materials". At present some 1,000 hectares of jatropha are under cultivation in Brazil on land that would not otherwise be used for agricultural production.
Intellectual property is an important component of Terasol Energy's business strategy: "We need to be able to ensure that we are licensing-in the best possible plants. This would be hard to do if the developers/breeders did not have strong intellectual property protection. Subsequently, it's important that we are able to maintain competitive advantage through the intellectual property generated as we adapt and develop these plants for cultivation." The main focus of Terasol Energy's IP development is on "the varieties and hybrids of the plants that are used and the processes developed for their sustainable but efficient cultivation."
Mr. Pingle believes that jatropha oil has the potential to radically change the energy landscape and that it is a win-win solution with the potential to help counter climate change, lessen dependence on fossil fuels and generate economic and social benefits. "We are facing an increasingly difficult battle to combat climate change. While there are no silver bullets, all the efforts we can make to reduce our emissions of greenhouse gases help us stabilize the quality of the environment. Developing sustainably grown fuel sources from crops will not only have an impact on fossil fuel consumption but also on the economies of developing countries by providing additional employment opportunities in rural areas and in reducing dependence on imports."
Algae as green fuel
Algae represent another promising alternative fuel source. Bernard Raemy, Executive Vice President, Carbon Capture Corporation (CCC), is convinced that within a decade algal-derived biofuels could become a key component of transportation fuels, including for aviation.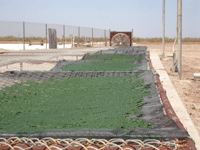 Algae can produce 100 times more vegetable oil per acre per year than soy beans and 10 times more than oil palm. (Photo: CCC)
Algae promise enormous potential as a biofuel source. There are an estimated 100,000 known species around the world with hundreds of new species identified each year. They produce 50 percent of the world's oxygen and are considered the most efficient organisms on earth, because of their rapid growth rate (some species of algae can double their biomass in a day) and their high oil content, which in some species accounts for over 50 percent of their mass. "Algae can produce more biomass and more biofuel molecules much more efficiently in time and space than any terrestrial plant," says Greg Mitchell of the Scripps Institute of Oceanography, University of California, San Diego (UCSD). He continues, "For example, algae can produce 100 times more vegetable oil per acre per year than soy beans and 10 times more than oil palm."
According to a study1 commissioned by CCC, which grows algae in ponds for biofuel research in California's Imperial Valley desert, "microalgal biomass production offers many advantages over conventional biomass production technologies including higher yields, use of otherwise non-productive land, reuse and recovery of waste nutrients, use of saline or brackish waters, and reuse of CO2 … and offers potential for greenhouse gas avoidance."
Mr. Raemy acknowledges that a string of challenges "with algae harvesting, dewatering, drying, lipid extraction and conversion" lies ahead and that "coordinated research efforts … are required to bring research from the lab to the field." He is confident that technological breakthroughs in effective pond design and processing techniques will bring production costs down. IP protection is expected to become increasingly important to his company's business strategy: "So far, we have chosen to be very open with our efforts and have only secured limited patent protection. In the future, we plan on focusing more on the creation of intellectual property as a way to create value." It is CCC's key to generating the investments required for continued research into biofuels.
Facing the challenge
Although global biofuel production tripled between 2000 and 2007, rising from 4.8 billion gallons to some 16.0 billion in 2007, it still only accounts for less than 3 percent of the global transportation fuel supply. While much remains to be done before 'green' crude becomes a mainstream fuel option, the groundswell of interest in identifying, developing and testing these alternatives demonstrates a growing commitment to mitigating the causes of climate change.
Significant levels of investment are required to fund the research needed to enable the technological breakthroughs that will make plant-based biofuels a commercial reality. A balanced IP system is a proven and practical tool. It has an important contribution to make in generating the breakthrough technologies and the necessary investments in biofuel research and development as well as in facilitating the widespread diffusion of these technologies.
Climate change and its impact on human society represent perhaps the biggest challenge of the 21st century and technology, innovation and creativity will play a key role in determining our ability to manage it effectively. The response of the aviation sector, its commitment to innovation and its drive to cut harmful emissions and to achieve carbon neutrality is an encouraging example of what is being done and what promises for the future.
By Cathy Jewell, WIPO, Media Relations and Public Affairs Section
____________________
1. Authors: Professors D.E. Brune (Clemson University), T.J. Lundquist (CalPoly), J.R. Benemann (Benemann and associates)
The WIPO Magazine is intended to help broaden public understanding of intellectual property and of WIPO's work, and is not an official document of WIPO. The designations employed and the presentation of material throughout this publication do not imply the expression of any opinion whatsoever on the part of WIPO concerning the legal status of any country, territory or area or of its authorities, or concerning the delimitation of its frontiers or boundaries. This publication is not intended to reflect the views of the Member States or the WIPO Secretariat. The mention of specific companies or products of manufacturers does not imply that they are endorsed or recommended by WIPO in preference to others of a similar nature that are not mentioned.