Famous Appellations of Origin
December 2008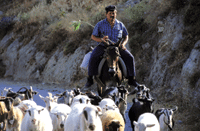 Photo: AFP
An appellation of origin is a special kind of geographical indication generally consisting of a geographical name or a traditional designation used on products which have a specific quality or characteristics that are essentially due to the geographical environment in which they are produced. Consumers are familiar with these products and often request them – even unknowingly – using their geographical name. The following examples may ring a bell.
One such appellation of origin is Prosciutto di Parma or Parma ham. For ham to receive the Parma name, it must be produced in the province of Parma – in the Emilia-Romagna region of north-central Italy – using exclusively pigs from that area. Each step in production, from the breeding of the pigs and their diet through processing to the final packaging, is closely monitored and controlled by the Istituto Parma Qualità. Only the Istituto can brand the finished ham with the seal of Parma's five-pointed ducal crown, qualifying the ham as true Parma ham.
For those with stronger tastes, there is Tequila from Mexico. Tequila production is governed by federal regulations that define where it can be made, where the agave plants to make it can be grown, what has to be stated on the label, where it can be bottled and how much of the content must be made from what percentage of agave sugars. So, when you see a bottle labeled "Tequila" you know you are getting the real thing.
Feta cheese – the struggle for authentication
It is not simply a matter of having a quality product that has a place of origin that makes it unique and which can be recognized by a traditional name or geographical area. Obtaining a geographical indication is a long and often difficult process, not always rewarded with success.
Feta cheese may evoke images of Greece in the minds of most consumers, but "feta" is produced and sold in many countries. It provides an excellent example of the kind of wrangling that may occur over the designation of a product as a geographical indication. Greece launched a process to protect the designation for feta in the mid-1980s, passing laws to protect the name and control production. These dictate the milk to be used and the geographical area from which it must be sourced ­– sheep and goat milk from herds that range freely in the rocky mountain slopes and island coastlands of Greece. But it would prove an arduous task for Greece to earn appellation of origin recognition for its feta as cheese called "feta" was then produced worldwide on a scale many times that of Greece's estimated 100,000 metric tonne annual output.
When the European Commission finally recognized Greece's right to the feta appellation of origin in 1996, producers in the rest of Europe were granted a five-year grace period to change the name of similar cheeses that they designated as "feta." However, the EC feta regulation was subsequently challenged twice in the European Court with Greece receiving a final ruling in its favor in 2005. Since then, imitation feta cheeses produced in other countries of Europe use terms such as salad cheese or Greek-style cheese. Outside the European Union, countries not bound by the Lisbon System may still use the term feta.
The WIPO Magazine is intended to help broaden public understanding of intellectual property and of WIPO's work, and is not an official document of WIPO. The designations employed and the presentation of material throughout this publication do not imply the expression of any opinion whatsoever on the part of WIPO concerning the legal status of any country, territory or area or of its authorities, or concerning the delimitation of its frontiers or boundaries. This publication is not intended to reflect the views of the Member States or the WIPO Secretariat. The mention of specific companies or products of manufacturers does not imply that they are endorsed or recommended by WIPO in preference to others of a similar nature that are not mentioned.