Building for the Future
December 2008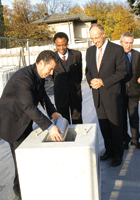 WIPO Director General Francis
Gurry and the Chairman of the
WIPO General Assembly,
Ambassador Uhomoibhi of
Nigeria watch as the cylinder
is placed into its concrete
housing. (Photos: WIPO/ Mercedes Martínez Dozal)
The foundation stone for WIPO's new office building was officially laid on November 7. During the ceremony several symbolic items – to intrigue and instruct future generations – were placed in a steel cylinder embedded in a concrete block, which will become part of the structure of the building. Included were the WIPO Convention, the WIPO flag, a WIPO medal, the UN Charter, a copy of the bill of sale of the land, the brochure about the architectural competition, a selection of architect's blueprints, a copy of the contract with the general contractor, a USB key with photographs of the construction site from its start-up in April 2008, the official gazette of that day (Feuille d'Avis Officielle), Swiss coins from 2008 and the ceremony program.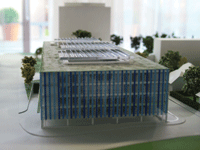 WIPO's new building will be one of the first in Geneva to incorporate a sustainable energy source – a cooling system using water from Lac Léman.
The new building will have four underground levels, an atrium-style ground floor with a cafeteria and five floors of offices with 560 workplaces. Its design, by the German firm Behnisch Architekten, includes a cooling system using water from deep within Geneva's lake, and its 1,400 m2 roof will be insulated from summer heat by earth and vegetation (see Green Design – From Cradle to Cradle, WIPO Mag. 2/2007).
Completion is expected in October 2010. The future WIPO headquarters complex will then comprise five inter-connected buildings.
Related Links
The WIPO Magazine is intended to help broaden public understanding of intellectual property and of WIPO's work, and is not an official document of WIPO. The designations employed and the presentation of material throughout this publication do not imply the expression of any opinion whatsoever on the part of WIPO concerning the legal status of any country, territory or area or of its authorities, or concerning the delimitation of its frontiers or boundaries. This publication is not intended to reflect the views of the Member States or the WIPO Secretariat. The mention of specific companies or products of manufacturers does not imply that they are endorsed or recommended by WIPO in preference to others of a similar nature that are not mentioned.