Ghostwriters, Creators, Cheats
September 2008
Ghost writers can do a good business these days. There are firms of them as well as individuals offering their services to those who are too busy (such as political celebrities), too lacking in the necessary skills or too prolific to go without assistance in research and preparatory drafts. Alexandre Dumas was in the last category.

Alexandre Dumas and Auguste Maquet by the famous French caricaturist Gill. (Photo: ClipArt)
Although Dumas died in 1870, it was not until 2002 that his remains were removed to the Panthéon in Paris, to join other literary giants of his age, among them Emile Zola and Victor Hugo. This seems to set the seal on his authorship of some of literature's best-loved works, such as "The Three Musketeers" and its sequels, "The Count of Monte Cristo" and "The Black Tulip." He used a large number of collaborators for both his plays and his novels, the most outstanding of whom, Auguste Maquet, having helped him to write the books mentioned above among others, took him to court in the 1850s to claim unpaid fees and also to recover his literary property as a co-author. The outcome was that Dumas retained his right to sole authorship but as a debtor was required to pay Maquet 145,200 francs within a period of eleven years. Even if ghost writers contractually agree not to enforce their right of attribution, against payment, there can be circumstances in which they may seek to have their contribution acknowledged. Maquet vs. Dumas illustrates the difficulty of clearly delimiting the value of each person's contribution.
Dumas, when attacked, was perfectly frank about the contributions of collaborators – his open letter to the Société des Gens de Lettres of 1845named Maquet and the works with which he had assisted – as he was about the factual and literary sources that inspired his work. Several of his novels were serialized in various journals virtually simultaneously over many months, requiring constant copy-writing to tight deadlines. Both Dumas and Maquet (who was a trained historian) found subjects, discussed plot outlines and made detailed suggestions; Dumas constantly asked for preliminary copy, which he then revised into final form. The final manuscript was almost always in Dumas' hand, but as Matharel de Fiennes confirmed to Maquet for use in the court case, when an installment of Le Vicomte de Bragelonne was lost on the eve of publication in Le Siècle, Maquet was summoned to the journal's premises to re-write his own text from memory: de Fiennes observed that his subsequent comparison of the retrieved Dumas text with Maquet's showed that Dumas had only changed about thirty words in 500 lines.
But a comparison of manuscripts, whether handwritten or typed using the same or different computers, is inconclusive evidence: who can irrefutably assign ideas and words even to the person who wrote them, when collaboration involves so much oral communication and exchange of views? Perhaps Dumas' vindication comes not only from the confirmation in court of his overall mastery and control, as distinct from the physical act of voluminous writing, but also from the course of history: it was Dumas who transformed Maquet's first novel, by expanding and improving it and publishing it under his own name (this was "Le Chevalier d'Harmental") and although Maquet finally broke with Dumas and published novels in his own name, these long ago fell into oblivion.
Fame and recognition
Publication under Dumas' name raises the issue of the advantage that name recognition confers. IP experts1 have indicated an analogy between copyright and trademark law: an author's name can be seen as the author's trademark, attracting public identification and "consumption" of certain goods on the market, and similarly, a literary collaborator can be seen as a licensee who does not, however, exercise decisive control over the end-product. Dumas' publishers in his high period must have seen his name as the most marketable. In the fine arts painters and sculptors use assistants in the same way, a notable example being Rubens, who was thus served by Van Dyck, Teniers and Jan Breughel.
The trademark analogy is also useful in considering copyright infringements similar to "passing off" or "counterfeiting". Plagiarism is a willfully false attribution of authorship to oneself, or can be a use of another's text without any or with insufficient acknowledgement of source. In the arts world, forgery is also the willfully false attribution of an artistic creation, usually to an artist with name recognition and value on the market.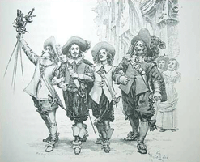 Illustration of Les Trois Mousquetaires (The Three Musketeers) by Maurice Leloir (1851-1940).
Students used "cribs" and model essays in book form long before computerization. The Internet has expanded possibilities for plagiarism, which in turn has generated technology for detection, including special software and even machines for precise text comparison. But apart from the obvious copying of significant quantities of text, cases of certain similarities found between texts raise age-old problems, requiring appeals to human judgment, however sophisticated the technological "evidence." Is the use of identical phrases accidental, or if willful, how extensive? Are textual differences minimal enough to indicate plagiarism? Should quotation marks have been used? Should the source have been acknowledged throughout the text instead of only at the end?
Suing a celebrity can swing the full weight of fame, establishment power and money against the plaintiff. Through the 1920s and 1930s, although Florence Deeks could show that outlines, omissions, even factual errors in her work, recurred in H.G. Wells' " The History of the World" and that their common publishing house, Macmillan, could have lent her manuscript to Wells, she was dismissed as an angry spinster, whose assertions could not be satisfactorily proved.
The world of fine arts has also acquired advanced techniques to verify authenticity, such as carbon-dating, X-rays and improved chemical tests. The Dutch master forger of Vermeer paintings, Han van Meegeren (1889-1947), might have a rougher passage now. But there are also bona fide copies of art works, which are commissioned and made with no element of deception in view. The situation is further complicated by the deliberate acts of artists arising from generosity or greed – a Jean-Baptiste Corot (1796-1875) who occasionally signed his students' paintings, or an ageing Salvador Dali who signed blank paper or canvas for others' use.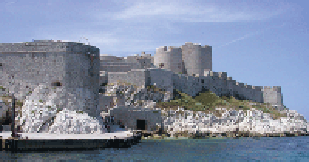 The Château d'If served as setting for Le Comte de Monte-Cristo
(The Count of Monte Cristo). (Photo: wikipedia)
Ultimately, we consider the degree of intentional deception and the harm done to any society. Of course an IP-conscious world will take the line that "passing off" is morally unacceptable, and that reputations fall in the interests of culture, quality and intellectual integrity. But the moral argument can be strengthened greatly by the seriousness of the practical consequences. Severe sanctions (exclusion, loss of credits) against student plagiarists can be more strongly justified by the devaluation of graduates' qualifications on the job market which results from unsanctioned plagiarism. Perhaps a more pointed example would be articles written by ghost writers in the pay of drug companies in medical journals, which are falsely attributed to medical specialists—acts that may endanger life and limb worldwide. On the other hand, a lone Ms Deeks lost her initial case and appeals through a decade (gaining only some posthumous sympathy) and Wells' book sold profitably, enhancing his reputation.
Sometimes the worm turns: Maquet, though he failed in his bid to be legally recognized as co-author, lived and died well-off, while Dumas, retaining both contemporary and posthumous glory, died poor, even if by his own fecklessness.
By Anuradha Swaminathan, WIPO Communications and Public Outreach Division.
___________
1. Professor Jane C. Ginsburg, basing herself on an article by Victor Nabhan (2004)
The WIPO Magazine is intended to help broaden public understanding of intellectual property and of WIPO's work, and is not an official document of WIPO. The designations employed and the presentation of material throughout this publication do not imply the expression of any opinion whatsoever on the part of WIPO concerning the legal status of any country, territory or area or of its authorities, or concerning the delimitation of its frontiers or boundaries. This publication is not intended to reflect the views of the Member States or the WIPO Secretariat. The mention of specific companies or products of manufacturers does not imply that they are endorsed or recommended by WIPO in preference to others of a similar nature that are not mentioned.