International Home Decoration Market Beckons Africa's Designers
August 2008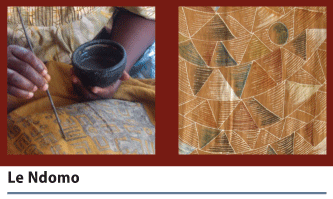 African design is growing in popularity, especially in the home decoration industry where demand is outstripping supply. The call is not for the masks and statues sold on sidewalks around the world. Interior decorators are looking to African designers for naturally-sourced, beautifully crafted, high-end objects. Many African designers have gained a reputation for the quality and the originality of their work and are making headway in the international market. WIPO Magazine contacted several of these designers – all part of the Design Africa program (see box) – to discuss their work and the intellectual property issues involved therein.
Every African country has its own traditional designs and crafts inherited from previous generations and completely dissimilar to anything found else where. The creators we interviewed were proud of the inspirational role of their tribal roots ­– and just as proud of the modern twist they had given those designs. Most use locally found products – wood, cotton, wool, clay, grass, dyes, leather, stone, etc – and traditional techniques to create home design products with international appeal.
"Africa is an inexhaustible source of ideas for designers in general and those engaged in the fashion industry in particular." ­– Sara Abera, Designer, Muya Ethiopia PLC

Preserving culture
Sara Abera of Muya Ethiopia PLC (muya is Amharic for creative) preserved an endangered indigenous hand weaving art by using it to create sophisticated wall hangings, custom textiles as well as linens, rugs, throws and other home decoration items. In so doing, she helped local artisans upgrade their skills, and even provided training for women in prison. Her designs gained instant popularity at showcases in Montreal and Toronto (Canada) and in Cape Town (South Africa). "International buyers started contacting us," she says smiling.
She speaks of her inspiration: "My surroundings, the colorful cloths, jewelry, wood carvings used in our households; I refer to more than 80 tribes living in Ethiopia, the undiscovered designs of handicrafts which are new to the rest of the world." And her work: "My designs spring from the rich cultural heritage and traditions of Ethiopia, which go back for centuries and cover all aspects of handicrafts – hand weaving, pottery, jewelry, basketry, etc. This background is useful for product development; a transition process from the exotic to the contemporary designs."
And if her work is copied? "It is disheartening to say the least! Putting time and effort to create something unique while those who copy make no effort whatsoever!" Would intellectual property protection help? "Yes, very much so! I have registered very few of my designs locally but have taken no action against copiers, as such action is beyond our financial capabilities and no one believes that justice can be done – that is to say we doubt the results."
Recreating nature

Ronel Jordaan Textiles produces incomparable cushions, hangings, throws and carpets – all carded, dyed and felted by hand from 100 percent Merino wool sourced in the Eastern Cape in South Africa, home of the company's founder and creative force, Ronel Jordaan. "One look at my rock pillows and you know my inspiration: nature. My work is unique because I use an unusual medium and my designs look so real," said Ronel.
Was it difficult to enter the international home decoration market? "Design Africa gave us training on how to do marketing in Canada and other countries. They organized meetings with wholesalers, and we had the opportunity to exhibit products in Montreal and Toronto. It was of great assistance in entering the international market."
Is copying a problem? "I've seen my work copied, but have taken no action. South Africa's exchange rate is not in our favor; other designers are aware that we are helpless and therefore copy. My livelihood is not threatened as I am creative and will always create new designs, but we do lose sales. African designers and creators could definitely benefit from protection – design or other – but we don't need it to be competitive on the world market."
Ronel's work is often described as exquisite and awe-inspiring; indeed, she was named the 2006 Soft Furnishing Designer of the year by Elle Magazine. However, she claims her proudest achievement is empowering the women she trains in felting to create their own designs.

Tackling poverty
Mali Coopérative Djigouyaso was set up in 2004 by volunteer business women with expertise in crochet, embroidery and sewing with the aim of assisting women in one of Bamako's poverty stricken communes. The Cooperative helps the women enter the workplace, training an average of 20 young women a year in manual techniques. The result: a high quality line of home accessories and clothing from 100 percent locally sourced cotton. Aïssatta Namoko creates the designs executed by the Cooperative.
"I'm often inspired by things I see in magazines. I use my imagination to adapt them to the Malian textiles and emphasize quality and finishing to the women from the commune," says Aïssatta. " Design Africa marketing seminars have helped me to tailor my designs to the international market and we've been participating in quite a number of international fairs - the most recent in Germany"
"I have yet to see our work copied. The pieces are unique and the hand work very intricate. If they were copied, the competition could ruin my livelihood and that of the women in the commune. If the competitors, who do not share my inspiration and creativity, were to simply copy my works – it would be a flaming gauntlet."
"I've thought of registering my designs at OAPI, but money is a problem. My hope is that OAPI's leaders will competently defend our creative works – even unregistered."
"Every piece of craft has a story behind it. Our experience is that redesigning the traditional craft expands its uniqueness." – Director-designer Kwekwa Forson, Tekura Enterprises Ltd., Ghana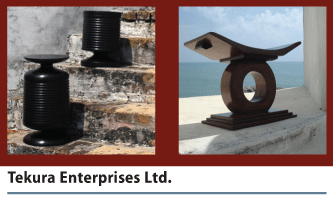 Telling the story
Tekura Enterprises Ltd. has already made a name for itself in the U.S., Germany, Italy and the U.K. for its stylish contemporary interpretation of traditional African designs. Clients instantly recognize Tekura designs and the special finishing that identifies the company. Director/designer Kwekwa Forson explains, "There is a whole range of traditional craft that can inspire designs to meet the taste for contemporary and functional items. Every piece of craft has a story behind it. Our experience is that redesigning the traditional craft expands its uniqueness."
The potential is limitless. "African designers and creators can expand the range of product designs and sustain a regular flow of new designs. This will enrich the world market as well as create more opportunities for more artisans. It is about time more African professional designers came on the scene." And the benefits are immeasurable, "A big portion of African economies thrives on craft handed down from earlier generations. Designers can greatly influence the local economy by bringing out forms, shapes and colors based on the local craft."
And counterfeiting? "It would be difficult and time-consuming to start looking around for copiers. And who is going to spend time litigating? We would rather market our designs as widely as possible to sell as much as we can. We depend on our uniqueness as branding. It would be great to protect designs, but how do you go about it while keeping your focus?"
"I do not know how designers and creators abroad get protection from copiers and how they are remunerated for their efforts, but the same mechanism should work for their African counterparts so that they can be competitive. Otherwise there will be insufficient motivation to partner other players in the industry."
"When my own work is copied – it is just so badly done and of such poor quality, it makes me sick… and angry. Something must be done against counterfeiting so creativity can survive. Counterfeiting has no good in it, it kills creativity." – Artist, sculptor and designer Babacar Mbodj Niang, Nulangee Design, Senegal.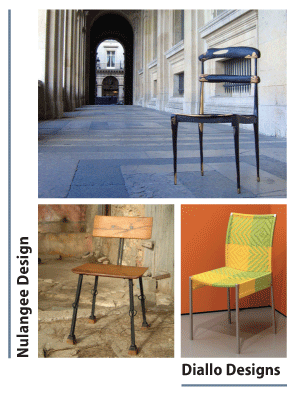 The art that comes from the tree
The self-taught Senegalese artist, sculptor and designer Babacar Mbodj Niang, opened Nulangee Design in 2002. His unusual techniques – sculptured horn, braided iron, sewn wood and molded leather – yield sculptural delights, both whimsical and elegant. His inspiration: "Art comes from the tree. Not having logic in my creation or any formal artistic education, it is the piece of wood that is in command of my work. From the pollen to the roots, it contributes to the creation."
Nulangee Design offers young people artistic and practical training in areas such as shoemaking, woodwork, horn carving and metal work. Students are taught to use the materials they find in their natural environment. "The value of African creations is in the materials we use. 'In Africa nothing is lost, everything is transformed.' We recycle everything into our creations – from garbage we make art," says Babacar.
"Our creations are very cultural, making their mass production difficult for copiers. I haven't seen Nulangee Designs copied, but I have seen the influence of our designs on the works of many other creators. When my own work is copied – it is just so badly done and of such poor quality, it makes me sick… and angry. Something must be done against counterfeiting so creativity can survive. Counterfeiting has no good in it, it kills creativity."
"In general I rely on copyright protection. I've registered works at OAPI but only for Senegal. If I had the means I would always do it. I am convinced of its necessity."
Development Project contributing to the boom
The Design Africa program was launched in 2006 by Canada's Trade Facilitation Office (TFO Canada) to assist African home decoration companies in reaching the international market place. Through seminars, training and hands-on guidance in creating designs with international appeal, the program helps small and medium-sized home decoration companies across Africa to build capacity and create linkages with international buyers.
The Salon International du Design d'Intérieur de Montréal (SIDIM) has been the key to introducing many of thee African creators to the international market. The creations showcased at their exhibitions in Montreal and Toronto achieved instant successes – interior decorators immediately recognized and appreciated the uncommon vision and striking designs.
Design Africa's preparation for SIDIM events includes activities such as:
field missions to participating countries to identify and select participants, including workshops and one-on-one meetings on exporting to Canada and related market/product development strategies to nearly 100 companies;
provision of information and support to the participants in preparation of the exhibition (e.g. product selection, pricing, selection of marketing materials)
match-making support in identifying and inviting key Canadian buyers to participate in the trade events and provide follow-up after the event.
Nineteen SMEs in five countries – Ethiopia, Ghana, Mali, Senegal and South Africa – are now part of the program. The criteria for selection: unique, relevant design of African inspiration, high-quality, handmade using local raw material (if possible organic) potential for strong branding based on high quality and social platform (the story behind the products) and commanding a price premium.
The Design Africa brand serves as an example for creators on how to market their products internationally.
By Sylvie Castonguay, WIPO Magazine Editorial Team, Communications and Public Outreach Division.
The WIPO Magazine is intended to help broaden public understanding of intellectual property and of WIPO's work, and is not an official document of WIPO. The designations employed and the presentation of material throughout this publication do not imply the expression of any opinion whatsoever on the part of WIPO concerning the legal status of any country, territory or area or of its authorities, or concerning the delimitation of its frontiers or boundaries. This publication is not intended to reflect the views of the Member States or the WIPO Secretariat. The mention of specific companies or products of manufacturers does not imply that they are endorsed or recommended by WIPO in preference to others of a similar nature that are not mentioned.