Technology, Innovation and Grit: Faster, Higher, Stronger in Disabled Sports
August 2008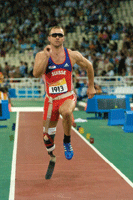 Images from the 2004 Paralympics in Athens
(Photos: Lieven Coudenys)
Nowhere is the impact of technological innovation more evident than in the area of disabled sports. For years athletes with talent, determination and drive have been excluded from competitive sports by disabilities. But scientific innovation has come a long way in finding solutions using bio-mechanics and other technologies to serve these athletes.
The development of new materials and cutting-edge designs as well as major advances in engineering and surgical techniques have given disabled athletes unprecedented opportunities to actively participate in sport. These trends have put sport as recreation within the reach of many individuals with a disability, but also have boosted the ranks of elite athletes with disabilities and enabled previously unimaginable sporting feats.
The 13 th Paralympic Games, which will be held in Beijing in September, demonstrate this advance in disabled sports. Some 4,000 Paralympians from 150 countries will participate in the Games, marking a ten-fold increase from the 400 competitors from 23 countries in the 1960 Games in Rome. The Games will include a wide range of sport – archery, athletics, boccia, cycling, equestrian, 5-a-side and 7-a-side football , goalball, judo, power lifting, rowing, sailing, shooting, swimming, table tennis, volleyball (sitting), wheelchair basketball, wheelchair fencing, wheelchair rugby and wheelchair tennis. Athletes from six different disability groups defined by the degree of function determined by the disability – those with an amputation, cerebral palsy, visual impairment, spinal cord injuries, intellectual disability and others which do not fit into these above groups – will participate in these events.
Major advances in the prosthetics industry and wheelchair technology have transformed the sporting arena for these athletes. Today specialized prostheses are crafted to meet the specific requirements for amputee athletes aiming to compete. Similarly wheelchair technology now allows adjustments to readily accommodate the varying needs of the athletes competing in different sports.
Prosthetics – flexible, comfortable, durable
Prosthetic devices, such as artificial limbs or eyes, have existed for centuries, but early devices were crude, heavy, unwieldy and uncomfortable. Greater understanding of the biomechanical functioning of the human body along with the creation of lighter, stronger and more flexible materials and the emergence of increasingly sophisticated engineering technologies have resulted in prosthetics that offer greater movement, comfort, strength and durability. In fact, the pace of innovation in this area is so rapid and wide-ranging that even the prospect of bionic limbs is fast becoming a reality.
For Frenchman Ambroise Paré, who introduced amputation as a medical option in the 1500s and thereby paved the way for a more widespread use of prosthetics, today's startling advances in human-machine neural interfaces must have been unimaginable. The creation of electronic knees and arms whose movements are triggered by electrical signals generated by nerves in the remaining parts of limbs would have seemed like science fiction. Before long, the continuing commitment of researchers, scientists, engineers and manufacturers working with athletes with a disability in their search for optimal solutions will surely result in prostheses that can faithfully replicate the natural turns and twists of a human leg, arm or hand – moves that are essential in most sports.
These types of developments are not only revolutionizing the world of disabled sports but are also beginning to stimulate debates and raise questions among authorities that regulate the able-bodied sports.
Oscar Pistorius wins his case
Earlier this year, a South African double amputee sprinter, Oscar Pistorius, won his appeal against the IAAF (International Association of Athletics Federations) ruling that his carbon fiber prosthetics gave him an unfair advantage over able-bodied athletes in his bid to compete in the Beijing Olympic Games. Pistorius still has to achieve the qualifying time to compete in the Beijing Olympics, but his successful battle with the sporting authorities is undoubtedly encouraging for all disabled athletes.
Born with a congenital condition that left him with lower legs but no feet, Pistorius runs on carbon fiber blades: the Ossur Flex-Foot®, also known as Cheetahs. He has broken his own world record on 26 occasions and has recorded times better than those of the equivalent women's races in the 2004 Athens Olympic Games. To become the first sprinter with a disability to compete in the Olympics, Pistorius will have to run 400 meters in 45.55 seconds to be selected for the South African relay team.
Pistorius's prosthetic feet are engineered to enable a more natural gait and to maximize comfort. The carbon-fiber blades were invented by an American student, Van Philips, after a water-skiing accident in 1976, which resulted in his left foot being amputated. Frustrated with ill-fitting and unresponsive prosthesis, he devoted his energies to the search for a strong, flexible and light-weight solution. In 1982, he teamed up with Dale Abildskov, an aerospace composite materials engineer, and together they set about building a carbon fiber prototype. By cutting the carbon fiber into a "C" shape, it was possible to take full advantage of the strength and flexibility of carbon fiber, which helped simulate the spring action of a normal foot and allowed the user to run and jump.
In 1984, Philips established Flex-Foot Inc. to market his invention; and in 2000, he sold his company to Ossur, an Icelandic manufacturer. Philips retained ownership of the patent rights to his invention and continues to work with Ossur to develop new and improved prosthetics.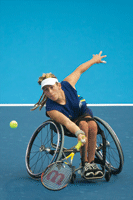 We are captivated by the determination and drive of atheletes long excluded from competitive sports by their disabilities...
Wheelchair sports
Another area in which patented technologies have had a significant impact is that of wheelchair sports. Growing interest and participation in these events since the 1970s, along with, once again, the greater availability of lighter-weight materials, fuelled the development of wheelchairs for specific sports, such as basketball, rugby, soccer, tennis and racing.
Unlike standard wheelchairs, those used in sport have rigid adjustable structures that do not fold, thus increasing their strength and solidity. Their unique camber offers greater stability when turning sharply, and reduces injuries from falling or tipping. Sports wheelchairs are made of composite, lightweight materials that are stronger and more versatile. Their lighter weight saves athletes from having to spend more energy to move around in them, reducing shoulder and wrist injuries and also making the chairs easier to transport.
The 1975 Boston Marathon was the first major race to include a wheelchair division. That year Bob Hall completed the race in 2 hours and 58 minutes. Today the course record for women, established in 1994, is held by Jean Driscoll (USA) who completed the race in 1 hour 33 minutes and 22 seconds. Since 2004 Ernst Van Dyck (South Africa) has held the course record for men: 1 hour 18 minutes and 27 seconds. Technology has had a major impact in enabling athletes to achieve these dramatic improvements in performance.
Wheelchair technology
While the first patent for a wheelchair was granted in the United States in 1869, wheelchairs were mass produced only in the late 1930s. In 1937, a patent was granted to two engineers, Harry Jennings and Herbert Everest, for a wheelchair with an x-brace frame which enabled it to be folded without having to move the drive wheels. This design, which allows the wheelchair to be more easily transported, remains the standard for manual wheelchairs today.
2008 Beijing Paralympic Games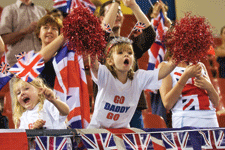 ...and the enthusiasm and joy of their families.
When we tune into the Paralympic Games in September, we can only marvel at the courage, determination and dedication of these exceptional individuals who have reached the levels of sporting excellence that many able-bodied athletes can only dream of. The startling achievement of many sports scientists, engineers and surgeons also deserve recognition for their ingenuity and creativity in developing the technologies that enable human bodies to adapt to disabilities in ways previously unimaginable.
As the motto of the Olympic Movement attests, sport has always been about progress – " Citius, Altius, Fortius" (faster, higher, stronger). Technology, perhaps more than any other factor, will determine the future evolution of sport and the rules that govern them.
The sporting achievements of remarkable individuals like Oscar Pistorius and Dame Tanni Grey-Thompson, a British wheelchair athlete who won a total of 16 Paralympic medals and held over 30 world records and is also six-time winner of the London Marathon between 1997 and 2002, bear witness to their outstanding courage, commitment and drive, and also serve as testimony to the ability of humankind to overcome adversity through ingenuity and creativity.
By Catherine Jewell, Senior Information Officer, Media Relations and Public Affairs Section.
_____________________
Going the Distance
Born in Cape Town in 1984, Du Toit competed internationally for the first time in 1998. In February 2001, she had an accident on her way to school when her scooter was hit by a car; her left leg was subsequently amputated. That did not stop her. In May she was swimming again in anticipation of the 2002 Commonwealth Games where she would become the first athlete with a disability to qualify for an able-bodied event: the 800 meter freestyle final. She went on to win two gold medals at the 2002 Commonwealth Games' Elite Athletes with a Disability and five gold medals and one silver in the 2004 Athens Paralympics.
Du Toit made history when she qualified for the 2008 Beijing Olympics in May after taking fourth place in the 10km World Open-Water Swimming Championship in Seville, Spain. She became the first Olympian with a disability. Her time was only 5.1 seconds behind the winner, so her chances are good for the Olympics. Du Toit will, of course, also be competing in the Beijing Paralympics in September.
As Du Toit put it to Telegraph reporter Simon Hart, "Going out there in the water, it feels as if there's nothing wrong with me. It doesn't matter if you look different. You're still the same as everybody else because you have the same dream."
By Sylvie Castonguay, WIPO Magazine Editorial Team, Communications and Public Outreach Division.
The WIPO Magazine is intended to help broaden public understanding of intellectual property and of WIPO's work, and is not an official document of WIPO. The designations employed and the presentation of material throughout this publication do not imply the expression of any opinion whatsoever on the part of WIPO concerning the legal status of any country, territory or area or of its authorities, or concerning the delimitation of its frontiers or boundaries. This publication is not intended to reflect the views of the Member States or the WIPO Secretariat. The mention of specific companies or products of manufacturers does not imply that they are endorsed or recommended by WIPO in preference to others of a similar nature that are not mentioned.