IP for Business: The Fall and Rise of Pharma Brand Names
June 2008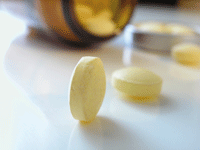 On a roll. Brand creation experts are coming up with a new generation of names for pharmaceutical products to help shape attitudes towards the industry and appreciation for its innovations. (photos.com)
By R. John Fidelino
What's in a name? Sometimes the health of the corporate balance sheet. Take brand names for pharmaceutical products. Every month, in the US Patent and Trademark Office alone, some 1,000 names are filed in Class 5 - the international trademark classification for pharmaceuticals. In this most crowded of trademark classes, the pharmaceutical industry is increasingly seeing the importance of the brand name to the success of a brand. R. John Fidelino is the Global Creative Director of Interbrand Wood Healthcare consultancy, which has assisted in the creation and management of some of the world's best-selling pharmaceutical brands. In this article for WIPO Magazine, he explores recent trends in the art and science of naming new drugs.
Stand out – but innocuously! This would seem to be the goal, judging by pharma brand names launched in the recent past. A paradox, for sure. But it makes sense if you consider the following: don't stand out and you get lost in the crowd; stand out too much and your flashiness may undermine your credibility. Pharma marketers are not only concerned about over-promising and under-delivering to physician and patient audiences, they are also fearful of rejections by regulatory authorities such as the U.S. Food and Drug Administration (FDA) and the European Medicines Agency (EMEA). Add to this the ongoing media and government blitz against the pharma industry, and it is no wonder a new conservatism in pharma branding is prevailing. Thus, despite all the talk of differentiation, it seems the ultimate driver in brand name development is credibility.
The past, in brief
In the years before Viagra, there was a preponderance of traditional, "old school" pharma names. These names all shared a similar construction – consonant-vowel-consonant – and reeked of chemistry, with their -ol, -en, -in, or -il suffixes (e.g. Anafranil, Ritalin). Patients were not expected to discuss their prescriptions with their doctors, and so it was fine that names were complex and unattractive. But with the success of brands like Prozac and Viagra, suddenly an approachable and attractive name was all the rage. Brand names now reached beyond the science and grabbed onto aspiration: what does the consumer want in life? Let's sum it up in a brand name for a pill! Take Celebrex, Seasonale, Zestril. Such names made pharma a household topic.
Once the post-Viagra maelstrom of aggressively aspirational names subsided, a gentler style emerged. These names equally evoked a good life, but were mellifluous, endearing, non-offensive... and banal. In the quest to stay current but safe, the industry created a new convention: the sounds-like-a-woman's-shoe-from-Europe name. A wave of names emerged that tended to be overly feminine, in look and feel, comprising constructs of open vowels and fluid consonants. These names were clever and interesting for a while, but the sheer number of them robbed them of their creative significance.
A new era
Some recent trends, however, have thrown up names that are beautiful and go well beyond either the heavy, old-school pharma name or the polite, new-school aspirational name. These are stretching the boundaries of what is expected and what is acceptable, successfully combining the desire to create with the need to remain credible.
Trend 1: The Pharma 2.0 name
In lieu of creating "phashion" names, some manufacturers have returned to the scientific underpinnings of their molecules as their source for inspiration - but with a new twist. Rather than the generic-sounding, chemical type name of the past, the new names make the molecules sound provocative and rather sexy. GSK's breast cancer treatment, Tykerb (generic name lapatinib), for example, plays off its classification as a tyrosine kinase inhibitor. Pfizer's Sutent, used to treat certain cancers of the kidney and digestive system,encodes its own generic name, sunitinib. Their short and quick rhythms evoke a sense of power, while their unusual choice of letters cuts through the copious aspirational names. These "pharma 2.0" names do not intend to make you feel comfortable about the science; they make you appreciate the science. By embracing the molecule, they inspire confidence in the compound's ability to address a physiological need, while by expressing the molecule unconventionally, the names represent the promise of pharmaceuticals. The pharma 2.0 style allows the industry to project a sophisticated, technology-based image, more appropriate for the innovations it offers.
Trend 2: The scientific story name
In the past, if manufacturers weren't referencing its chemical background, they would name a product according to its indication. This would help orient people as to what they were prescribing the drug for. But the name of the drug would be a constant reminder to the patient of the affliction (e.g., Arthrotec for rheumatoid arthritis, Cancidas for candida infection, Hepsera for Hepatitis B). While past efforts to overcome stigma resulted in the aspirational name, more recent names side-step the condition and the treatment benefit altogether, focusing instead on how the product works. For example, Pfizer's Selzentry or Celsentri (generic name maraviroc) speaks to how the drug works to block HIV from entering human cells (viz. cell sentry). Unlike the pharma 2.0 style, scientific story names are more familiar sounding. They leverage real language, but in service of expressing the drug's mechanism.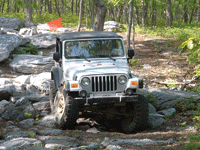 Novartis' Exforge parallels the naming of sports utility vehicles to evoke a brand that sounds able to tackle high blood pressure like an all-terrain vehicle can wrangle a mountain. (Photo: Mtxchevy (Wikipedia))
Trend 3: The anti-pharma name
Given its battered reputation, some manufacturers have abandoned linking to the industry altogether. These companies are creating names that don't so much seek to differentiate, as to annihilate any benchmark for comparison, and in that way subvert the credibility question. They do this primarily by co-opting naming constructs from other product categories. Novartis' Exforge (generic names amlodipine and valsartan), for example, parallels the naming of sports utility vehicles (SUVs) to result in a brand that sounds able to tackle high blood pressure like an all-terrain vehicle can wrangle a mountain. Anesiva's Zingo, a needle-free injection system for administering lidocaine powder, is named with a light touch that makes it sound like child's play ­–– appropriate for a rapid local analgesic for kids. By reflecting other product categories these names telegraph emotional experiences without articulating an aspirational promise.
Looking to the future
Although the pharma image has suffered a few serious blows by the media and the public, the recent brand launches indicate that the industry is alive and kicking. Rather than continuing to pander to pharma conventions, the industry has recognized that standing out need not conflict with remaining credible. Through novel approaches to brand naming, a number of forward-thinking companies have leveraged language to help shape new attitudes toward the industry and appreciation for its innovations. Though one day these trends will also become conventions of the past, today they are a sign of reinvention and of more to come.
Clearing the Regulatory Hurdle
Some 40 percent of names submitted for approval by the FDA and EMEA regulatory authorities are rejected – largely for the simple reason that confusion between two pharmaceutical brand names can be a matter of life and death.
According to guidelines offered by the EMEA, a pharmaceutical trademark should -
not look or sound like any other proprietary or non-proprietary drug name relating to a different active ingredient;
have a minimum of three distinguishing letters;
not convey misleading therapeutic or pharmaceutical connotations or suggest a misleading composition;
avoid qualification by letters or a single detached letter and numbers;
not incorporate a World Health Organization or United States Adopted Names (USAN) adopted and published generic stem.
The WIPO Magazine is intended to help broaden public understanding of intellectual property and of WIPO's work, and is not an official document of WIPO. The designations employed and the presentation of material throughout this publication do not imply the expression of any opinion whatsoever on the part of WIPO concerning the legal status of any country, territory or area or of its authorities, or concerning the delimitation of its frontiers or boundaries. This publication is not intended to reflect the views of the Member States or the WIPO Secretariat. The mention of specific companies or products of manufacturers does not imply that they are endorsed or recommended by WIPO in preference to others of a similar nature that are not mentioned.