Health Research in Africa: Sharing IP Resources to Deliver Results
November 2007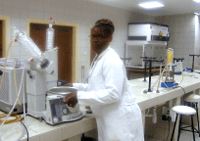 Mme Lengome of the Institute of Pharmacology and Traditional Medicine, whose research led to the first patent filing through the IP hub in Gabon. (Photo by Dr. Mesmin Ndong Biyo'o)
By Aimable Twahirwa
In September 2004, WIPO announced the launch of an innovative interdisciplinary project in six countries of the Central Africa Economic and Monetary Community (CEMAC) and in Colombia. The project aimed to develop a sustainable model to support health research institutions in developing countries in protecting and commercializing their research results. Three years on, Rwandan science journalist, Aimable Twahirwa[1], spoke to some of the scientists involved in coordinating the project in Cameroon and Gabon. He filed this report for WIPO Magazine.
"The move came after the observation that research institutions in most sub-Saharan countries took no - or little - consideration of intellectual property (IP) in their scientific research processes," said Dr. Alphonse Emadak, head of the inorganic chemistry department at Yaoundé University in Cameroon.
As a consequence of not using the IP system, Dr. Emadak explained, developing country researchers did not "own" the results of their research, and were unable to benefit from their commercial exploitation. High quality results generated by African research institutions, he said, were siphoned off into developed countries, with practically no "feedback" and no income generated by the research.
In order to survive, research institutions needed to be able to adapt to the newly emerging environment, characterized by Dr. Emadak as liberalization at the national level, and globalization at the international stage.
Networks and hubs
The WIPO project, funded by the Geneva International Academic Network (GIAN) and other organizations, developed a model to address the lack of IP-related capacity in these countries. It was based on creating networks of R&D institutions supported by shared "hubs" of IP services. By pooling resources and using economies of scale, costs could be kept affordable.
As a result, 22 health research institutions in Cameroon, Gabon, Republic of Congo, Chad, Gabon and Equatorial Guinea established a set of common policies to enable them to share IP services and to become an R&D network. A parallel project was also set up in Colombia in Latin America.
"Through this R&D network, central African institutions participating in this initiative are now sharing resources to process patent applications and commercialize research results," Dr Emadak said.
The project includes four main phases. It began with audits of the situation and needs in the participating institutions. In the second phase WIPO developed and provided training to key staff in the institutions, covering patent drafting; technology transfer and licensing; and health research management and marketing. In the third phase the networks and IP hubs came into operation. The fourth phase will be the evaluation of the project and a strategy to ensure sustainability.
Not all was plain sailing, however. Dr. Mesmin Ndong Biyo'o, a researcher from the genetically modified organisms laboratory at the National Research Institute on Agro-forestry (IRAF – CENAREST) in Libreville, Gabon, is one of the three IP hub "agents," together with Dr. Emadak. During the ten months since the shared hub began operating, he said, it had not been easy to convince other researchers from central African nations about the importance of protecting their research results. Many researchers had no idea about IP when the project was launched, and for most researchers success was measured not in patents but in the number of scientific papers published. The project, Dr. Biyo'o explained, was now encouraging researchers to protect their research results first before publishing.
Despite the difficulties, the hub, known as SECOVIPI (Service commun virtuel en propriété intellectuelle - Virtual Shared IP Service) has been up and running since January. Among the services it offers are advice on which research results could be patentable, support in drafting and filing patents, advice on negotiating licensing agreements, and on how to use IP to market health research. WIPO describes the full range of services envisaged as also including support to encourage public-private partnerships; marketing the R&D network and its IP assets; and negotiating funding.
Gabon – First patents filed
Already, there have been results. In July this year Gabon's Institute of Pharmacology and Traditional Medicine (IPHAMETRA) used the IP hub to file patents on cancer-fighting extracts and compounds derived from vegetables such as onion, pepper and tomato. Four more patent applications are expected to be filed by institutes in the region in the near future.
In Cameroon researchers are, for example, testing an ointment, based on extracts from the bark of a local plant which is known in Cameroon traditional medicine to heal burn wounds very rapidly. They are also developing a product which can be used externally on the skin as an antiseptic or swallowed to cure stomach wounds.
Dr. Biyo'o is convinced that this is the way forward for African research institutes. "The utilization of research products [with the added] value of intellectual property is the only way to ensure … that the sector can really contribute to the development of African states," he said.
Dr. Emadak agrees: "It is encouraging to see that researchers from Cameroon and other developing country institutions can get their right to protect, own and exploit their research results using the IP system."
There is still a long way to go. Dr. Emadak notes that the IP hub has yet to deliver the full range of services for the whole CEMAC region, especially in terms of licensing and commercialization. "We hope that will be achieved if the project is extended," he said.
Meanwhile, the needs remain acute. Millions of people in developing countries continue to suffer from malaria, tuberculosis, sleeping sickness, sickle cell anemia, ebola and other tropical diseases. Affordable therapies based on research by developing country institutions are not reaching enough of the people who need them. Health research management, marketing, economics, law and policy must all come together if realistic models are to be sustained.
______________________
1. Aimable Twahirwa is also a participant in the peer-to-peer mentoring scheme of the International Federation of Science Journalist (WFSJ).
The Research Ownership-Exploitation (ROE) Challenge
The ROE Challenge is caused by three interrelated factors:
Many R&D institutions in developing countries lack the awareness, resources and access to professional services required to protect their ownership of their research results as IP, or to exploit these as economic assets.
They also lack IP policies to address such issues as ownership of research results, public-private partnerships, IP clauses in sponsored research projects, invention disclosure and economic incentives for researchers.
Under-investment in R&D impacts negatively on levels of research output, making it difficult in turn to attract and retain research talent.
As a consequence, these health research institutions have limited ability to exploit their research results commercially; there is little economic return on R&D investment; and governments may be discouraged from investing in research to solve pressing health problems.
It would misleading to suggest that a university could generate sufficient revenue streams from its IP to finance its research programs sustainably - or that this could be a substitute for adequate public funding. But the WIPO-GIAN Networks and Hubs model directly addresses some of the key elements of the ROE challenge. It boosts the capacity of developing country research institutions to benefit from the global environment, and enables them to establish fair legal frameworks with institutions in industrialized countries.
Since the launch of the WIPO project in central Africa and Colombia, more than 1,600 scientists and university managers have attended introductory workshops on IP; over 130 scientists, lawyers and managers of research institutions have received practical training in IP skills; three patents have been filed and six more are being drafted. A full evaluation study of the project will shortly be published by WIPO.
The WIPO Magazine is intended to help broaden public understanding of intellectual property and of WIPO's work, and is not an official document of WIPO. The designations employed and the presentation of material throughout this publication do not imply the expression of any opinion whatsoever on the part of WIPO concerning the legal status of any country, territory or area or of its authorities, or concerning the delimitation of its frontiers or boundaries. This publication is not intended to reflect the views of the Member States or the WIPO Secretariat. The mention of specific companies or products of manufacturers does not imply that they are endorsed or recommended by WIPO in preference to others of a similar nature that are not mentioned.