In the News
September 2007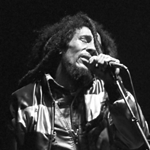 (Photo Ueli Frey)
Get up, Stand up, Stand up for your rights
So sang Bob Marley and the Wailers in the 1973 anthem urging their followers to fight for political and economic independence. It now appears that the family of the late reggae master is taking his exhortations to heart in what is heating up as a bitter three-way licensing dispute over the use of Marley's music in ring tones.
At the heart of the struggle is an agreement between Universal Music, which owns the rights to much of Marley's music, and Verizon Wireless, the U.S. cellphone carrier, which apparently gave Verizon exclusive rights to market ring tone versions of many of Marley's best-known songs.
Marley's family (the singer died in 1981) cried foul, saying that the deal implied a Marley endorsement of Verizon's service, and that such a deal required the family's approval. Chris Blackwell, the longtime family spokesman whose Island Records helped popularize Marley and other reggae stars in the 1970s, threatened legal action against Universal and Verizon. Verizon removed the songs from its site to allow time to work out an agreement; Blackwell said the family would abandon plans to sue, but still criticized both Universal and Verizon for "refusing to give the musicians the respect they deserve."
That was too much for Verizon, which promptly put the songs back up on its site. Blackwell countered with renewed threats to sue; Universal, in an apparently conciliatory move, then announced that other phone carriers would be able to market the tones.
How the conflict is resolved remains to be seen; but it has highlighted the enduring appeal of Marley and the often incendiary music he created during his career, cut short when he died of cancer at the age of 36: in less than two weeks on the Verizon site, Marley's songs were downloaded more than 30,000 times.
______________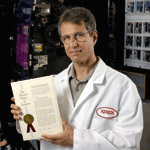 (Photo credit: Kevin Rivoli)
100 Patents and Counting
Bob Loce, an imaging scientist at the Xerox Corporation, received his 100th U.S. utility patent on June 5 and his 101st on June 21. He has another 40 in the pipeline, and he has not yet turned 50. To spark original or "wacky" ideas, Loce keeps objects like an array lens made with glass bubbles, interesting looking rocks, very large lenses and holograms in his bottom drawer to pull out and examine when he is stumped. A volunteer teacher, he also learns much from his students, "I love the things they tell me. I want to think the way they do, free from the limitations that age and experience place on us. How can I maintain that kind of boundless thinking?" He believes failure is an important part of the invention process. "Unless you are failing 10 to 20 percent of the time, you are probably being too conservative in generating ideas and inventing new technologies. You've got to step over the line sometimes."
Loce is one of many prolific inventors. American Jerome Lemelson, who died ten years ago, held some 500 patents, among them the bar code reader and the Sony Walkman. The record holder is Shunpei Yamazaki, a Japanese inventor with over 3,200 patents in the area of information technology and video screens.
______________
YouTube Signs Licensing Deal
YouTube has signed a license agreement for over 10 million pieces of music with a British copyright collective management society. The flat sum paid by YouTube will compensate artists, composers, songwriters and publishers – many of whom have seen their royalty revenues slowly decline since the Internet boom.
Much of the content on YouTube is uploaded directly by its users, so the company is not aware of its content. However YouTube has agreed to the installation of technology that will allow it to identify the music that is being used and report back to the collective management society so that royalties can be appropriately distributed.
______________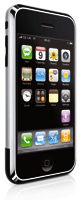 (Photo Apple Inc.)
iPhone Unlocked
A little over a month after its release, hackers have found a key to unlock the Apple iPhone, so that it can be used on networks other than AT&T. Buyers of the new iPhone released in July could sign up for cellular service exclusively with AT&T, but a 17-year old in New Jersey managed to unlock his phone by making few modifications to its software and hardware. CertiCell, in Kentucky, jumped on the opportunity to make a deal with him. But he is not the only one, Uniquephones.com, in Northern Ireland, and the iphonesimfree.com website have both developed software for unlocking the iPhone that they are ready to launch on the market. The problem? – It may be illegal.
The U.S. Copyright Office issued a statement in 2006 that unlocking cell phones was not a violation of copyright, but that did not stop lawyers representing AT&T from contacting at least one of the firms that was about to release the software to warn them that it may contain material copyrighted by Apple. It is apparently legal for users to unlock their phones so that they can change their cellular service provider, but it may be another question entirely if it is done for financial gain.
______________
Quantifying the Value of IP
"The creation and adoption of new ideas – in a word, innovation – is a very powerful factor that helps to determine progress of modern economies." So reads the first sentence of the Economic Effects of Intellectual Property-Intensive Manufacturing in the United States, a new study commissioned by the NGO World Growth and published in August. The study's findings, based on figures from the National Science Foundation, conclude that
some two-thirds of the value of America's large businesses springs from IP, especially patents and trademarks;
IP-intensive industries produce 72 percent more value-added per employee than non-IP-intensive industries, create jobs at a rate 140 percent higher and pay much higher wages.
______________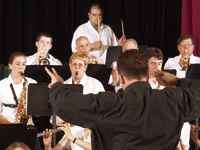 (Photos.com)
Joint Agreement Signed for the Protection of Performers Rights
WIPO signed a cooperation agreement on July 13 with the Societies' Council for the Collective Management of Performers Rights (SCAPR), located in Stockholm, and the Association of European Performers' Organisations (AEPO-ARTIS), in Brussels, which aims at developing further activities related to the protection of performers and to the collective management of their rights worldwide. The agreement reflects the desire of the parties to secure more widespread recognition of these rights in the WIPO Member States concerned and to deploy adequate structures to protect the interests of this category of rights owners in view of the implementation of the WIPO Performance and Phonograms Treaty.
Over the past 15 years, WIPO has received support from AEPO, in particular through the efforts of its Secretary General, Mr. Xavier Blanc, who contributed to a large number of activities in developing countries. The French performers' society SPEDIDAM, a member of AEPO, has also assisted WIPO with the delivery and installation of computer software and hardware in many countries.
______________
The WIPO Magazine is intended to help broaden public understanding of intellectual property and of WIPO's work, and is not an official document of WIPO. The designations employed and the presentation of material throughout this publication do not imply the expression of any opinion whatsoever on the part of WIPO concerning the legal status of any country, territory or area or of its authorities, or concerning the delimitation of its frontiers or boundaries. This publication is not intended to reflect the views of the Member States or the WIPO Secretariat. The mention of specific companies or products of manufacturers does not imply that they are endorsed or recommended by WIPO in preference to others of a similar nature that are not mentioned.