Geographical Indications: From Darjeeling to Doha
July 2007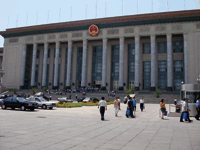 Chinese Vice Premier Wu Yi opened the 2007 Symposium in the Great Hall of the People. (Credit: WIPO/EM)
Question: What do Liuyang firecrackers have in common with Idaho potatoes, Scotch whisky and Aranyik knives? Answer: They are all protected geographical indications, signaling to consumers that they have special characteristics due to their geographical place of origin.
This is the first in a new series of WIPO Magazine articles on geographical indications (GIs), responding to readers' requests for greater coverage of GI-related topics. In this article we report on some of the issues covered at the 2007 International Symposium on Geographical Indications in Beijing, and on China's strategic use of GIs to promote a range of speciality products. In the next editions of the Magazine, following up on some of these themes, we will compare the paths followed by coffee growers in Colombia and in Ethiopia; we will track South Africa's progress in protecting its Rooibos tea; and we will take a fresh look at the Lisbon System for the protection of appellations of origin.
Sleeping Beauty
"You could say that geographical indications are the Sleeping Beauty of the intellectual property world," suggested WIPO lawyer Marcus Höpperger at the start of the Beijing Symposium. Indeed, while GIs have been around for a long time, there has been a widespread awakening in recent years as to their business value. But if Sleeping Beauty is already up and dancing in many national jurisdictions, at the international level governments are still picking their way through the surrounding thicket.
WIPO's biennial international symposia on GIs seek to illuminate some of the thornier issues by bringing together representatives of national administrations, producers of GI products, and other specialists, for an open exchange of views. At the packed 2007 Symposium in June, which was jointly organized by WIPO and China's State Administration for Industry and Commerce (SAIC), 24 speakers from 14 countries and five continents, plus experts from WIPO and the World Trade Organization (WTO), offered detailed insights with the objective of contributing constructively to the ongoing debates.
The basic concept underlying GIs is delightfully simple, and is familiar to any shopper who chooses Roquefort over blue cheese or Basmati rice over boil-in-the-bag. But when it comes to their legal protection, the picture becomes complex. GIs are protected through a wide variety of different approaches in different countries, and often by a combination of two or more approaches. These include unfair competition laws (passing off), consumer protection acts, agricultural quality control regimes, laws governing trademarks, collective marks and certification marks, and registration under specific, sui generis GI laws. There is no agreement as to the "best" methods to promote and protect GIs, and WIPO supports individual Member States in whatever national system they adopt, within the applicable international legal framework.
Untangling the Terminology
What is a geographical indication? Put simply, and as used in this article, it is a sign used on goods which have a specific geographical origin and possess particular qualities or a reputation due to that place of origin. Most commonly, a GI includes the name of the place of origin of the goods. The definition is complicated, however, by the differing terminology used in the relevant international treaties:


Both the Paris Convention for the Protection of Industrial Property and the Madrid Agreement for the Repression of False or Deceptive Indications of Source on Goods use the term indications of source. Neither gives a definition, but the language used in the latter Agreement makes clear that an indication of source refers simply to a country, or place in that country, as being the place of origin of a product, e.g. Swiss chocolate or Thai rice. 

The term geographical indication was introduced in the WTO Agreement on Trade-Related Aspects of Intellectual Property Rights (TRIPS), where it is defined as an "indication which identifies a good as originating in the territory of a Member, or a region or locality in that territory, where a given quality, reputation or other characteristic of the good is essentially attributable to its geographical origin."

Appellations of origin are also geographical indications, but the term "appellation" is understood as narrower than "indication." They are mentioned in the Paris Convention since 1925, and are defined in the 1958 Lisbon Agreement for the Protection of Appellations of Origin and their International Registration as the geographical name of a country, region, or locality, which designates a product originating therein, the quality or characteristics of which are due exclusively or essentially to the geographical environment, including natural and human factors. The TRIPS definition of GIs was derived from this language.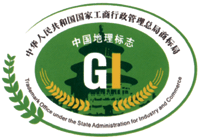 Xianju Waxberries, Dalian Jinzhou Big Cherries, Qianxi Chestnuts, Ningxia Red Lycium and Pinggu Peach. (Courtesy of China Trademark Office)
GIs and TRIPS - What's the beef?
Multilateral debate regarding the international protection of GIs continues to center on the WTO TRIPS Agreement. WTO counselor Thu-Lang Tran Wasescha reminded participants at the Symposium that the TRIPS provisions on GIs reflect the delicate compromise reached within one of the most difficult areas during the Uruguay Round of trade negotiations which led to the TRIPS Agreement. The sensitivity stemmed from several factors, not least: the fact that GIs were a relatively new area of IP for most WTO member states, while being already deeply rooted in the systems of many European countries, (sometimes characterized as a New World vs. Old World split); the divergence of views regarding the most appropriate systems of protection; the high economic and trade stakes; the keen business interests involved etc. Moreover, GI issues became part of a trade-off against concessions in another highly sensitive area of the Uruguay Round negotiations, namely agriculture. 
This balancing act resulted notably in what Ms. Tran Wasescha termed the deliberate "constructive ambiguity" in some of the TRIPS language on GIs, as well as some unfinished business, which WTO members have been seeking to address within the current Doha Round of negotiations. But the area remains politically sensitive, and linkages made with other negotiations continue to make for slow progress.
Two contentious issues under discussion in WTO are:
a) Negotiations on the establishment of a
multilateral system of notification and registration
of GIs for wines (foreseen by TRIPS Article 23.4). Speakers highlighted the divergence between, on the one side, the E.U., Switzerland and some developing countries, who want a comprehensive register with legally binding effect for all WTO members; and, on the other side, a group of countries advocating a voluntary system based on the creation of an international data base (including Australia, New Zealand, the U.S. and several Latin American and Asian countries from the Cairns Group of agricultural exporting countries); with Hong Kong SARC proposing a compromise solution.
b) The extension to other products of the higher level of protection which the TRIPS Agreement (Article 23) currently affords to GIs for wines and spirits (where, for example, there is no requirement to prove that use of a geographic name by a non-authorized producer is misleading to the public). Those in favor of extending the additional protection, argue that the current provisions discriminate against producers of products other than wines and spirits. Why, asked the representative from the Swiss IP Office, should not Kobe Beef* enjoy the same level of protection as wines and spirits?
*Kobe is the capital of Hyogo Prefecture, Japan, where the black Tajima-ushi breed of Wagyu cattle are raised according to strict and well-guarded traditions.  The beef is renowned for its flavor, tenderness, and marbled texture.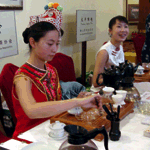 Speciality Chinese teas on the GI menu included Taipu Hoku and Anxi Tikuanylu tea
Airing differences
At the Beijing symposium, participants were able to step outside the constraints of formal negotiating positions in order to analyze, explain and compare their differing perspectives.
Describing GIs as "a success story of European agriculture," Raimondo Serra of the European Commission updated the symposium on the 2006 changes to the E.U.'s sui generis legislation, and called for further consolidation of GI protection at international level. The Secretary General of the Organisation for an International Geographical Indications Network (OriGIn), representing producers, cited 13 Asian countries and 12 Latin American countries which had adopted sui generis systems in recent years as evidence of a growing demand for specific GI protection to coexist with trademark regimes.
Not so fast, said USPTO lawyer David Morfesi. He was among several speakers who highlighted the advantages of using collective or certification marks to protect GIs. "Certification marks create a perfect balance for [quality] control, and collectivization [i.e. enabling producers to join together to sell their goods efficiently at a premium price]," he said, "and are thus an effective and relatively inexpensive way to protect GIs." An Australian representative voiced concern about potential administrative costs and burdens involved in extending the TRIPS Article 23 protection beyond wines and spirits. Mr. Ajay Dua of the Indian Ministry of Commerce and Industry stressed that work was needed to clarify notions such as "quality"and "reputation," as well as inspection mechanisms.. Officials from Thailand, India, Switzerland, South Africa, China and Ethiopia each described the approaches adopted in their own national legislation.
Speakers from La Havana S.A. and Pernod Ricard described their experiences as producers in using a combination of GIs and trademarks for stronger product identity and to help fight counterfeiting of their products. Other success stories – as well as on-going problems regarding enforcement and international disputes – were recounted by producers of Colombian coffee, Idaho potatoes and Moldovan Cricova wine. In an impassioned intervention, the Indian representative of the International Association for the Protection of Intellectual Property (AIPPI), castigated the "predators who have misappropriated the GIs of my country," and quoted lines from
Cyrano de Bergerac
: "My soul, be satisfied with flowers, with fruits, with weeds even; But gather them in the one garden you may call your own."  
Adding value
Regardless of differences in approach, speaker after speaker underlined the fundamental value of GIs, properly managed, in –
helping producers obtain a premium price for their products;
providing guarantees to consumers as to the qualities of products;
developing the rural economy;
protecting local knowledge and strengthening local traditions.
Nor was there any dissent as to the importance of adequate legal mechanisms to prevent free-riding by outsiders on the reputation of local products. In his concluding remarks, WIPO Assistant Director General Ernesto Rubio focused on the strikingly wide area of common ground. While conflicting views were to be expected in the current stage of the WTO negotiations, he noted, discussion fora such as the WIPO symposia contributed positively to increasing mutual understanding. "We have seen a clear consensus," he concluded, "that GIs are a growth area of IP, offering a very effective tool for wealth creation and social advancement."
Coming soon: A new Geographical Indications "gateway" will be launched on the WIPO website.
Tasting Success in China

The message from the Chinese government to participants at the 2007 symposium was loud and clear: China is systematically engaged in the exploitation of GIs as a means of adding value to her agricultural products and boosting her rural economy. Vice Premier Minister Wu Yi - whom Forbes Magazine last year ranked as the third most powerful woman in the world - appeared in person at the opening ceremony of the symposium in order to underline her government's commitment to these goals. And the message was reinforced by senior government representatives throughout the three day event. 


Since incorporating GIs into the framework of China's national trademark system, more than 250 GIs have been registered in the country, with several hundred more applications pending. In late 2004, SAIC and the Ministry of Agriculture began a concerted campaign to extend the understanding and use of GIs among farmers and businesses in rural areas. This has been coupled with well-publicized legal actions in which enforcement agencies have investigated and prosecuted nearly 300 infringements against, for example, Fuling preserved pickle, Xiaozhan rice and Kurle Fragrant Pear.

"GIs provide a possibility for peasants engaged in individual production and who lack the funds and capabilities to originate trademarks, to share the brand benefits without setting up a brand, and without mass production," said Li Dongsheng, Vice Minister at the SAIC. He detailed how China is implementing a range of policies to promote the use of GIs as a means both of "accelerating the new socialist countryside construction" and developing international trade. 

Displaying some 30 GI-certificated products, the Chinese hosts of the symposium encouraged participants to sample for themselves the qualities of Xuanwei Ham, Qianxi Chestnuts, Xianju Waxberries and Taiping-Houkui green tea. Two case studies further demonstrated the successful application of the GI strategy to Pinggu peaches and Zhangqui green onions.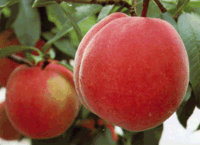 Pinggu peaches are renowned for their size, sweetness and color due to ideal climatic and soil conditions. (Courtesy Pinggu District Fruit Industry Association)
When is a peach not just a peach?
The Pinggu district, 70 km north-east of Beijing, calls itself the biggest peach farm in the world. The peach plantations stretch as far as the eye can see, over an area of some 145 km2, providing employment for 150,000 people in the local villages. Geographic factors including the lay of the surrounding hills, low pollution, sandy soil, a plentiful water supply and the marked difference between day and night time air temperatures, make for ideal peach-growing conditions. Pinggu peaches, says the District Fruit Industry Association, "have beautiful colors, high sugar content, special flavor and big size."
The Beijing Administration for Industry and Commerce calculates that, since Pinggu Peach was registered as a GI, accompanied by promotional campaigns, the market value of the fruit has risen from 1.5 to 4 Yuan per kilo, thereby significantly increasing the income of local farmers.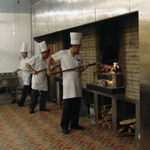 Chefs at Beijing's famous Quanjude Roast Duck Restaurant use only Zhangqui green onions to prepare their signature Peking Duck dish. (Photo WIPO/EM)
King of Scallions 
Since 680 BC, the city of Zhangqui in Shandong Province has been growing scallions (also known as spring onions or green onions), valued for their size, sweetness and nutritional value. Growing to an average height of 1.5 meters, the record specimen last year measured 2.29 meters. During the Ming Dynasty, Emperor Shizong hailed Zhangqui onions as the King of Scallions, and their reputation has endured. In 1999, the Zhangqui Scallion became the first vegetable in China to be protected as a geographical indication using the certification mark registration system. 
In addition to the favorable conditions as to rainfall, temperature and soil composition, the techniques used in the cultivation and breeding of the onions are being constantly improved. The Zhangqui Scallion Science Research Institute, which holds the certification mark, oversees the "scientific management" of the onion production. This includes technical training of local producers in order to ensure that the organically grown onions meet the product quality standards set by the Institute.  
President of the Institute, Li Yuquan, cited an average price increase for Zhangqui Scallions of 20 to 30 percent per year and concluded: "Zhangqui Scallion industry shines with a new vital force… And with the geographical indication we will push the brand to the world."



By Elizabeth March, WIPO Magazine Editor, Communications and Public Outreach Division;
Acknowledgements: Marcus Hopperger, Trademark and Design Law, WIPO
Related Links
The WIPO Magazine is intended to help broaden public understanding of intellectual property and of WIPO's work, and is not an official document of WIPO. The designations employed and the presentation of material throughout this publication do not imply the expression of any opinion whatsoever on the part of WIPO concerning the legal status of any country, territory or area or of its authorities, or concerning the delimitation of its frontiers or boundaries. This publication is not intended to reflect the views of the Member States or the WIPO Secretariat. The mention of specific companies or products of manufacturers does not imply that they are endorsed or recommended by WIPO in preference to others of a similar nature that are not mentioned.