In the Courts: Can Distinctiveness of Musical Indentity be Protected under U.S. Law?
July 2007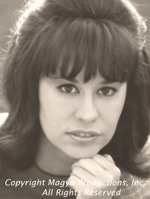 Astrud Gilberto had been publicly identified and referred to as "the girl from Ipanema." She claimed that she had acquired trademark rights over the exploitation of her vocal performance of the song due to her public persona's close association with the recording and with the legendary image created by her vocal performance.
By Barry Werbin

Distinctive musical identity arises either when a famous recording artist becomes uniquely identified by the public with a particular song or melody, or when the artist's voice is so distinctive as to develop trademark significance in his or her own vocal sound. The extent to which such musical identity is protectable under trademark law is explored in this article by Barry Werbin of Herrick, Feinstein LLP, New York, a member of the INTA Bulletin Features-Policy & Practice Subcommittee. The article first appeared in the INTA Bulletin of February 1, 2007 (Vol. 62 No. 3) and is reprinted in revised form with permission of the International Trademark Association.
The distinct, sultry voice of Astrud Oliveira, known professionally as Astrud Gilberto, had long been identified with The Girl from Ipanema, the classic 1964 recording of the famous Antonio Carlos Jobim song. Gilberto's vocal performance won her a Grammy award. But that fame was not enough to win a lawsuit she brought in 2001 for infringement of alleged trademark rights in her vocal performance, when the song was used in a Frito-Lay television commercial. Although Gilberto owned no copyrights in the underlying song or performance, she claimed she had become identified by the public with the recording and that she had acquired trademark rights in the song, requiring the advertiser to obtain her consent. Without such consent, she argued, use of the recording capitalized on her reputation and was likely to cause confusion as to her affiliation with, or endorsement of, Frito-Lay.
A song as signifier of the singer?
The U.S. Court of Appeals for the Second Circuit (New York) upheld a dismissal of Gilberto's trademark claim based on a false endorsement, on the grounds that a fact-finder "could not reasonably find an implied endorsement." The district court had, however, also issued a broader ruling that "there is no federal [trademark] protection for a musical work," because such works are otherwise protected by copyright law. The Court of Appeals rejected this broad proposition, and held instead that musical compositions could indeed be eligible for trademark protection as "a symbol or device to identify a person's goods or services," just as graphic designs can serve as trademarks and still be protected by copyright. Nevertheless, the Court rejected Gilberto's remaining trademark and dilution claims, because there was no precedent to support the argument that a performing artist "acquires a trademark or service mark signifying herself in a recording of her own famous recording."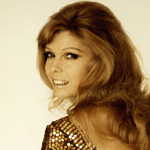 Nancy Sinatra claimed that she had made the song These Boots are Made for Walkin' so popular that her name had become associated with it. (Courtesy of Boots Enterprises, Inc.)
This conclusion was based on a 1970 decision in the Ninth Circuit (California) in a case brought by Nancy Sinatra against Goodyear Tire for its use of the song These Boots Are Made for Walkin'. Goodyear properly licensed its use of the song from the copyright owners, and unknown singers sang the song in the advertisement. Sinatra claimed that she had made the song so popular that her name had become associated with it, such that it had acquired secondary meaning and no other person could ever sing it in a commercial. The Sinatra court concluded that a musical composition could never serve
False implied endorsement
The Gilberto court acknowledged other cases where a performing artist's "persona" had been protected against a false implication of an endorsement, but ruled that Frito-Lay's use of the song had not taken Gilberto's persona to imply that she endorsed the product. The court concluded that, while it would not be unthinkable for trademark law to grant a performing artist trademark protection in his or her signature performance, such an expansion of trademark law would require legislative action. Otherwise, granting such rights to singers would stifle commerce by allowing suits against parties who had otherwise properly licensed all known copyrights in a work from the owners of those rights.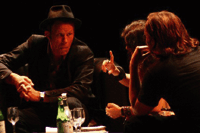 Tom Waits won a case for "false implied endorsement" (Photo: Wikipedia)
Unlike Gilberto and Sinatra, the musical persona of Tom Waits was sufficient in a 1992 decision to grant him judgment on a false implied endorsement claim against a company that used a "copycat" singer, who imitated Waits' distinctive raspy, gravelly singing style in a radio commercial praising snack-food products. Waits himself had never done commercials or endorsed any product; in fact, he believed strongly that musical artists should never do commercials. In that decision, the U.S. Court of Appeals for the Ninth Circuit found that Waits had a valid claim under California state law, where misappropriation of a singer's distinctive voice was grounds for legal action (a spin-off of California's broad right of publicity). On Waits' false endorsement claim under the Lanham (Trademark) Act Section 43(a) (see box), the court held that "a celebrity whose endorsement of a product is implied through the imitation of a distinctive attribute of the celebrity's identity […] has standing to sue for false endorsement." Moreover, unlike with traditional false advertising claims, the celebrity need not be a competitor of the defendant. Finding that the jury had properly credited evidence of actual confusion between the stand-in singer and Waits himself, the court affirmed the judgment in favor of Waits.

The Lanham Act – Section 43(a)
Section 43(a) of the U.S. Lanham (Trademark) Act forbids false designations of origin, false descriptions, and dilution. It covers false implied endorsement in the following terms:

Any person who, in connection with any goods or services… uses in commerce any word, term, name, symbol, or device…or any false or misleading description …or representation of fact, which is likely to cause confusion … or to deceive as to the affiliation, connection, or association of such person with another person, or as to the… sponsorship, or approval of his/her goods, services, or commercial activities by another person, shall be liable in a civil action by any person who believes that he/she is or is likely to be damaged by such act.
Misappropriation of a musical persona
Back in 1988, the Ninth Circuit had considered claims by singer Bette Midler for misappropriation of persona under California common law when a sound-alike performer was used in a commercial after Midler had refused to participate. Although the court rejected Midler's separate California statutory publicity claim because the voice used was not her real voice, it ruled that the other vocal imitation claims were not preempted by copyright law because the "thing" misappropriated, namely her voice, was not itself copyrightable.
In 2006, in the Laws v. Sony Music Entertainment case, the Ninth Circuit clarified California's common law for misappropriation claims and the interplay with copyright law, . [Recording artist Debra Laws sued Sony Music for misappropriation of her voice and invasion of privacy, complaining that Jennifer Lopez' recording and video, All I Have sampled Laws' recording, Very Special, without her consent.] The Court of Appeal held that Debra Laws' state law claims were preempted by the federal Copyright Act because the claims were based only on reproductions of her songs, in which the artist's voice was a part of a sound recording in a fixed, tangible medium, and so came within the subject matter of copyright.. The case did not, however, assert a false endorsement claim under the Lanham Act. The Laws court noted that, "in contrast to Midler and Waits, where the licensing party obtained only a license to the song and then imitated the artist's voice, here Sony obtained a license [from the copyright holder, Electra Records] to use Laws' recording itself. Sony was not imitating [the song] as Laws might have sung it. Rather, it used a portion of [the song] as sung by Debra Laws."
Non-music celebrity persona cases
In the non-music celebrity persona context, the Ninth Circuit ruled in 2000 that use of a
Three Stooges
film clip in a feature film did not constitute trademark infringement under the Lanham Act, even where the underlying copyright had fallen into the public domain. Although the plaintiff argued that the clip was particularly distinctive of
The Three Stooges
' comedy routine, the court held it was still within the scope of copyright. Calling the trademark claim a "fanciful argument," the court concluded the case was unlike
Waits
or other cases that had recognized celebrity persona claims. Those cases involved use of a performer's persona, through sound-alikes or look-alikes, for commercial endorsements, rather than use of the exact work in which the artist's original performance was embodied, the latter being within the exclusive domain of copyright.
Two other prominent Ninth Circuit non-music persona cases upholding false endorsement-type claims bear mention. In 1992, a controversial case was brought by the actress Vanna White, when her likeness was used in a commercial by means of a robot made to look like her and cast in a set evoking the TV show
Wheel of Fortune
, which she had co-hosted. The court found there were material issues that required a jury trial. Secondly, in 1997, the court decided in favor of two lead actors from the hit television series
Cheers
, when their physical likenesses were embodied in robots that were placed in airport bars.
California vs New York?
The Waits decision, and later cases addressing the simulation of an artist's voice or style, looks to alternative theories of false endorsement and to state misappropriation law in order to avoid conflicts with federal copyright law and preemption arguments. Because California, as distinguished from New York, recognizes broad statutory and common-law publicity rights, musical artists may have more opportunities to seek redress for imitative use of their performances or false endorsement claims under both state law and the Lanham Act in California courts. But both the Second and the Ninth circuits, sitting in New York and California, respectively, have recognized false endorsement cases under Section 43(a) of the Lanham Act. As media technology advances, and imitative sound- and look-alikes become easier to create digitally, we will likely see further developments in this area.
Cases cited:
Oliveira a/k/a Gilberto v. Frito-Lay, Inc., 251 F.3d 56 (2d Cir. 2001)
Sinatra v. Goodyear Tire & Rubber Co., 435 F.2d 711 (9th Cir. 1970)
Waits v. Frito-Lay, Inc., 978 F. 2d 1093 (9th Cir. 1992)
Midler v. Ford Motor Company, 849 F.2d 460 (9th Cir. 1988)
Laws v. Sony Music Entertainment, Inc., 448 F.3d 1134 (9th Cir. 2006)
"Three Stooges" case: Comedy III Productions, Inc. v. New Line Cinema, 200 F.3d 593 (9th Cir. 2000)
White v. Samsung Electronics America, Inc., 971 F.2d 1395 (9th Cir. 1992)
"Cheers" case: Wendt v. Host International, Inc., 125 F.3d 806 (9th Cir. 1997)
The WIPO Magazine is intended to help broaden public understanding of intellectual property and of WIPO's work, and is not an official document of WIPO. The designations employed and the presentation of material throughout this publication do not imply the expression of any opinion whatsoever on the part of WIPO concerning the legal status of any country, territory or area or of its authorities, or concerning the delimitation of its frontiers or boundaries. This publication is not intended to reflect the views of the Member States or the WIPO Secretariat. The mention of specific companies or products of manufacturers does not imply that they are endorsed or recommended by WIPO in preference to others of a similar nature that are not mentioned.