Hounding Out Piracy: Operation Double Trouble
June 2007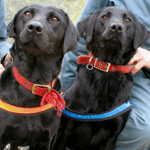 Flo (right) and Lucky, trained to sniff out hidden consignments of pirated DVDs. (Courtesy of MPA)
Malaysia's new champions in the fight against film and music piracy are only three years old, but are already making their mark. Meet Flo and Lucky.
The two black Labradors, believed to be the first dogs ever trained to detect polycarbonate and other chemicals used in the manufacture of optical discs, are being deployed by Malaysian enforcement officers at border crossings and cargo storage centers to uncover consignments of pirated CDs and DVDs. While they cannot distinguish by scent between a legitimate disc and a pirate copy, the dogs are proving highly successful at sniffing out discs in hidden compartments or unregistered shipments.
Nick-named
Operation Double Trouble
, Malaysia's ground-breaking project is backed by the Motion Pictures Association (MPA), which groups six of the big Hollywood movie companies. The MPA has invested US$17,000 in the dogs, including eight months training in Northern Ireland with a handler who usually teaches sniffer dogs to find bombs.  
Seizing headlines
The doggy duo has already gained celebrity status. At a press briefing in March at Malaysia's biggest air cargo hangar, they showed off their skills to assembled journalists, winning wide coverage in the international media. The dogs continued to make headlines over the next few weeks, as they led raids in Johor Bahru and in Kuala Lumpur, resulting in 14 arrests and the seizure of 1.3 million pirated DVDs.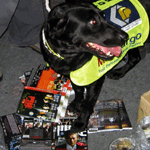 In 10 minutes the dogs can search a container which would take their human counterparts all day. (Courtesy of MPA)
Flo and Lucky began an initial month long trial in March to evaluate the effectiveness of introducing dog units into Malaysia's enforcement divisions. "It's cost-effective, and in terms of time, it's very effective too," Malaysia's Minister of Domestic Trade, Shafie Apdal, commented, as he described how the dogs took a mere ten minutes to check the contents of containers which enforcement officers would need all day to search. 
The MPA's senior vice president and Asia-Pacific regional director, Mike Ellis, highlighted the discovery in recent raids of child pornography alongside pirated movies. "Piracy is frequently linked to other insidious activities," he said. "Consumers should be aware that their purchases of pirated movies fund the ongoing illegal operations of the movie pirates, who may also be profiting from the distribution of child pornography."
Syndicates snap back
Local crime syndicates lost little time in seeking to neutralize the crack canine team. The Malaysian government reported threats that syndicate bosses had put a RM 100,000 (US$29,000) bounty on the dogs' heads. Flo and Lucky are now kept closely guarded. 
Crime groups have failed to outwit the dogs through ploys such as spraying pirate DVDs with chemicals or wrapping them in soap parcels. One illicit stash uncovered by the dogs in April was packed with charcoal, apparently in the belief that this would absorb the scent of the polycarbonate.

Following the success of the initial trial period, the Malaysian government has decided to extend Operation Double Trouble indefinitely. Neighboring countries are also watching with interest. Lucky and Flo have already made a flying visit to the Philippines, where they helped law enforcement officials seize an estimated 300,000 pirated DVDs from three malls in Manila notorious for the sale of pirated movies and music.
Says the dogs' trainer: "This is nothing more than a big game to them. They are just doing the job so that they can get their reward." And what is their reward when they find the discs? "They get to play with a chewed tennis ball."
Elizabeth March, WIPO Magazine Editor, Communications and Public Outreach Division
The WIPO Magazine is intended to help broaden public understanding of intellectual property and of WIPO's work, and is not an official document of WIPO. The designations employed and the presentation of material throughout this publication do not imply the expression of any opinion whatsoever on the part of WIPO concerning the legal status of any country, territory or area or of its authorities, or concerning the delimitation of its frontiers or boundaries. This publication is not intended to reflect the views of the Member States or the WIPO Secretariat. The mention of specific companies or products of manufacturers does not imply that they are endorsed or recommended by WIPO in preference to others of a similar nature that are not mentioned.