Book review: American Women Authors and Literary Property, 1822-1869
April 2007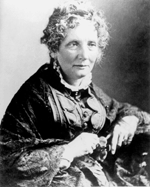 "In English common law a married woman is nothing at all. She passes out of legal existence." – Harriet Beecher Stowe, 1869
To mark International Women's Day, March 8, WIPO Magazine reviews Melissa Homestead's work on American women authors and literary property, which portrays the plight of women authors in a society that did not permit married women to exercise their own copyright and that lacked an instrument for the international protection of copyright.
The author is a teacher of English, not law, at the University of Nebraska-Lincoln, but has interestingly combined both disciplines. She studies popular women writers of the nineteenth century in the U.S. – in most detail Catharine Sedgwick, Harriet Beecher Stowe, Fanny Fern, Augusta Evans and Mary Virginia Terhune – to show the dilemmas faced by women writers in both a national and international context.
Until the 1880s, under the common law doctrine of coverture (based on the English law) a married woman could not hold any kind of property in her own right. The author explains that the way for her to enforce her rights under copyright law was by pre-nuptial agreement, and this, too, only to arrange for her assets to be held in trust for her by others such as male relatives. Another disadvantage all women faced (this one shared by men), in the absence of an international copyright system, was the free use of their works abroad without authorization or remuneration, since U.S. (and British) law only protected nationals of or residents in the country.
The different personalities and strategies of women authors make fascinating reading. The deserted wife and mother, Emma Southworth, moved to England to claim her copyrights abroad in the face of her husband's attempts to appropriate her American literary properties and profits. Augusta Evans, a committed Confederate during the Civil War – in a Confederacy which legislated for an international copyright system some thirty years before the U.S. did so in 1891 – secured publication and remuneration in the North by audaciously sending her work to her former publisher in New York through a blockade-runner via Cuba. Harriet Beecher Stowe is the only writer in this study who is still widely remembered today, as the bestselling author of the anti-slavery novel of her century, Uncle Tom's Cabin.
The paradoxes in the characters and situations of these women are ably evoked. Stowe, claiming a moral and religious purpose without expectation of wealth, presented a spectacle of "abolitionists attacking the world's most famous advocate of abolition" for exploiting her work in the very spirit of capitalist market economics they opposed. Mary Virginia Terhune, though doggedly pursuing her own rights as an author and espousing the causes of women writers, was neither feminist nor abolitionist, and actually opposed women's suffrage.
In recounting the shift in U.S. copyright law, from support for readers' and publishers' interests by limited terms of protection, to increasing authors' rights, culminating in current demands for protection in perpetuity, the author warns us of a possible future impoverishment of the public domain and greater corporate power over culture. But her affirmation on the nineteenth century, that their legal disabilities rather encouraged women to write more, is open to question. Although this may be true of the women who wrote to promote legal and social reform, the development of women's education is also important in the emergence of women authors. Moreover, we cannot know how many women might have written for publication but for legal disabilities and the social stigma suffered by certain women authors.
The subject matter of fiction is a part-reflection of an age, so we find a period flavor in these "copyright heroines" – a Phemie who ends her husband's abuse of her copyrights by divorce, an Agnes who dies in anguish fearing her husband's discovery of her authorship. This study will greatly interest both copyright specialists and readers of literary and social history.
American Women Authors and Literary Property, 1822-1869, by Melissa J. Homestead, published by Cambridge University Press, 2005, ISBN 0-521-85382-6
Reviewed by Anuradha Swaminathan, Communications and Public Outreach Division, WIPO
____________________________
The WIPO Magazine is intended to help broaden public understanding of intellectual property and of WIPO's work, and is not an official document of WIPO. The designations employed and the presentation of material throughout this publication do not imply the expression of any opinion whatsoever on the part of WIPO concerning the legal status of any country, territory or area or of its authorities, or concerning the delimitation of its frontiers or boundaries. This publication is not intended to reflect the views of the Member States or the WIPO Secretariat. The mention of specific companies or products of manufacturers does not imply that they are endorsed or recommended by WIPO in preference to others of a similar nature that are not mentioned.