PCT Portraits: Combating Hazards
April 2007
More than 1.2 million international patent applications, covering new technology of every description, have been filed since the Patent Cooperation Treaty (PCT) began operating in 1978. Continuing our series of snapshots, WIPO Magazine dips into the PCT database and seeks out the people behind the patents. In this edition, innovators from Israel, Australia and the U.S. pit human ingenuity against natural and unnatural hazards.
Shark shock
It was the stuff of nightmares. Mike Wescombe-Down was, at age 16, a carefree, water-loving youth, until his diving companion was mauled to death by a Great White Shark in the coastal waters of Australia. The trauma left him with a hatred of the notorious predators. But as he came to know and understand their ways better, this developed into a desire to find a technical solution that could prevent the recurrence of such horrors, while enabling swimmers and sharks to co-exist safely in the same waters.

A shark approaches then turns away from a diver wearing the Shark Shield. (Courtesy of SeaChange Technology)
Mike Wescombe-Down's research led him to some ingenious technology, which had been developed in the 1990s by the well-respected Natal Sharks Board of South Africa. Based on electronic wave-fields, this was marketed to divers under the name of Shark POD, but the product was bulky and expensive, and enjoyed limited success. Mike set up the SeaChange Technology company, acquired the rights to the South African technology under an exclusive worldwide licensing agreement, and put his diving experience and industrial design skills to work to produce a new, improved shark deterrent.
The result was the Shark Shield™, featured last year on the Australian Broadcasting Company's (ABC) New Inventors series. The compact device, which straps onto a swimmer's leg, or into a diver's pouch, consists of two electrodes, which generates a powerful electromagnetic field around the user in the water. A shark which swims within seven meters of the device experiences a sensation of acute discomfort as the electric waves hit sensory receptors found on the shark's snout. While completely harmless, should the shark draw nearer, the discomfort grows more intense until it causes muscle spasms and drives it away. Neither the swimmer, nor other marine life, is affected.
SeaChange Technology Holdings, based in Adelaide in South Australia, filed four international patent applications via the PCT in 2002 and 2003. These covered their Shark Repelling Device and related inventions, including a shark-repelling hull for boats. Mike reports that the Shark Shield is selling well, to both recreational and professional divers, swimmers, surfers, fishermen and kayakers.
_____________________
Zapping deadly chemicals with nano-particles
In 1995, members of a sinister cult released deadly sarin nerve gas into the crowded Tokyo subway. Emergency teams struggled to evacuate choking passengers as the gas spread. Among the millions watching the horrifying images on the evening news was Dr. Kenneth Klabunde, a professor of chemistry at Kansas State University, U.S. Dr. Klabunde's laboratory had been working on nano-engineering methods to develop unique materials with the potential to help during such an attack. Two years later, the university filed a PCT application covering the techniques he had developed for creating substances capable of adsorbing and destroying highly toxic chemicals.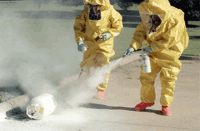 A Kansas emergency response unit tests FAST-ACT on vapors from a propane tank. (Photo NanoScale Materials Inc.; NSF)
Dr. Klabunde founded NanoScale Corporation, which then licensed the technology from Kansas State University. With support from the National Science Foundation, the company began producing and marketing FAST-ACT® (First Applied Sorbent Treatment Against Chemical Threats), as a ground-breaking chemical threat response product. FAST-ACT consists of nano-crystalline particles of magnesium oxide and titanium dioxide that are sprayed from a pressurized canister. The particles of powder latch onto the toxic gases or liquids and render them harmless. As well as neutralizing sarin, mustard gas, and other chemical agents, the powders can be used to mop up spillages of hazardous industrial chemicals and acids. The invention won Kenneth Klabunde a 2005 Breakthrough Award from Popular Mechanics magazine.
Nano particles possess properties quite different from either the individual atoms of a substance or the bulk material. They form a new class of matter, to which neither quantum chemistry nor classical physics theories apply. The secret of the punch packed by the FAST-ACT powders lies in engineering the nanoparticles to create jagged edges, which vastly increase their surface area, porosity, and chemical reactivity. As Dr. Klabunde explains, where as ordinary magnesium oxide powder has a surface area of only 30 square meters per gram, the techniques used to produce FAST-ACT increase this more than ten-fold: "Just seventeen grams of the powder has the surface area of a football field," he says.
_____________________
Chute to safety
Israeli entrepreneur Eli Nir did not want others to have to suffer what he had experienced as he watched fire-fighters struggle up and down ladders to rescue his eight year old son, trapped on the top floor of a burning, high rise hotel. His son escaped unscathed. Others, in similar situations, have been less fortunate.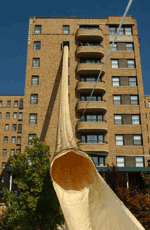 A volunteer at the press demonstration emerges from his 11-floor descent. (Courtesy of AES)
The solution conceived by Mr. Nir was a simple one: collapsible steel coils sheathed in fireproof, Kevlar-like fabric are installed on the outside of the upper floors of a high rise building, and accessed by emergency exit doors. When a fire alarm sounds, the tubes unfurl. The occupants of the building step through the door and slide down to the ground – much like in a giant water-slide at an amusement park. The speed of their descent is controlled by a series of "steps" incorporated into the structure of the chute.
Mr. Nir filed a total of six PCT applications relating to his "rescue sleeve" between 2000 and 2002. His concept was developed by Tel Aviv-based manufacturers, Advanced Evacuation Systems (AES), who raised US$ 1 million from private investors. Former Israeli Prime Minister Ehud Barak joined the board of directors to help promote the invention.
The demonstration of the prototype at a Washington hotel in October 2002 caused a splash, as the press gathered to watch a series of volunteers launch themselves through the 50 meter chute, and emerge beaming at the bottom. AES' statistics indicated that the structure would enable a person to descend 25 stories in under 10 seconds, so that 15 people could be rescued per minute. New models were planned, based on a corkscrew principle, for use up to 100 floors high.
The deputy chief of the Washington fire department, Mike Smith, was impressed by what he saw, and the chute was singled out by Time Magazine as one of the Best Inventions of 2002. But not all inventions live up to their promise. Take-up by potential clients failed to match expectations, and the company concluded that further work was needed in order to secure active backing from U.S. health and safety bodies. For now, all has gone quiet at AES. A case of back to the drawing board? Or down the tubes?
Portraits by Elizabeth March, WIPO Magazine Editor, Communications and Public Outreach Division
___________________
The WIPO Magazine is intended to help broaden public understanding of intellectual property and of WIPO's work, and is not an official document of WIPO. The designations employed and the presentation of material throughout this publication do not imply the expression of any opinion whatsoever on the part of WIPO concerning the legal status of any country, territory or area or of its authorities, or concerning the delimitation of its frontiers or boundaries. This publication is not intended to reflect the views of the Member States or the WIPO Secretariat. The mention of specific companies or products of manufacturers does not imply that they are endorsed or recommended by WIPO in preference to others of a similar nature that are not mentioned.