Authors, Composers, Artists: Nathan East – Jazz Musician
January 2007
"Record companies can't entirely blame the Internet for a music fans' not wanting to pay 20 bucks for an average CD with maybe two or three good songs on it."
Biodata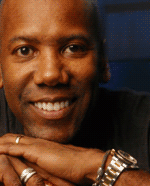 (Photos: Courtesy Nathan East)

Born:
1955, Philadelphia, U.S.A.
Instrument: Bass guitar
Group: Fourplay: Bob James (keyboards), Larry Carlton (guitar), Nathan East (bass), and Harvey Mason (drummer).
Recorded/toured with: Anita Baker, Al Jarreau, Barbara Streisand, Eurythmics, Natalie Cole, Elton John, Bob Dylan, George Harrison, Sting, Ray Charles, Eric Clapton – and many others
Awards: Most Valuable Player Award, Bass category, 1991 International Rock Awards; three-time recipient of the National Smooth Jazz Award for Bassist of the Year; U.K. Ivor Novello Award for "Easy Lover," which he co-wrote with Phil Collins and Philip Bailey
Also: Developed his own Yamaha Signature Series 5-String bass guitar, the BBNE-2. Has a private pilot license and holds two World Speed Records in his Lancair IV-P.
"X" , the latest album by American jazz supergroup, Fourplay, has had fans and critics purring since its release in August 2006: "The smooth jazz group to top the lot," says BBC reviewer Peter Marsh. "A softly-funky, superbly crafted album from these masters of smooth," writes Matt Collar in the All Music Guide. The rave reviews come as no surprise, given that the ten albums released by Fourplay since 1991 have all topped the jazz charts, and six have been nominated for Grammy awards. As Jazz Monthly puts it: "[From] four of the most talented guys in the business…the new Fourplay CD confirms that thought-provoking music never goes out of style. Masters at harmonizing the energy of individual performance with the synergy of ensemble play, the tracks are tight, transitions dramatic and the experience a whole lot of fun!"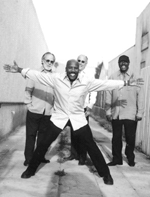 Bob James, Nathan, Larry Carleton and Harvey Mason of Fourplay.
One of the four "Masters" is Nathan East, whose successful career as a jazz musician, composer and bass guitarist spans some 30 years. With a reputation extending well beyond jazz aficionados, he has recorded and toured with a star-spangled list of artists, including – to name but a few – Elton John, Lionel Richie, Barbara Streisand, Josh Grobin, Eurythmics, Sergio Mendez, BB King, Kenny Rogers, Quincy Jones, Kenny Loggins and Phil Collins. His long association with Eric Clapton, for instance, included the multi-Grammy Award winning Clapton MTV Unplugged CD. Keen to help young musicians who are considering music as a profession, Nathan East has also produced a DVD, The Business of Bass, which provides an introduction to the often hard realities of working in the music business.
En route to a concert tour in Japan in January, Nathan East made time for an interview with WIPO Magazine. In the following extracts, he shares some thoughts about his creative work and his perspective, as a musician, on copyright issues.
Tell us how you first started playing bass.
I grew up in a house full of music. I started playing the cello in a junior high school orchestra. But when I was 14, I used to tag along with my brothers to their folk mass rehearsals, and once there was a bass just sitting on the altar. I just picked it up and joined in. That was it!
And your first big break?
Our band played the club scene around San Diego. Barry White heard us and hired us to go on tour with him as part of the Love Unlimited Orchestra. I was 16 at the time. A few years later I recorded in studio with him. But in-between there was school. I wanted to finish my education. In early 1980, the veteran writer/arranger Gene Page, with whom I had worked on White's recording sessions, called me to record a commercial with him. He then included me on recording for Whitney Houston, Madonna, Dionne Warwick and Michael Jackson. I got better known and the jobs came in. I was never short of work after that.
What particularly attracted you to jazz?
Jazz captured me at an early age. Wes Montgomery was one of the first artists I was exposed to, and his music went straight to my heart. His virtuosity and taste, tone and technique pulled me into the genre. The progressions in jazz create a unique challenge for improvisation and personal expression.
How did your band Fourplay come about?
In 1990, Bob James asked Lee Ritenour, Harvey Mason and me if we would be interested in forming a group in which each would be an equal partner, contributing songs. At the time, we were in the studio recording Bob's Grand Piano Canyon CD. The chemistry among the players was magic! A couple months later Fourplay began recording its first album. It sold over a million copies in 1991 and was number one on Billboard's contemporary jazz chart for 33 weeks.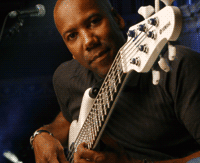 Nathan East has performed for royalty, for presidents, for the Pope, and at sold out concerts around the world.
Can you describe the creative processes in the band and the sound you aim to create?
For me the Fourplay sound is sophisticated, classy and progressive. It's a combination of elements mixing jazz, R&B and pop to create a contemporary jazz sound.

The players perform at very high levels and it's a fun challenge making music with them. The creative process varies from song to song. It's never the same. Sometimes, while driving, an idea for a song will pop into my head and I'll call my answering machine at home and sing that idea into it – that's a trick I learned from Eric Clapton. We write some songs right on the spot. Other times, we're all in the studio and someone starts an idea and the rest contribute. We leave the tape running and jam for a time, then play it back and pick what sounds like a good idea for a song and expand on it.

When did you become aware of copyright and related rights?
The first song I ever wrote that was recorded and published was called "With All My Love" in 1970. It was the title song of an album by trumpeter Bruce Cameron, who took the publishing on that song. That was my introduction to copyright and publishing. I did use that song to join ASCAP (American Society of Composers, Authors and Publishers), and retained my own publishing from then. After that, it was fairly easy to contact ASCAP with questions that I had regarding copyright.
Are there any aspects of the current copyright system that you would like to see changed?
Anything that not only protects the creators but promotes them as well is essential in keeping the business moving forward. I feel the length of copyright protection for recorded performances could be doubled from what it is currently. Also, a performer's name should be included on every album in which they perform without exception. There is nothing worse than not getting the credit you deserve for the creative work you have done. I recorded a lot with Barry White, but you wouldn't know it because he didn't put the names of the musicians on any of his records because he didn't want anybody to steal his sound.
Do you have any thoughts on tackling music piracy?
All groups have suffered from music piracy. We need to educate the public about the impact of piracy on the lives of the people that create the music. There should also be increased use of embedded codes in CD's that make it more difficult to transfer music from computer to computer. But at this stage in the game, we can't escape the technology and, unfortunately, I think it will get worse before it gets better. The record business as we have known it is over.
So do you see the Internet more as a threat or an opportunity for musicians?
Much like when synthesizers and drum machines became widely used, some thought they would put real musicians out of business which they didn't. The strong seem to survive. This feels like the same case. The Internet offers an opportunity to reach more people. Provided the consumer can be educated about the artist's need to make a living, I feel as though it's opportunity more than a threat. But clamping down on music piracy on the Internet is a good thing, especially if it means that more people will accept the idea of paying for music. We also need to update ways to monitor what is generated from Internet sales.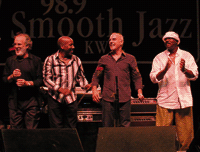 Six of Fourplay's ten albums have been nominated for Grammy Awards – all have topped the jazz charts.
Are you benefiting from revenues from legal downloading?
These are somewhat early days of downloading in the scheme of things so the standard royalties from CD sales and live performances are still my primary source of income. But I believe the royalties generated from the legal downloading of music could potentially catch up.
As people's listening habits change, what does this mean for the music industry?
The bottom line is that people will always love music. It's like a soundtrack for life and I believe, regardless of the delivery system, humans will continue to have a thirst for good music. That's one of the keys...good music! I don't think that record companies can put the blame entirely on the Internet for music fans' not wanting to pay close to 20 bucks for an average CD with maybe two or three good songs on it. High prices plus low quality equals disaster in any industry. Musicians will have to continue to be creative musically and with the way they manage their careers.
I think there is also some shift toward live performances. Even in the glory days, many artists profited more from touring and live performances than they did from record sales. This just means that you better know how to "hit it" live and not just in the studio.

What would you say to a young musician hoping to make a living from music?
Stay out of the business!! Seriously, there's a lot more involved than meets the eye. If you are strong, highly gifted, determined and passionate about your gift, that's a good start – but only a start. What follows is largely a combination of variables, hard work and good fortune. It's for young musicians to see what the business of music is really about that I made The Business of Bass DVD. It includes interviews with top producers, like Quincy Jones, Babyface, Clapton, David Foster, and asks what they expect from the musicians they hire. It's a little guidance and coaching for young musicians trying to come up through the ranks.
By Sylvie Castonguay, WIPO Magazine Editorial Staff, Communications and Public Outreach Division
The WIPO Magazine is intended to help broaden public understanding of intellectual property and of WIPO's work, and is not an official document of WIPO. The designations employed and the presentation of material throughout this publication do not imply the expression of any opinion whatsoever on the part of WIPO concerning the legal status of any country, territory or area or of its authorities, or concerning the delimitation of its frontiers or boundaries. This publication is not intended to reflect the views of the Member States or the WIPO Secretariat. The mention of specific companies or products of manufacturers does not imply that they are endorsed or recommended by WIPO in preference to others of a similar nature that are not mentioned.