Technology Transfer and Development
September 2006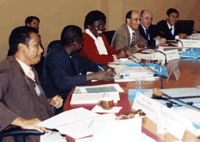 Two teams review the licensing deal they have struck in a Successful Technology Licensing training exercise. (Photo: WIPO)
Give a man a fish and you feed him for a day.
Give a man a fishing rod, and he feeds himself and his family for as long as the rod lasts.
Help a man develop the knowledge and means to improve the fishing rod and to design and produce new ones, and he may feed himself and his society for years to come.
– A new take on an old proverb
Technology transfer is much discussed but is defined in different ways depending on the context. This article focuses on technology transfer in universities and research institutions, and describes WIPO's practical approach to technology transfer in the context of the Organization's work to promote the strategic use of IP for economic development.
For most universities and research institutions technology transfer is defined in the words of the Association of University Technology Managers (AUTM) as "the process of transferring scientific findings from one organization to another for the purpose of further development and commercialization." This transfer is generally effected by means of IP licensing agreements (contracts) between universities and private companies or publicly owned commercialization agencies.
In the licensing agreement, the university or research center grants a permission (license) to use the IP in a newly developed technology to a private sector licensee or a "spin off" company in exchange for royalties or other payments. IP rights permit the university to own and control the use of its research results, and so are the basis for technology transfer in this sense.
Universities receive a revenue stream from such technology transfers which, according to the AUTM Annual Licensing Survey, amounts to more than US$ 1 billion a year for U.S. institutions alone. Recent years have seen a rapid expansion in the number of technology transfer offices set up by universities to manage this process. In some cases, the technology transfer is reciprocal, and the research institution and licensee exchange and co-develop technologies.
The multilateral context
As of 2003, more than 80 international instruments contained provisions on transfer of technology,1 and this number is increasing. In the context of UN and other multilateral agreements, technology transfer has often been viewed as a "transfer in" process by which developing countries seek to gain access to technical goods and know-how imported from the developed world. The idea of licensing intangible assets like IP is often not addressed, nor is the potential for reciprocal exchange. Yet the intangible asset, like the fishing rod design in the revisited proverb above, can be the key to sustainability.
But this one-way, "transfer in" view of technology transfer is changing. As developing countries introduce systems to stimulate innovation and IP strategies to support their research activities – often combining new research with traditional knowledge, so it is being complemented by a new vision of knowledge-led growth in which IP plays a central role.
Standardizing IP Policies in Malaysian Universities
The Malaysian government has instructed that all 17 of its public universities should establish a Research, Development and Commercialization Unit. This unit handles the allocation of funding for R & D and for patent applications on R&D outputs. The universities will have a standard procedure with regard to the ownership of - and the share in the return from - the commercialization of research outputs. This will usually be divided 50-50 between the university and the researcher(s), with some universities allowing up to a 75 percent share to be given the researcher.
Focus on successful technology licensing
WIPO has been producing materials for use by Member States on the practical application of technology transfer since 1979, when the Organization published its first detailed guide to licensing. From 2002 to the present, WIPO has, at the request of its Member States, focused its technology transfer work on programs designed to help developing countries to build capacity in IP asset development and in technology licensing.
WIPO's four-day training workshop, Successful Technology Licensing (STL), has been conducted in Brazil, Cameroon, Colombia, India, Indonesia, Jordan, Malaysia, Senegal, Serbia, Singapore, and Zimbabwe. Training sessions will also take place in Tunisia and Ghana this year.
Sustainability and follow-up are essential element of the STL course. Participating Member States are provided with an STL Kit, i.e. a set of materials (available in French, Spanish, English, Portuguese and Serbian), which enables each country to repeat and improve the program. Brazil for example has now trained 20 trainers in order to be able to run the course independently of WIPO.
The kit includes a manual, presentations, detailed role-play scenarios, a guide to procedure, coaching and test sheets. The scenarios are based on hypothetical but realistic stories about researchers in developing countries: The Anansi Story deals with traditional knowledge and pharmaceutical technologies; the Ziggurat Story focuses on information technology; the Nanolin Story is based on bioinformatics and nanotechnology; and the Smart Turbine Story on renewable energy.
Participants spend the first two days receiving training from experts in licensing and negotiation skills, after which they use the role-play "games" to put their newly acquired skills into practice.
Follow up to the STL program will include a web-based network, to be operational by end of 2006. WIPO works closely with the Licensing Executives Society (LES) International as well as LES local chapters in Brazil, the Andean Community, India, Malaysia, and South Africa, to support local follow up and continuity.
A range of programs
Courses offered by the WIPO Worldwide Academy also include technology transfer sessions, and WIPO conducts a number of other relevant workshops and seminars for research institutions, often in conjunction with local small and medium-sized enterprises. The range of technology transfer programs is complemented by new programs, all of which set technology transfer within the context of promoting and exploiting innovation. Such programs include assistance to developing country universities seeking to put in place IP policy frameworks (see interview with Professor Ogada of Moi University, pages 12 - 14); training in patent drafting to plug critical skills gaps; and studies, such as those commissioned by WIPO in seven Asian countries, to help analyze how issues of technology transfer and university-industry partnerships are dealt with successfully in practice.
A practical approach
Increasing numbers of Member States are requesting programs that facilitate technology transfer. WIPO's work in this area is based on a practical approach to using IP for economic development, which requires funding, pilot projects, and capacity-building to become a reality. WIPO is also committed to working with other United Nations agencies whose mandates include subjects related to technology transfer – such as UNESCO, UNCTAD, and UNIDO – in order to optimize the effectiveness of these programs.
By Cynthia Cannady, IP and New Technologies Division
1. Compendium of International Arrangements on Transfer of Technology UNCTAD/ITE/IPC/Misc.5 (2003)
For more information on WIPO's Successful Technology Licensing program, IP policy drafting, and training programs relating to technology transfer, see www.wipo.int/ip-development/en/strategies/ or contact the IP and New Technologies Division.
The WIPO Magazine is intended to help broaden public understanding of intellectual property and of WIPO's work, and is not an official document of WIPO. The designations employed and the presentation of material throughout this publication do not imply the expression of any opinion whatsoever on the part of WIPO concerning the legal status of any country, territory or area or of its authorities, or concerning the delimitation of its frontiers or boundaries. This publication is not intended to reflect the views of the Member States or the WIPO Secretariat. The mention of specific companies or products of manufacturers does not imply that they are endorsed or recommended by WIPO in preference to others of a similar nature that are not mentioned.