From Bright Idea to Product Testing: The Role of Inventions Exhibitions
April 2006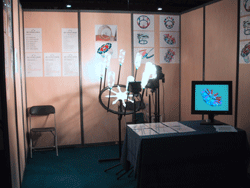 Jean-Marie Schatt's Thermoturbine prototype, ingeniously constructed from a bicycle wheel and bottles, produces rotary energy from thermal energy. (Photo: J-M Schatt)
Visiting an inventions exhibition for the first time, let alone exhibiting at one, can be a somewhat disconcerting experience. The atmosphere is often one of exuberant disorder, particularly when the inventions are grouped by country of origin. Within a few dizzying steps, the visitor moves from biotech to electronic engineering; from mechanics to civil engineering; from high tech to simple gadgets. Eye-catching demonstrations of some exhibits attract attention, while it is too easy to overlook significant inventions presented only on a poster and prospectus.
It all makes for a fascinating day out. But what are the real functions of an inventions exhibition?
Inventor seeks entrepreneur
Jean-Marie Schatt, an engineer and manager of a small company specializing in heat exchangers, is a typical representative of a "small inventor." He presented his thermoturbine at the 2005 Brussels Eureka Exhibition in the form of an ingeniously simple prototype, consisting of a bicycle wheel, bottles and water-filled circular tube, with halogen lamps providing a heat source. The device, in effect a Stirling (?) engine reduced to its simplest expression, is designed to convert heat energy from any source – primary or recovered – into rotary energy. Mr. Schatt compares the efficiency of his invention to the energy lost in the exhaust fumes of conventional engines, citing the positive views of thermodynamic engineering experts whom he had consulted as to its expected output.
But from principle to practice is a long way. "I have reached the limits of what I can do myself," said Mr. Schatt, explaining his presence at the Eureka exhibition. "I am now seeking a partner interested in developing the concept and the industrial and commercial application of the thermoturbine."
This, indeed, is the main purpose of invention fairs - to bring together investors in search of innovative products, processes or ideas, with inventors seeking entrepreneurs to enable them to commercialize their inventions.
It is not without risk. By the very fact of exhibiting, the inventor runs the risk of having his idea copied by others and receiving nothing in return. So prior to participating in an exhibition, it is important to analyze the situation carefully and take appropriate protection measures. – In Mr. Schatt's case, a Belgian patent application.
New IP Procedure at China Hi-Tech Fair
Organizers of the China Hi-Tech Fair in Shenzhen last year adopted a special procedure to protect and manage the intellectual property (IP) rights of exhibitors. As a condition of participation, all exhibitors were required to sign a commitment to respect the IP rights of fellow exhibitors, and to accept mediation in the event of any IP rights disputes. Two disputes were satisfactorily resolved in this way at the October 2005 Fair. "In the past exhibitors quarreled and even fought in the hall," one of the organizers explained in a press statement. "This year, disputes were solved smoothly." The Chinese Ministry of Commerce plans to draft a national management law for exhibitions based on the procedure.
Testing wider interest
Léon Jourdain had likewise filed a patent application before registering for the Eureka Exhibition. He, however, was further down the line, having already found an industrial partner to help develop his invention. Mr. Jourdain had invented a device for generating mechanical energy from small watercourses on flat land, where the flow would be too slow for exploitation through existing technologies. He explained its potential application in developing countries for use in the production of mechanical or electrical energy, for elevating water for irrigation purposes, or, linked to a compressor, for producing heat or cold. For Mr. Jourdain and his partner, the exhibition represented a good way of testing wider interest in the machine.
Exchanging Information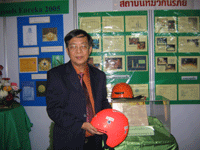 Professor Vira, WIPO gold medal-winner at the February 2006 Bangkok exhibition, demonstrates the improved safety features of his motorcycle helmet. (Photo: WIPO)
Invention fairs are also an important forum for the exchange of information. The WIPO information stand at any fair is kept busy with as many enquiries from the visiting public as from the exhibitors. The most frequent question: "I have this idea - what should I do?" Others seek a better understanding of how to use the PCT to file an international patent application, or the Madrid system to register a trademark for their new product.
Invention exhibitions are a vibrant demonstration that invention and innovation are not the exclusive preserve of large companies. They are a place where technology transfer is initiated and carried out; where the existence of centers of excellence and know-how is demonstrated; where links are forged across regions and across continents. South East Asia was strongly represented at the Brussels Eureka Exhibition in November 2005; contacts were made between organizers, inventors' associations and enterprises, with the result that Belgium was strongly represented at the Bangkok Exhibition in February 2006. At both, inventors shared a common interest in promoting their own works, and the satisfaction in being part of national and international efforts to promote innovation.
Invention Awards
Prizes and medals awarded by expert panels are a popular feature of most invention fairs. In some cases such awards provide a real boost to inventors and to the future of their creations, either financially, or by generating valuable publicity and recognition.
WIPO invention medals aim to promote innovation and inventive thinking at all levels and in all societies. Medals are awarded in different categories, targeting for example inventors from developing countries. Young people, tomorrow's innovators, are also a priority. Take, for example, Yoshiaki Okada, the young WIPO Prize winner at the recent 64th Concours of Schoolchildren's Inventions, organized by the Japan Institute of Invention and Innovation. His model "vibrating amusement park," constructed from sawn-off toothbrushes, plastic cups and his parents' massage machine, may not have been about to make his fortune; but his inventive spirit and ingenuity will be a great future asset.
The WIPO Magazine is intended to help broaden public understanding of intellectual property and of WIPO's work, and is not an official document of WIPO. The designations employed and the presentation of material throughout this publication do not imply the expression of any opinion whatsoever on the part of WIPO concerning the legal status of any country, territory or area or of its authorities, or concerning the delimitation of its frontiers or boundaries. This publication is not intended to reflect the views of the Member States or the WIPO Secretariat. The mention of specific companies or products of manufacturers does not imply that they are endorsed or recommended by WIPO in preference to others of a similar nature that are not mentioned.