Profiles in Innovation: Building Biotech in Bangalore - Kiran Mazumdar-Shaw
September 2005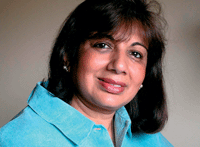 Biodata
Born: 1953
Nationality: Indian
Education: B.Sc. honors degree in Zoology from Bangalore University, India (1973); qualified as a Master Brewer at Ballarat University, Australia (1975); honorary Doctorate of Science from Ballarat University.
Occupation: Chairman and Managing Director, Biocon Limited.
Awards: Economic Times Businesswoman of the Year 2004; Best Employer of India, 2004 Hewitt award; Ernst & Young's 2002 Entrepreneur of the Year Award, Life Sciences & Healthcare; 2000 Technology Pioneer Recognition, World Economic Forum; the Padmashri (1989) and Padma Bhushan (2005) presented by the President of India for her pioneering efforts in industrial biotechnology.
Patents: Over 100 Biocon patents.
"We started from scratch and built a billion dollar business. How? We had a great team. And we focused on innovation as the key to building value."
The press delights in coining new titles for her: the Biotech Queen from Bangalore, India's First Lady of Biotech, the Mother of Invention. Her company made headlines last year as only the second Indian company ever to cross the US$ 1 billion mark on its first day of listing on the stock exchange. Kiran Mazumdar-Shaw, the dynamic chairman and managing director of the Biocon group in Bangalore, is being hailed as a torch-bearer for the burgeoning biotechnology industry in India.
Catching her at a quiet moment in her non-stop, transcontinental schedule proved easier said than done. But following a trail of e-mails from Bangalore to Paris, WIPO Magazine caught up with her during a London stop-over. She spoke, with characteristic warmth and animation, about her experiences in building Biocon Ltd., and of how intellectual property (IP) helped to spur the growth.
Starting out
As a student, Kiran Mazumdar-Shaw had planned to follow in her father's footsteps. He was a master brewer, in itself unusual for a Brahmin family from the state of Gujarat, which prohibits alcohol. But after completing her studies in Australia, she returned to India to find that the industry was not ready to accept its first woman master brewer.
Undeterred, she turned her interest in fermentation science to other ends. The then 25-year old persuaded a small Irish company to form a joint venture, and in 1978 Biocon India was born. Initially working out of her garage, and with only a handful of rupees in the bank, she began making enzymes for industrial application, such as papain, a proteolytic enzyme extracted from the papaya fruit, which prevents chilled beer from turning hazy. Already during these early years Ms. Mazumdar-Shaw was showing her mettle as an innovator with an instinct for finding the gaps in the market. She recalls with pleasure the satisfaction she derived from producing – and patenting – novel products, such as a new enzyme to clarify tea.
Manufacturing enzymes continued to form the core of Biocon's business after its Irish partner was acquired by Unilever in 1989, and it remains a major part of the company's activity. Indeed, a quarter of today's world market in pectinase, an enzyme that breaks down the pectin in fruit juice, is supplied by Biocon.
Breakthrough
But Biocon's big breakthrough came in the 1990's, when the company invented a new fermentation technology to replace the conventional tray-based culture of microorganisms. Known by its trademarked name, the PlaFractor is a bioreactor, which – in simplified terms – enables all the different stage processes involved in the cultivation and extraction of microorganisms to be carried out within a fully enclosed system and under precise computer control. It was a commercial success and boosted Biocon's reputation for innovation.
Moreover, the PlaFractor served as a technology bridge, allowing Biocon to cross from industrial enzymes into biopharmaceuticals. With it, Biocon was able to begin research and development in areas such as immunosuppressants, these being particularly difficult organisms to cultivate using conventional tray culture. (Immunosuppressants are used, for example, to reduce the risk that transplanted organs will be rejected by the body's immune system.)
The company never looked back. In 1998 Ms. Mazumdar-Shaw and her husband John Shaw, bought out Unilever's shareholding, and Biocon became an independent entity. Today the Biocon group (with subsidiaries Clinigene and Syngene) employs some 1,500 people and ranks as India's largest biotechnology company.
"Sharing IP is the way to develop business very fast in today's world."
Why Bangalore?
Already the center of India's booming information technology sector, Bangalore is home to over 90 biotechnology companies, the biggest concentration in India. Companies are attracted by the presence of many of India's top research and scientific institutions, such as the Indian Institute of Science and the National Centre for Biological Resources. The interaction between scientists and industry has made for a fertile biotech spawning ground.
While conscious of competition from Hyderabad, the government of Karnataka State (of which Bangalore is the capital city), is keen to establish Karnataka as a pre-eminent biotech hub. To this end, Bangaore is being re-branded as The Biocon City; the Vision Group on Biotechnology, chaired by Ms. Mazumdar-Shaw, brings together academia, industry and government to elaborate policies and initiatives; and the annual "BangaloreBio" is billed as India's flagship biotech event.
Putting IP to work
But to what extent, we asked her, had IP been a factor in the rise of Biocon over the years? "Oh, IP was there right from the start!" she exclaimed. "To begin with, when Biocon was just part of a small company trying to compete in international markets, it was really just a matter of where I could sell the products, of our freedom to operate. But after Unilever bought the company, we entered this highly professional world where the role of IP was very acute. We were creating very novel IP and I started then to see just how valuable this was."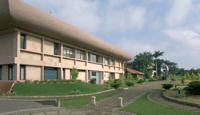 Biocon today is India's biggest biotech company. Kiran Mazumdar-Shaw started out brewing enzymes in her garage.
Again, the Plafractor innovation marked a turning point. "It was very exciting," recalled Ms. Mazumdar-Shaw. "This was the big first patent application that we handled entirely on our own, rather than leaving it to Unilever." The commercial success of Biocon's new patented technology generated a three-fold expansion in the company in 1996.
This was also Ms. Mazumdar-Shaw's first hands-on experience of WIPO's Patent Cooperation Treaty (PCT), of which she remains a fan: "Patenting is an expensive business. So you have to be very strategic as to how you go about it. The PCT lets you file, and then take some time to decide in which countries it's worth pursuing commercially. And in the meantime it gives you a priority position and lots of protection."
Ms. Mazumdar-Shaw talked us through how Biocon had used the patent system to gain initial access to the field of human insulin production, where the company is now a major player. The product patent on human insulin had long expired, but it was still protected by strong process patents. So the Biocon team went through all the relevant published patents, in search of a gap which would enable them to gain a foot-hold. "We noticed that most of the patented processes used e-coli and bakers' yeast," she explained. "At Biocon we had expertise in another sort of yeast, and we had already licensed the IP for it from a small company in the U.S. So the way was clear. We started making our own insulin using Pichia yeast. This was a new and unique process, which wasn't covered by any of the existing patents."
IP-based partnership: a sum greater than its parts
Among Biocon's current priorities is a program to develop an orally-deliverable insulin. "Just imagine if the world's diabetics could get their insulin in tablet form instead of having to inject it," said Ms. Mazumdar-Shaw, "Think what a difference that would make to them each day." The program was kick-started when Biocon scientists spotted an interesting patent held by Nobex, a small U.S. company, which related to a technology for the oral delivery of peptides. This directly complemented what Biocon was trying to achieve, and a mutually beneficial partnership was formed.
"Sharing IP is the way to develop business very fast in today's world," states Ms. Mazumdar-Shaw emphatically. "I don't mean just buying it, but really sharing. We have something another company needs; and they have something we need. Put it together and you have this powerful and very exciting synergy."
Examples of how Biocon puts the IP-partnership philosophy into practice are multiplying. Take, for instance, the recent partnership between Biocon and Vaccinex Inc. of New York, to take forward Biocon's search for antibodies for use in immunotherapy-based cancer treatment. The companies are now jointly developing novel, fully human antibodies, by combining Vaccinex's patented technology for generating human antibodies with Biocon's expertise in clinical research and manufacture of biologics. Biocon has forged similar partnerships with companies and research institutes as far away as Cuba and Scotland in the United Kingdom.
"If I can deliver oral insulin to India at a level people can afford, then I will have done my job. Without patents, I couldn't do it at all."
India's new patent law
Indian biotech companies benefited for many years from India's 1970 patent law, under which protection could be granted only to processes and not to products. This enabled Indian firms to use alternative methods to produce cheap generic copies of drugs which had been patented in other countries. In order to comply with commitments under the World Trade Organization's TRIPS* Agreement, the Indian Parliament passed a bill in March 2005 which outlawed this practice, by recognizing both processes and products.
Affordable medicines
Ms. Mazumdar-Shaw shared her views on fears that India's new patent law (see box) could push up the price of medicines. "The reality," she reflected, "is that the vast majority of people in India only have access to old generic antibiotics and pain-killers. Less than 5 percent of new, patented drugs make up the Indian market today. So it would be a very long time before any cost implications were felt. But now Indian companies have to unleash their innovation. If I can deliver oral insulin to India at a level people can afford, then I will have done my job. Without patents, I couldn't do it at all."
Nonetheless, she reflected that, as Biocon and other Indian companies moved towards developing, for example, complex cardio-vascular or cancer drugs, they would not necessarily be able to do so at low cost. Nor could the IP system be expected to achieve everything. "We need an enforceable patent regime to be able to develop these drugs in the first place," she concluded, "but the issues of affordability have to be addressed through a number of different angles and mechanisms, such as insurance, for example."
Community action
Ms. Mazumdar-Shaw's entrepreneurial success is matched by a keen sense of corporate social responsibility. She has thrown herself with vigor into tackling major social problems, such as rural health care. "One of the biggest factors of rural indebtedness in India is illness. It leads to bankruptcy and suicidal debts," she explains. This concern has driven her to set up schemes, including vaccination camps, a network of free clinics in outlying areas and health education camps.
Favoring solutions which help those in need to help themselves, she is now pioneering a low-cost rural health insurance scheme. For three US dollars per year, the insurance provides access to quality health care and medicines. She calculates that Biocon can deliver the cover at minimal cost because of the massive economies of scale made possible by the target subscriber group of one million (100,000 people have signed up so far).
Secret of success?
"Building Biocon has been a great and very satisfying journey. We started from scratch and built a billion dollar business. That's a tremendous feeling. How did we do it? We had a great team. And we focussed on innovation as the key to building value."
Building the Brand
Biocon calls its new trademark a dynamic helix or "dynalix." Created by an independent young designer from Bangalore, its shape evokes multiple associations: DNA chains, molecules, inter-locking "B"s for Biocon and Biotechnology; while its slanting movement symbolizes the company's forward and upward-looking vision.
"Branding is a slow process," says Ms. Mazumdar-Shaw. "But we were very clear about the values we wanted to convey: innovation, quality, reliability, distinctiveness and an international outlook combined with pride in being an Indian company." This is reflected in the presentation of the company's products, publications, website and public statements. The pale blue packaging of Biocon medicines was chosen to be subtle, while standing out among the standard white packages on the shelves of pharmacies. The company name works well in the international arena as well as within India.
*Agreement on Trade-Related Aspects of Intellectual Property Rights
The WIPO Magazine is intended to help broaden public understanding of intellectual property and of WIPO's work, and is not an official document of WIPO. The designations employed and the presentation of material throughout this publication do not imply the expression of any opinion whatsoever on the part of WIPO concerning the legal status of any country, territory or area or of its authorities, or concerning the delimitation of its frontiers or boundaries. This publication is not intended to reflect the views of the Member States or the WIPO Secretariat. The mention of specific companies or products of manufacturers does not imply that they are endorsed or recommended by WIPO in preference to others of a similar nature that are not mentioned.