Winning Designs
May 2005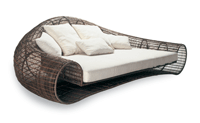 The "Croissant Sofa" by award-winning Philippino designer Kenneth Cobonpue is made from buri palm, abaca rope and steel.
Design makes all the difference. For a teenager choosing a T-shirt, it makes the difference between cool or un-cool; for a website-user seeking information, the difference between clarity and confusion; for a wood-worker using a screwdriver, the difference between a firm grip and a palm full of blisters. Design is where function meets form. And in good design, the two work in harmony: the practical with the beautiful, the consumer's needs with the consumer's desires. In this article we sample some award-winning product designs and reflect on emerging trends.
Design as science
Companies which previously relied on their technological innovation to stay ahead of the competition are re-thinking their product development strategies and are now investing heavily in design as central to success. This is evident in the technologically sophisticated consumer electronics sector, where market leaders vie with each other to lure customers to choose their latest mobile phone or television set.
The Dutch electronics group Philips, which garnered 12 awards at the 2005 International Forum Design (iF) awards in Germany, has no doubt of the importance of design to the company's success. Philips Design employs not only top creative designers, but also anthropologists and psychologists to research human needs, desires and behavior. Research showing that adapted ambient lighting makes for a more relaxing television-watching experience led to Philips' development of Ambilight, in which light with adjustable colors is diffused behind the television set. Two Ambilight televisions were among the iF design winners in May.
"There was a time in the 1970s and 1980s when products were trying to impress with their technological complexity. …Now there is a rejection of whatever is adding complexity." - Stefano Marzano, Philips Design.1
Among current trends in industrial design, Chief Executive Officer and Creative Director of Philips Design Stefano Marzano highlights above all simplicity, both in form and function. He also notes a trend towards "humanization," in which products are endowed with greater emotional appeal, including more human attributes; and a "feminization," in which softer shapes and colors increase a product's appeal. These trends are reflected in the designs of other iF award winners, such as Korean company LG Electronics. LG notes that the innovative arched back design of their LX40 series Liquid Crystal Display (LCD) monitors has been compared to a human bodyline, inspiring Italian designer, Giorgetto Giugiaro, to wax lyrical: "This is not a design, this is a poem."
Everyday objects
But design is not just about the latest high tech product, or about adding even more luxury for wealthy customers. The London Design Museum in February 2005 published results of a poll of 40,000 visitors, in which the humble ball-point pen, or biro, emerged as the people's choice for the best ever low cost design innovation (i.e. for "under a tenner" or £10). The biro, patented by the Hungarian Biro brothers in the 1930s, drew praise as an unsung icon of simple, practical design, which has endured the test of time, unchanging in the face of competition from flashier rivals.
Improving the design of everyday objects is an on-going challenge. The 2004 International Bicycle Design Competition, held in Taiwan, revealed an abundance of ideas. First prize was won by a professor and two students from the industrial design program of Purdue University, U.S., who produced SHIFT, a bike to help children learning to ride. It has two flexible rear stabilizer wheels, which move inwards to merge into one back wheel when the bicycle is moving and the child gains balance, then move back out for greater stability when slowing down. The design has attracted bidding from 12 potential investors.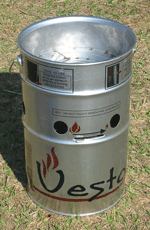 The Vesto stove, based on a modified 25-litre paint can. Chambers preheat the incoming air, boosting the stove's efficiency. (Photo C. Pemberton-Pigott)
Eco-design
Sustainable development is becoming a buzzword in design, with considerations such as recycling materials, reducing waste in production, increasing energy efficiency, eliminating toxins and extending product life, all feeding into the design concept.
The organic AWARDS competition recognizes design innovation combined with environmental responsibility. Among the trends in eco-design, the competition organizers noted a readiness to experiment with bio-composite materials, such as panels made from sunflower seeds, and natural mulching felt. 2004 award winners included cardboard desktop speakers by Japanese lifestyle retailer Muji; and carpet tiles by Interface Carpets, which have a high recycled content and are designed to be laid anyway around for minimal wastage.
At the disa Design Excellence Award scheme, run by the Design Institute of South Africa, concern for the environment and for sustainable development inspired the 2004 winner of the Chairperson's Award for the most exceptional entry: The Vesto stove is a low cost, bio-mass burning stove, produced for developing country needs by New Dawn Energy Systems. It requires only about one third of the wood or dung normally used to cook a meal, and the low smoke emissions reduce health risks. It is safer than paraffin or comparable stoves, and if knocked over the fuel will not spill. The disa award scheme forms part of South Africa's "design for export" initiative, aimed at ensuring that the country's manufacturing industry can compete effectively in international markets.
Humanizing medical design
The winner of this year's disa Chairperson's award was a high tech medical scanner from Lodox Systems Ltd. The Statscan Critical Imaging System is a digital X-ray system for use in emergency medical centers. It produces a full body scan within approximately 13 seconds, enabling medical staff to have a complete picture – literally from head to toe – of a patient's injuries. The X-ray dose used is estimated to be about 25 percent of other equivalent techniques.
Positive trends in the less typical design area of medical and life sciences were noted by commentators at the prestigious 2005 Reddot Awards. The jurors praised entries for designs showing sensitivity and greater focus on the emotional and atmospheric aspects of the patient's experience. They also highlighted the use of design to simplify the operation of medical appliances, and to reduce the possibility of error by users.
Combining tradition and innovation
Many highly successful, individual designers fuse traditional and modern elements in their designs. Kenneth Cobonpue from Cebu in the Philippines runs a furniture design and manufacturing company, Interior Crafts of the Islands, Inc. His acclaimed creations sell worldwide, and he has won many awards including the Japan Good Design Award (2003), and the Golden Shell Award (2002) for embodying the ideals of Asian design. Integrating locally sourced, traditional materials – such as bamboo, abaca hemp and buri palm – with innovative, hand-made production techniques, Mr. Cobonpue seeks an alternative to the Western definition of modern design.
From hi-tech to low, from luxuries to life's necessities, from east to west, innovative product design will continue to make all the difference.
________________________
1. Interview with the Financial Times, April 29, 2005
The WIPO Magazine is intended to help broaden public understanding of intellectual property and of WIPO's work, and is not an official document of WIPO. The designations employed and the presentation of material throughout this publication do not imply the expression of any opinion whatsoever on the part of WIPO concerning the legal status of any country, territory or area or of its authorities, or concerning the delimitation of its frontiers or boundaries. This publication is not intended to reflect the views of the Member States or the WIPO Secretariat. The mention of specific companies or products of manufacturers does not imply that they are endorsed or recommended by WIPO in preference to others of a similar nature that are not mentioned.