International Women's Day: Inventive Women
March 2005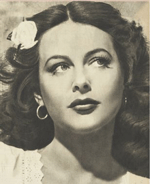 Film star Hedy Lamarr invented a frequency-hopping torpedo guidance system. She was ready to leave Hollywood to work for the National Inventors Council. (Courtesy of Hedy Lamarr's son, Anthony Loder)
"Women's inventiveness is as old as feeling cold and feeling hungry." - Jette Sandah, Director of the Women's Museum, Denmark.
Women have been inventing solutions to the problems around them for as long as they have lived. But social and historical factors meant that, until recently, relatively little of this was recorded. Scholars single out a 4th century Egyptian mathematician and natural philosopher, Hypatia of Alexandria, as one of the first known women inventors. Hypatia is credited with the invention of several scientific instruments including the astrolabe for astronomical measurements, and a hydrometer to measure the specific gravity of liquids.
On International Women's Day -  March 8 -  WIPO Magazine took a somewhat less scholarly look at inventive women.
Many such women figure in Deborah Jaffe's book, Ingenious Women: From Tincture of Saffron to Flying Machines. Her gallery of inventors and their inventions spans the whimsical to the awe-inspiring, beginning with the first ever British patent granted to a woman, Amye Everard, in 1637 for "Mrs. Ball's Tincture of saffron and essence of roses."
For centuries the achievements of women inventors went largely unrecognized. Take Sarah Guppy of Bristol, U.K. In 1811 Miss Guppy patented a method "for Bridges and Railroads," based on sturdy piles or columns from which bridges could be suspended. But the history books fail to record her name alongside those of the famous suspension bridge engineers who followed her lead ten years later. Tracing the women behind inventions is made more difficult by the fact that, until late into the 19th century, married women in the U.K. and the U.S. were legally barred from owning property – including intellectual property. If they filed patents at all, they did so in their husbands' names.
Fighting back
Others had to fight to protect their IP from marauders. In 1870, cotton mill worker Margaret Knight of Massachusetts, U.S., who had invented a machine for making flat-bottomed paper bags, brought successful legal action against a man who copied her design and attempted to patent it as his own. He argued in court that a woman would simply not have been capable of designing the machine. Her bag design is still used today.
Protection of a different kind inspired one Louisa Llewellin in 1904 to patent her lady's "glove for self defence and other purposes." (The patent does not relate what other purposes she had in mind). Designed for the increasing numbers of women travelling alone by rail, the glove incorporated sharp, steel talons in the fingers to defend the wearer from "thieves and others pursuing evil designs."
From kitchen to Kevlar
Traditional spheres of women's activity within the home spawned numerous domestic innovations, sparing succeeding generations from hours of household drudgery. A London metal-worker, Elizabeth Merrell, invented an electric washing machine in 1859, and Josephine Cochran a dishwasher in 1872. A hundred years later, Marion Donovan in Indiana, U.S., invented the first disposable diaper. When it was rejected by manufacturers as too expensive, she set up her own company, which she later sold for US$ 1 million.
Down-to-earth practicality also prompted Mary Anderson to devise the first working windshield wiper while travelling on a New York tram in 1903: "A simple mechanism…for removing snow, rain and sleet from the glass in front of the motorman." Her idea was mocked by people who held that the moving wipers would distract the driver.
Pioneering women in the 20th century pushed back the frontiers of science and technology. The outstanding contribution of France's Marie Curie, winner of Nobel Prizes for both chemistry and physics, is well known. Less so is the fact that in 1942 glamorous Vienna-born film star, Hedy Lamarr, at the height of her Hollywood career, patented a ground-breaking frequency-hopping system for torpedo guidance. Her donation of the patent to help the war effort was turned down by the U.S. Navy at the time. But the technology now lies behind the principal anti-jamming device used in many national defence systems.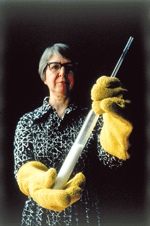 Stefanie Kwolek's Kevlar® has saved thousands of lives. (Courtesy of DuPont)
One of the most respected chemist of our time is Stephanie Louise Kwolek. Her open mind while experimenting with polymers for the DuPont company in the 1960s led to Kevlar®, an extraordinary new material whose spinnable fibers are five times stronger than steel. Used, for example, in bulletproof vests, Kevlar® has already saved the lives of thousands.
Spanish student Cristina Casadevall of Barcelona is an example for today's young inventors is . Inspired to find a use for discarded walnut shells, she experimented with shells and resins until she came up with a material she has called Ecocarcris. Having refused offers, she is starting a business to produce her patented product, the flexibility and insulating properties of which should make it suitable for use in buildings as a cheaper alternative to chipboard.
"There's something about the mind of the inventor, that sort of creativity, of problem-solving, which I think women do all the time in their lives. They're doing 25 things at once juggling their lives." – Deborah Jaffe, painter, photographer and writer, United Kingdom (U.K.)
In top laboratories, or to meet daily needs in remote communities, inventive women will keep finding new solutions. Concerned by the discarded plastic bags littering her town, Grâce Dotou of Porto-Novo in Benin developed a means of recuperating, shredding and knitting the bags into handicrafts. Then she trained local girls and women to fashion and sell these products , enabling them to earn money whilst cleaning the environment. Ms Dotou won a Poverty Eradication Award from the United Nations Development Programme in 2002, having recycled some two million plastic bags. 
If one of the great achievements of the 20th century was that women gained access to all fields of economic, commercial and intellectual activity, a challenge of the 21st century is to ensure that women gain equal opportunities of access, advancement and recognition. As a specialized agency of the United Nations, WIPO is committed to these goals.
The WIPO Magazine is intended to help broaden public understanding of intellectual property and of WIPO's work, and is not an official document of WIPO. The designations employed and the presentation of material throughout this publication do not imply the expression of any opinion whatsoever on the part of WIPO concerning the legal status of any country, territory or area or of its authorities, or concerning the delimitation of its frontiers or boundaries. This publication is not intended to reflect the views of the Member States or the WIPO Secretariat. The mention of specific companies or products of manufacturers does not imply that they are endorsed or recommended by WIPO in preference to others of a similar nature that are not mentioned.