Blazing the Technology Trail in West Africa: TheSOFTtribe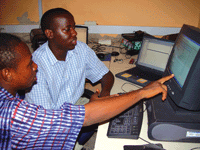 Creative thinking and the ability to improvise solutions enable theSOFTtribe team to overcome constraints. (Photo theSOFTtribe)
"Technology is the only way for Africa to get rich. We don't have a proper infrastructure and we can't compete in manufacturing...But if you put me behind a PC and tell me to write software for a Chinese customer, then I can compete brain for brain with anyone trying to do the same thing in the U.S." Hermann Chinery-Hesse1.
These are the words of an independent software developer, who over the past fifteen years has blazed a trail for the information technology sector in Ghana. Drawing on this experience, Mr. Chinery-Hesse has become a compelling advocate for intellectual property as a means for creators in developing countries to leverage their creativity and ingenuity. As thousands of delegates gathered in Accra in February for the 2005 African Regional Conference of the World Summit on the Information Society (WSIS), WIPO Magazine sought out Mr. Chinery-Hesse to learn more of his story.
TheSOFTtribe story
Hermann Chinnery-Hesse does not balk at a challenge. Fifteen years ago he left a comfortable life as a software developer in London, and set out to prove to skeptical friends what he had always maintained, namely that his native Ghana was a land of opportunity waiting for entrepreneurs with innovative business ideas.
With no start-up capital beyond a few personal savings, no infrastructure, and no equipment other than his old computer, it was clear to the young Hermann that he had to rely on the only resources available to him: his determination and his creative talent for writing software programs. "I knew I was no genius," says Mr. Chinery-Hesse, "but I had seen for myself in the U.S. how it was possible to take a good idea and turn it into a good business." And so was born S.O.F.T. Company Ltd., at a time when the Ghanaian software industry was non-existent.
On the basis of a single software package, which he had developed when freelancing in the U.K., Mr. Chinery-Hesse landed his first contract with a Ghanaian travel firm while still en route to Accra. The payment enabled him and his founding partner, Kojo Gyakye, to buy a second computer. Yet by the time they won their first contract to write a network application, the company still did not possess a network of its own on which to run the program. They had an early breakthrough when the Swiss-based multinational, Nestle, contracted S.O.F.T. to provide production management software for their operation in Ghana. Mr. Chinery-Hesse laughs as he remembers the bemused expressions on the faces of the visiting Nestle executives when he finally let them see the S.O.F.T. business premises – a couple of desks in his bedroom in his parent's home. "But by then it was safe to show them," he recalls. "The project was near completion and we had won their confidence in our ability to deliver."
Today, renamed theSOFTtribe, the company is the market leader in Ghana. Their systems include payroll management, cyber café billing, airline reservation and ticketing, micro-finance fund management, plantation management, and bespoke software, such as they developed for the Ghanaian timber industry. TheSOFTtribe employs over 70 staff, including the largest collection of code writers in Ghana not purely devoted to the internal demands of a single organization. It serves over 250 clients, prominent among which are major multinationals such as Pepsi, Unilever and oil giant Total S.A. It exports to nine other countries in the region. All this has been accomplished without having had access to business loan financing. With an international investment group now taking a stake in the company, Mr. Chinery-Hesse is justifiably proud: "Everything that we have been able to achieve, [including attracting] international investors, has been based on creating and selling our own IP."
Tropically tolerant solutions
As an African start-up company, theSOFTtribe had to persuade each potential new client that they were a better choice than the international, big-name competition. Their strategy was to offer systems specifically designed to be more reliable in the African operating environment, and to back these up with a professional support service better than that provided by the competitors.
Key to theSOFTtribe's success is their innovative, core concept of tropically tolerant software solutions. This was born from Mr.Chinery-Hesse's conviction that Africa could "leapfrog decades of obsolete development in telecommunications and IT, [using] systems appropriate for the African environment." He describes how theSOFTtribe's systems are designed to meet the more challenging conditions of the developing world:
People tolerant. "The training process and documentation cannot assume any prior exposure or IT skill. Making the software easy to use is the first challenge, but it is also critical to make sure that unqualified staff can maintain the system. A tropical tolerant system will work without a qualified database administrator".
Communications tolerant. "There are only about 2 main telephone lines per 100 persons in Africa. African countries generally have less total Internet bandwidth than most office blocks in the US. So software systems need to be designed to keep working when the phone lines are down. Due to the small amount of available bandwidth, systems also need to be economical with the amount of transmitted information."
Power tolerant. "In Ghana, three power failures a week, lasting over two hours are common. A system in this scenario that can recover immediately from a power failure will save over 13 days in extra downtime per year."
Capital tolerant. "Our systems need to be low budget and cost effective. Systems also need to be highly modular so that an enterprise solution need not be installed all at once but rather as capital is available over a medium to long term."
The strategy has worked. TheSOFTtribe has been able to win what Mr. Chinery-Hesse estimates at a 60 to 70 percent market share in competition with some of the world's best known companies. For customers such as the British High Commission in Accra, which uses the Akatua payroll package to manage its locally engaged staff salaries, the reasons for choosing theSOFTtribe's product were clear-cut: "It met our needs and local technical support was readily available," says the systems administrator.
"Everything that we have been able to achieve…has been based on creating and selling our own IP"
Protecting IP
TheSOFTtribe have sought to work out as they go along how best to protect and develop the company's IP assets. They note that under-developed IP protection structures in Ghana have increased transaction costs for the company. "In a poor country like this, IP protection is still minimal, and illegal copying of software is the norm," explains Mr. Chinery-Hesse. "Seeking legal enforcement action against individuals is not worth our while. We have tended to protect our products through technological means, e.g. by writing custom software that is difficult to copy and needs theSOFTtribe support to install it. But the bigger we get, the more we will need effective IP legal structures."
In order to develop a more distinctive brand name, the company changed its name last year. The former S.O.F.T. had been too prone to potential confusion with other businesses, products and imitators, registered – deliberately or not - under similar variants. By retaining the "soft" element while adding a more African feel, they created theSOFTtribe's brand logo, now a familiar sight in offices and hotels around Ghana.
"This is the future"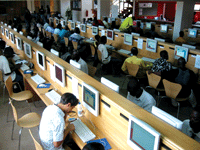 BusyInternet's cybercafés are packed day and night. TheSOFTtribe developed the Limpopo software to run Busy's accounts. (Photo BusyInternet)
Mr. Chinery-Hesse is adamant: "The experience of industry in the West and in the emerging economies shows that the only way forward for Ghana is to make our IP work for us. [Information and Communications Technology (ICT)] makes this achievable."
And Ghana looks set to make this a reality. President John Agyekum Kufuor recently launched the government's Ghana ICT for Accelerated Development Policy. In his opening address to the WSIS Conference he held up the example of the Kofi Annan ICT Center of Excellence which, based on a Ghana-India partnership, had become IT "trainer of trainers" for the West African sub-region. (Mr. Chinery-Hesse sits on the Center's board of governors.)
Meanwhile, BusyInternet, Ghana's second great IT success story, is thriving. Now billed as the largest privately owned and operated ICT center in Africa "with a unique mission to provide both commercial services and social development," this joint venture was set up in 2001 by Ghanaian and U.S. investors to provide an incubator for small business and tech pioneers, combined with immensely popular, 24-hour Internet café facilities. In a mutually reinforcing partnership, BusyInternet uses theSOFTtribe software. Some 1,800 visitors per day use BusyInternet's facilities.
The Ghanaian population is gaining a reputation for being highly IT-savvy, and Ghana has been hailed in some quarters as Africa's future Silicon Valley. But Mr. Chinery-Hesse cautions against premature trumpet blowing. "Yes, it's true that the Internet cafes are bursting. But using the Internet to e-mail relatives [overseas] is not what I call using technology. For me, the Internet is working when one good teacher in Accra gives a lecture that can be shared with thousands. Or when a drum-maker in the bush can sell his drums online."
Between them, theSOFTtribe and BusyInternet have put Ghana squarely on the African IT map. Yet more ventures must follow before real impact, in terms of wealth and job creation, is felt on Ghana's economic development. Mr. Chinery-Hesse cites factors, which he feels have hitherto hampered potential growth for aspiring ICT entrepreneurs in Ghana. He speaks of a highly theoretical education system, oriented towards fact-based learning rather than enquiry, (theSOFTtribe's first task with new recruits, however gifted, is to train them to think creatively); of a perceived reluctance to award public sector contracts to local enterprises for fear of alienating businesses from donor countries; and of a lack of credit or tax breaks to enable enterprises to expand into export markets.
Ghana is one of five countries in which WIPO is currently carrying out an IP audit, designed to examine IP use in the country and to evaluate the benefit to the economy. The data collected will be used to prepare a national IP strategy, which the Government will be able to draw on in its development plan. WIPO is also providing practical support to computerize the Ghanaian national IP Office. As well as increasing efficiency, this will facilitate the use of IT to disseminate technological information. Meanwhile, Mr. Chinery-Hesse was appointed last year to the National Board on Intellectual Property. As he works to highlight action needed to liberate the full economic potential for IP-based industries in Ghana, WIPO Magazine looks forward to watching the momentum build.
_____________________
1. BBC News Online report, 3 June 2003.
Related Links
The WIPO Magazine is intended to help broaden public understanding of intellectual property and of WIPO's work, and is not an official document of WIPO. The designations employed and the presentation of material throughout this publication do not imply the expression of any opinion whatsoever on the part of WIPO concerning the legal status of any country, territory or area or of its authorities, or concerning the delimitation of its frontiers or boundaries. This publication is not intended to reflect the views of the Member States or the WIPO Secretariat. The mention of specific companies or products of manufacturers does not imply that they are endorsed or recommended by WIPO in preference to others of a similar nature that are not mentioned.