Inspirational Innovators: Dr. Ashok Gadgil
January 2005
Bio-data: Dr. Ashok Gadgil
Born: 1950, Bombay, India
Educated: Bsc Physics, University of Bombay; MSc Physics, Indian Institute of Technology, Kanpur; PhD Physics, University of California, Berkeley.
Employment: 1988 to date - Lawrence Berkeley National Laboratory (LBNL), California, Environmental Energy Technologies Division; 1983 – 88: Tata Energy Research Institute, New Delhi; 1981: National Centre for Scientific Research, Paris; 1980 – 83: LBNL.
Specialist fields: airborne pollutants; energy efficiency in developing countries; drinking water disinfection for developing countries
Patents include: UV Device to Disinfect Drinking Water; Portable Emergency Relief Water Treatment Unit; Smokeless Ashtray to capture side stream cigarette smoke; Detector for Impending Electronic Failures from Aerosol Deposition; Energy Efficient Device for Exhaust Hoods. Patents pending in India: Solar Collector for Rural Applications based on Stabilized Mud; Novel Integrated Solar Water Heater; Concrete Solar Water Heater; Energy Efficient Bukhari (space heater).
With disease spreading in the wake of the Asian tsunami, survivors desperately need access to safe drinking water. In some ravaged communities in Sri Lanka and the Southern Indian state of Tamil Nadu, emergency relief is arriving in the shape of an innovative water disinfection unit, the UV Waterworks (UVW). This robust device kills bacteria, viruses and parasites in water from any source, using nothing more than ultraviolet (UV) light from an unshielded fluorescent lamp powered by a 40-watt power source (for example a car battery). Treating approximately 15 liters a minute, each unit can deliver safe drinking water for a village of 2,000 for under US$2 per person per year, including amortized capital costs.
The brains behind the UVW is Indian-born physicist Ashok Gadgil, who began searching for a way to purify water cheaply in developing countries after an outbreak of "Bengal cholera" in 1993 killed some 10,000 people within months. He has won numerous awards for the UVW since developing the original technology in 1996, most recently the 2004 Health Award from the Tech Museum of Innovation.
Ashok Gadgil's application of simple technology to tackle one of the developing world's most fundamental problems is inspirational. WIPO Magazine asked Dr. Gadgil about his invention, his experience, as a scientist, of the IP system, and about innovation for development.
Dr. Gadgil, how did you come by the idea of inventing a water disinfector using UV light?
I was looking to see how one can inexpensively disinfect drinking water for poor communities in the developing countries. The ability of UV light to kill bacteria and viruses has been known for almost a century. I just determined how best to use that ability to design a disinfector that is both robust in performance, and efficient in operation.

You make it sound simple but others had tried and failed. How did you find the technical and design solutions that eluded them?
I greatly enjoy seeking simple solutions to complex questions. For example, simply suspending the lamp above the surface of the water, then putting an aluminum reflector above it to direct back down light that would otherwise be lost, solved some of the main problems with previous attempts using an immersed lamp.
The engineering design was actually a product of the constraints and criteria we had to work with. Based on my experience in India, I knew that the unit must not be dependent on pressurizing devices, i.e., it had to be able to deal with gravity-fed water from sources such as ponds or streams using buckets. And the treatment had to be quick, so it needed a fairly high flow rate. Simplicity was a very important goal in my mind all along the design process. I wanted no moving parts, a simple design that should remain easy to fabricate, with cheap and easy maintenance for the poorest communities. It was a joyful moment when it worked so well in our tests.
What difficulties did you face?
Getting funding was quite difficult. Fortunately I received some funding from a couple of project managers in the government, as well as seed funding from a couple of private foundations. This paid for direct expenses. Funding for salaries was much harder to come by. Mostly I worked on my own time, and used the funds to support students and for hardware.
How did your invention get from laboratory to production?
University of California/Lawrence Berkeley National Lab (UC/LBNL), my employer, owns the rights to the patent – I assigned it to them per conditions of my employment. WaterHealth International (WHI) was among a dozen or so companies that approached UC/LBNL, each company asking for an exclusive license. After due process, UC/LBNL's Technology Transfer office selected WHI as the licensee of choice.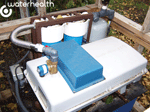 Ingenious simplicity. Using light to clean drinking water in developing countries
How is the UVW currently being used?
There are more than 300 installations of UVW systems around the world already, primarily in Mexico, the Philippines and now in India, as well as handfuls in a dozen other countries. The systems developed by WHI are modular so can be used in different ways, for example, as community water systems in remote villages; as water refilling stores, owned and operated by local entrepreneurs in urban centers; or as household systems, which can also provide water for hospitals or schools. WHI is also making available, on a cost-recovery basis, UVW systems for tsunami relief. The emergency relief units costs US$10,000 and include UVW, tanks and pumps, multiple filters, electronic level indicators and electrical controls, shipping, installation, commissioning, training of local community, and parts and maintenance for five years. Several dozens of these systems will be placed in camps of tsunami survivors in the next weeks and months, and will be moved to their villages as they rebuild their lives.
When did you start considering patenting your idea? And how did you decide to file an international application via the Patent Cooperation Treaty (PCT)?
I initially considered just putting up my design on the Internet for all to freely copy. LBNL's Technology Transfer Department (licensing and patent officers) persuaded me of the advantages of patenting. Patenting would protect against badly manufactured copies with corner-cutting fabrication that would not then function as well as the genuine article.
To tell you the truth, I was not aware of the PCT filing approach. It was LBNL's patent attorneys who educated me about the advantages of the PCT route when they identified that the primary application of the invention would be abroad. This was an enormous help to WHI, when they licensed the invention from LBNL.
How did you find the process of licensing/negotiating over IP rights?
It has been a learning experience for me. This is something that no one teaches us scientists during our formal education. I am grateful that LBNL has fine licensing and patent officers.
Can you offer any thoughts on how to encourage innovation to benefit developing countries?
There is enormous talent and creativity at the grassroots where people are inventing new ways to tackle their daily problems. A multi-pronged approach to encourage, recognize, protect and commercialize many of these inventions will greatly help in improving the livelihoods of ordinary people in the developing countries. I am pleased and honored to be part of the effort by the Lemelson Foundation (Initiative on Invention and Innovation for Sustainable Development) to encourage such efforts in many parts of the developing world.
What advice can you offer to young innovators in developing countries?
Dare to dream, and aim high. At the same time, keep your feet on the ground regarding protection of your intellectual property and turning it into a good business.
Your hopes for the future?
I hope we find ways to unleash and nurture the creative genius of hundreds of thousands of individuals around the world who have good ideas but don't know what to do with them, or are not able to turn them into products that benefit humanity
Clean water: a global challenge1
Over 1.1 billion people lack access to clean water.
There are 1.8 million deaths per year from diarrhoeal diseases alone.
90 percent (approx. 200 per hour) are children under age 5.
88 percent are caused by unsafe water and sanitation.
Millions more die or suffer from other water-related diseases.
"We shall not finally defeat [any of the] infectious diseases that plague the developing world until we have also won the battle for safe drinking water, sanitation and basic health care." Kofi Annan, United Nations Secretary-General.
_______________
1. World Health Organization Facts on Water Sanitation and Health
Related Links
The WIPO Magazine is intended to help broaden public understanding of intellectual property and of WIPO's work, and is not an official document of WIPO. The designations employed and the presentation of material throughout this publication do not imply the expression of any opinion whatsoever on the part of WIPO concerning the legal status of any country, territory or area or of its authorities, or concerning the delimitation of its frontiers or boundaries. This publication is not intended to reflect the views of the Member States or the WIPO Secretariat. The mention of specific companies or products of manufacturers does not imply that they are endorsed or recommended by WIPO in preference to others of a similar nature that are not mentioned.