Patent Landscape Report on Microalgae-Related Technologies
Author(s): | Publication year: 2016
DOI: English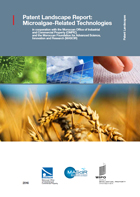 This report aims to provide patent based information on available technologies and patenting trends in the area of microalgae. It covers in detail patent applications and granted patents within the space of microalgae and has revealed several interesting facets of research and innovation related to that area. Expected to be the 3rd generation biofuels solution, microalgae have quickly been developed for the biofuel industry with a marked inflection point in 2006. Lipids and pigments, which are the second metabolites of interest, also developed early on, still continue to see a steady growth in recent years.
Topic: Food & agriculture / Environment & energy
Cooperation partners: Moroccan Office of Industrial and Commercial Property; Moroccan Foundation for Advanced Science, Innovation and Research
Since 2010, new categories of products are emerging, proteins and polysaccharides, in response to new challenges in the food and animal feed markets, as well as in the cosmetics field.
Health, energy and human nutrition are the three main applications for products from microalgae. Animal feed and aquaculture have gained interest over the last five years.
The use of microalgal biomass as a source of protein in the human diet is one of the first line of development that has been achieved, especially in Asia; this segment has regained interest in the last four years, with particular interest shown in Spirulina and Chlorella. The development of new microalgae as food protein source has clearly become a strong driver of innovation in the microalgae industry.
The 'Animal Nutrition - Feed' sector is growing rapidly, especially in the area of high-protein meals due to the challenge of finding alternatives to animal meals. The objective for the Animal Nutrition sector is to improve eggs, meat and milk quality and boost animal growth. Pigments derived from microalgae, such as carotenoids, for example, are of interest for eggs as they allow natural coloring. The 'Aquaculture' sector is experiencing a growth well above the microalgae landscape average growth. The objective for this application sector is to capitalize on the active ingredients produced naturally by the microalgae, by optimizing the cultivation conditions.
The "Energy" sector is experiencing a relatively slow growth compared to other segments. There is not such a high interest like in the past, mainly because of the related production costs, which are still too high, and the sometimes too complicated scale-up.