The WIPO Journal- 2012 Volume 4 Issue 2
Analysis and Debate of Intellectual Property Issues
Author(s): Sweet and Maxwell | Publication year: 2012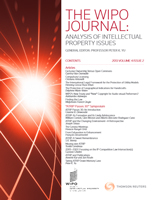 Contents: Exclusive Ownership Versus Open Commons | Compulsory Licensing | The International Legal Framework for the Protection of Utility Models | The Protection of Geographical Indications for Handicrafts | WIPO's New Treaty and "New" Copyright for Audio-visual Performers? | Finding the Law | ATRIP Passes 30: An Introduction | ATRIP: Its Formation and Its Lively Adolescence | ATRIP and the Changing Environment—A Retrospective | The Geneva Meetings | From Exhaustion to Enhancement | ATRIP: A Sweet Remembrance | Musing over ATRIP | 2005–2007: Focusing on the IP-Competition Law Intersection(s) | ATRIP and Publications | Taking ATRIP Down Memory Lane
The peer-reviewed WIPO Journal, published by Sweet and Maxwell in association with Thomson Reuters, presents a forum for debating key issues affecting intellectual property (IP) throughout the world.
The Journal provides an unbiased examination from an interdisciplinary perspective of how these issues affect practice, drawing on the knowledge of experts from around the world to comment on a wide variety of matters influencing the global IP community.
All submissions are reviewed independently of WIPO. The views expressed in the Journal are those of the authors, and should not be considered or interpreted as those of WIPO.
Copyright in all contributions remains with the contributors. The publishers acquire all publication rights.