The WIPO Journal - 2014 Volume 5 Issue 2
Analysis and Debate of Intellectual Property Issues
Author(s): Sweet and Maxwell | Publication year: 2014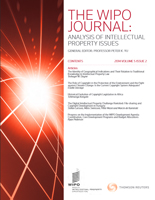 Contents: The Identity of Geographical Indications and Their Relation to Traditional Knowledge in Intellectual Property Law | The Role of Copyright in the Protection of the Environment and the Fight against Climate Change: Is the Current Copyright System Adequate? | Historical Evolution of Copyright Legislation in Africa | The Digital Intellectual Property Challenge Revisited: File-sharing and Copyright Development in Hungary | Progress on the Implementation of the WIPO Development Agenda: Coordination, Core Development Programs and Budget Allocations
The peer-reviewed WIPO Journal was produced from 2009 to 2016 by Sweet and Maxwell in association with Thomson Reuters. The WIPO Journal ceased publication from December 2016.
The Journal sought to draw on contributions from experts around the world to provide diverse interdisciplinary perspectives on issues of interest to the global intellectual property (IP) community. Submissions were reviewed and selected independently of WIPO. Views expressed in the Journal are those of the authors, and should not be considered or interpreted as those of WIPO.
Copyright in all contributions remains with the contributors; the publishers acquire all publication rights.