Cambodian Knitted Plushies Help Women One Stitch at a Time
For dozens of impoverished women in and around the Cambodian capital, hand-made, eco-friendly toys are bringing relief.
Cambodia Knits, a social enterprise founded in 2010, works with 60 women in and near Phnom Penh who knit the organization's line of Cambodian animals, such as bears, elephants, and monkeys.
"We want to change the narrative around informal and handcraft work, and to support not only through formalized social protections, but to promote the value of decentralized production," said Monika Nowaczyk, who founded the program.
Women work from home, on a flexible basis, at piece rates. They can work as much or as little as they want. Some women rely on their knitting work to sustain their families while others, like farmers, use knitting as supplemental income.
The company is helping the knitters enter into the formal system - including national health registration, pension plans, and seniority pay – not available through informal work.
With eyes on export, and a dwindling national market hit by the COVID-19 pandemic, Monika and her business partner, Micheal McKay, started a sister company in Singapore: Beebee+Bongo in 2021 to be Cambodia Knits' export arm. The Beebee+Bango brand is more internationally oriented and includes educational toys, which fit with Montessori, Waldorf, and play-based learning. The company has a warehouse in the United States, from which it ships all over the world.
The most popular product of Cambodia Knits is a crochet water buffalo, reflecting the familiarity and affection of Cambodians for the large bovine.
All the toys for both companies are made in Cambodia and raw materials are sourced in the country. Cambodia Knits is about to launch the "temple collection": A collection reflecting and reviving the heritage of ancient Angkor and Cambodian mythology, which is very rich with different kinds of creatures that will become cuddly knitted critters, and available in Cambodia. The first item available is an "Apsara doll" that can be tailored with five skin color tones, and seven skirt colors.
Cambodia Knits is planning to rapidly expand to meet growing demand and in five years hopes to provide work to 2,000 to 3,000 women.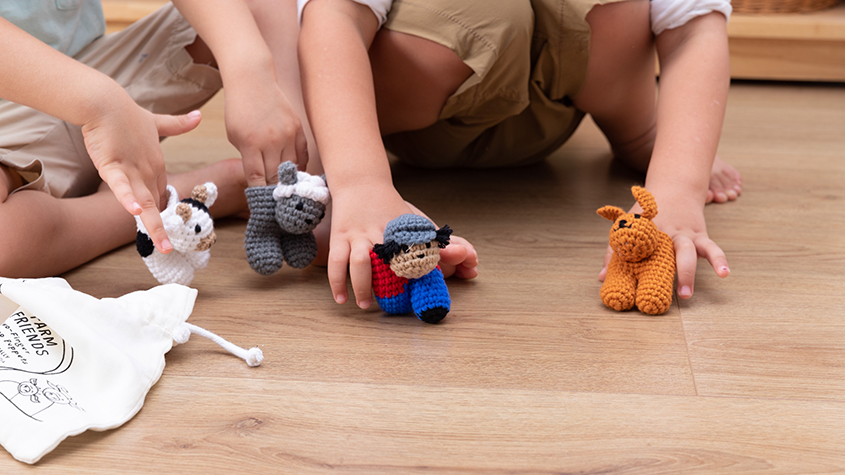 WIPO is helping on this journey. Monika is currently benefiting from remote expert mentoring sessions organized by WIPO to support the company's use of IP, as well as improve its packaging.
"The core of our DNA has never been about making a profit, but to generate some good for society", said Monika, adding: "If and when the company is making a profit, it is reinvested into the project."