GII 2018 Panel Discussion: Innovate Now for a Cleaner, Greener Future
October 30, 2018
By Edward Harris, Communications Division, WIPO
For anyone counting on a quick and easy "Green Energy" revolution to overcome climate change, the Global Innovation Index 2018: Energizing the World with Innovation can be used to chart a way forward, despite challenging statistics: GII projections show that by 2040 the world will require up to 30% more energy than it needs today and conventional approaches to expanding the energy supply are unsustainable in the face of climate change. Further, the GII 2018 shows a peak in green tech inventive activity about a half-decade ago and a slow decline since then.
This means that a sustainable environmental future requires new ideas - now. That was the message that emerged from a high-level October 29 panel co-organized by WIPO and the Centre for International Environmental Studies at Geneva's Graduate Institute of International and Development Studies.
WIPO Director General Francis Gurry led a six-person panel of renowned international experts in a 90-minute conversation that ranged across the landscape of potential positive contributions: from impressive developments in storage technology driven in part by the automative industry, new uses of blockchain to fresh government policies that shift energy-consumption patterns while incentivizing research and development in green technologies.
Voices on innovation
"Innovation is what is most needed today," said the evening's host, Philippe Burrin, Director, The Graduate Institute, Geneva, in welcoming hundreds of participants to the Institute. "Innovation is very important for all of us, and it needs a very stable system."
"Where we have social challenges, such as climate change, the only way in which to address them is to do things differently, and that means innovation," said Mr. Gurry in opening remarks. "We are going to innovate our way out of this crisis, that is how this is going to play out in the end, of course with many, many other support systems in place."
GII Co-editor Bruno Lanvin of INSEAD briefed the panel and audience on the findings of the GII 2018, which has gained global renown for its ranking of 126 economies worldwide, topped for years by Switzerland as the world's most-innovative country.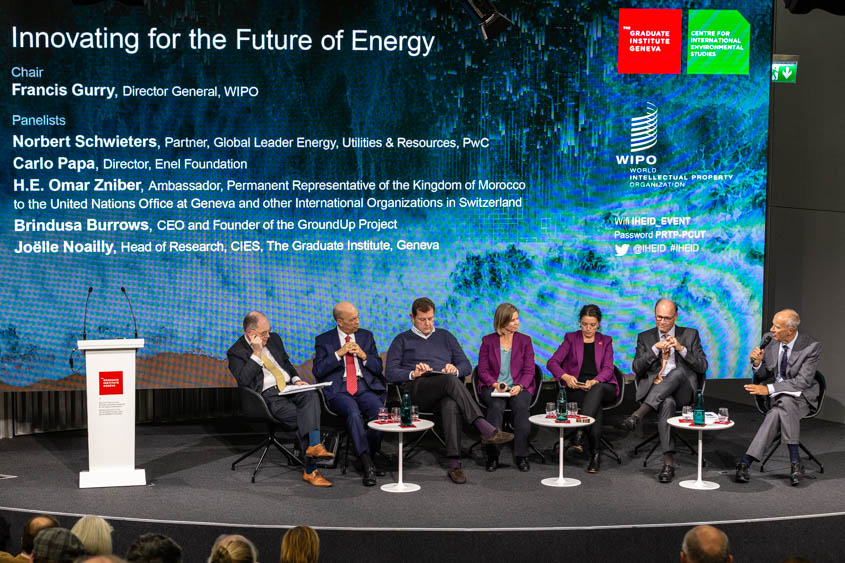 Mr. Lanvin pointed to a concerning trend unveiled in the GII 2018: The number of green patent families peaked in 2012—with the underlying invention usually happening about 18 months before the patent publication. This means the peak of inventive activity was around 2010. Since then a decrease in the absolute number of patent families has been observed every year until 2015, a reduction from peak to bottom of close to 4% percent—from 113,547 green patent families in 2012 to 109,266 families in 2015.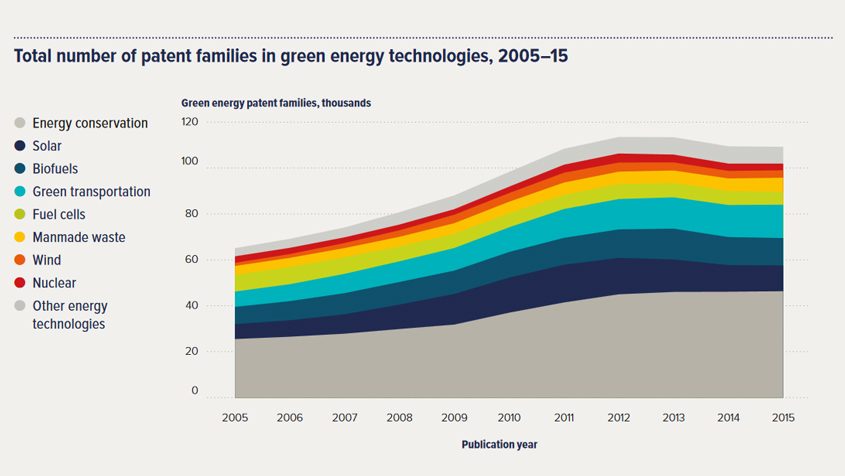 Similarly, published PCT international patent applications peaked in 2013, and were followed by a decrease of about 11 % between 2013 and 2017.
Still, "energy innovations are happening globally and we should not be hypnotized by the fact that large companies and big labs are making headway in a number of areas. Of course there are new batteries, new ways of transmitting energy," said Mr. Lanvin. "But there is energy innovation in the poorest part of Africa, there is energy innovation is Southeast Asia. There is innovation everywhere, not just in the technologies, but in the business models and consumption patterns. So we have lessons to draw from everywhere in the world," he said in introducing the panel discussion."
Ambassador Omar Zniber, Permanent Representative of the Kingdom of Morocco to the United Nations Office at Geneva and other International Organizations in Switzerland, shared his country's experience in the energy sector, describing proactive Government policies to encourage renewable energy sources and to lessen dependence on fossil fuels, noting "we had no choice but to go for renewable energy."
As Chair of the Panel and in summarizing the discussion, Mr. Gurry said there was reason for optimism with the takeaway from the panel being that the energy scene is more optimistic that people think, saying: "The takeaway I got from this panel tonight is: This energy scene is much more optimistic than I thought it was. And that's a great message."
Find out more