WIPO Prepares for Launch of New gTLDs while Cybersquatting Cases Continued to Rise
Geneva, March 6, 2012
PR/2012/704
Press Conference
Video
In 2011, trademark holders filed a record 2,764 cybersquatting cases covering 4,781 domain names with the WIPO Arbitration and Mediation Center (WIPO Center) under procedures based on the Uniform Domain Name Dispute Resolution Policy (UDRP), an increase of 2.5% and 9.4% over the previous highest levels in 2010 and 2009, respectively. (annex 1) Meanwhile, with plans by the Internet Corporation for Assigned Names and Numbers (ICANN) for an expansion in the number of new generic Top Level Domains (gTLDs) underway in 2012, the WIPO Center recently rolled out resources for pre-emptive measures to prevent the abusive use of trademarks as gTLDs.
"These UDRP filing trends illustrate that even in today's Domain Name System, brand owners already have to make difficult choices for their stretched online enforcement resources. With the domain name coordinating body, ICANN, allowing for a massive increase in the number of new domains, brand owners' resources will likely be stretched further," said WIPO Director General Francis Gurry.
Since January of 2012, interested parties are able to apply for their own top level domain. Mr. Gurry noted that while ICANN's program may offer the potential for new innovative online spaces - for example, facilitating new uses of languages for the next billion Internet users - ICANN must make sure that its newly-created enforcement mechanisms can be an effective alternative for brand owners wishing to avoid court litigation. "If properly designed, alternative dispute resolution will be an increasingly important tool for enhancing business and user confidence in Internet platforms," he said.
Last year, parties to cybersquatting disputes filed with WIPO took advantage of user-friendly online facilities such as the paperless eUDRP, the Legal Index of WIPO UDRP Decisions, and the Overview of WIPO Panel Views on Selected UDRP Questions to assist their case preparation and submission. The UDRP remains an attractive alternative to taking cybersquatting disputes to court, in particular with these freely available WIPO filing tools.
Domain Name Dispute Resolution
Since the UDRP's launch in December 1999, the WIPO Center has received over 22,500 UDRP based cases, covering some 40,500 domain names in both generic and country code Top Level Domains (gTLDs, ccTLDs).
The expanding international reach of the Internet is reflected in the diversity of the domain name disputes filed with the WIPO Center in 2011. Cases filed with WIPO in 2011 included complainants and respondents from 110 countries. (annex 2) These cases were decided by 323 WIPO panelists from 49 countries in 13 different languages, namely (in order of frequency) English, Spanish, French, Dutch, German, Chinese, Turkish, Korean, Portuguese, Romanian, Japanese, Italian and Slovak. (annex 3)
Among WIPO cases, the percentage related to ccTLDs rose further to 16% of all cases in 2011 from just 1% in 2000, with 65 national domain registries now having designated WIPO to provide domain name dispute resolution services. As of August 2011, the WIPO Center administers cases relating to both .QA and قطر; Qatar now not only utilizes its existing .QA two-letter country code in Latin characters, but also the قطر. internationalized ccTLD in Arabic script. Since becoming a provider for the .BR space in 2010, the WIPO Center in 2011 administered its first cases in the Brazilian domain.
In 2011 the top five areas of WIPO complainant activity were retail, Internet and IT, biotechnology and pharmaceuticals, fashion, and banking and finance. (annex 4) WIPO's 2011 caseload featured many well-known names from business and public interest sectors. (annex 5) Of the gTLD cases filed with WIPO in 2011, most (77%) concerned registrations in the .com domain. Possibly foreshadowing what lies ahead with the advent of further domains, the WIPO Center in late 2011 received the first UDRP case concerning a domain name in the new .xxx domain. Applying UDRP jurisprudence, panels in 2011 found evidence of cybersquatting in 88% of all cases.
New Generic Top Level Domains
Building on the UDRP experience, the WIPO Center continues to provide trademark-based domain name policy input to ICANN stakeholders. WIPO's commitment to cost- and time-effective domain name dispute resolution is reflected in its proposals for, among other mechanisms, so-called pre- and post-delegation procedures addressing registration authority conduct. The first pre-delegation cases could be filed with WIPO by trademark owners against domain applicants as early as the second part of 2012. As the exclusive service provider, the WIPO Center is making available extensive party resources for this new procedure. (annex 6)
To supplement the pre-delegation mechanism, the WIPO Center proposed the post-delegation mechanism to ICANN to encourage responsible registry operator conduct through trademark protection standards coupled with realistic safe harbors.
Arbitration and Mediation of Intellectual Property Disputes
The WIPO Center in 2011 continued to administer cases under the WIPO Mediation, Arbitration, and Expedited Arbitration Rules. As of December 2011, the WIPO Center had administered some 270 mediations and arbitrations, the majority of which were filed in the last five years by large companies, small- and medium-sized enterprises, research organizations and universities.
WIPO cases have involved a range of issues, such as patent infringement, patent licenses, information technology transactions (including telecommunications), distribution agreements for pharmaceutical and consumer products, copyright issues, research and development agreements, trademark co-existence agreements, art marketing, artistic production, and media-related agreements, joint venture agreements, and cases arising out of agreements in settlement of prior multi-jurisdictional intellectual property litigation.
Parties to disputes submitted to the WIPO Center are able to use the WIPO Electronic Case Facility (WIPO ECAF). WIPO ECAF allows for secure filing, storing and retrieval of case-related submissions in a web-based electronic case file, by parties and neutrals anywhere in the world.
One notable WIPO Center growth area is in the provision of advice and case administration services to help parties resolve disputes arising in research and development and technology transfer. Parties involved in R&D collaboration often use model agreements as a basis for drafting and negotiating their research contracts. One such example involves multi-party collaborations funded under the European Union's Seventh Framework Programme EC (FP7), where entities use the "DESCA" model consortium agreement, which since 2011 recommends WIPO mediation and expedited arbitration. The WIPO Center continued to collaborate with the Association of University Technology Managers (AUTM) and its members regarding dispute resolution outside of the courts furthering the goals of the Memorandum of Understanding signed between WIPO and AUTM in March 2011.
Following the WIPO Center's 2010 opening of an office in Singapore at Maxwell Chambers, in 2011 the Intellectual Property Office of Singapore (IPOS) and the WIPO Center established a joint dispute resolution procedure to facilitate the mediation of rights disputes filed with IPOS. This new Singapore activity includes the provision of party guidance and training.
In 2011 the International Council of Museums (ICOM) and WIPO collaborated in the development and organization of a special mediation process for art and cultural heritage disputes. The ICOM-WIPO Mediation Rules now provide a specialized dispute resolution option for parties involved in this type of dispute.
The WIPO Center provided technical assistance to the secretariat of the International Treaty on Plant Genetic Resources for Food and Agriculture (ITPGRFA) in developing the Rules for Mediation of a Dispute in relation to the Standard Material Transfer Agreement, as well as Operational Guidelines. The Treaty Governing Body adopted the Rules in March 2011, and has appointed the WIPO Center to act as Administrator.
Background on the WIPO Arbitration and Mediation Center
Based in Geneva, Switzerland, with an office in Singapore, the WIPO Arbitration and Mediation Center was established in 1994 to offer Alternative Dispute Resolution (ADR) options for the resolution of international commercial disputes between private parties. Developed by leading experts in cross-border dispute settlement, the arbitration, mediation and expert determination procedures offered by the WIPO Center are widely recognized as particularly appropriate for technology, entertainment and other disputes involving intellectual property.
The WIPO Center is committed to understanding user needs. It is currently undertaking an International Survey on Dispute Resolution in Technology Transactions which will bring the WIPO Center closer to the expectations of all parties in technology-related disputes and further improve its mediation, arbitration and expert determination services. A report on the results of the Survey is expected later in 2012.
Another example of the WIPO Center's focus on innovation is the contribution it has been making to rights protection mechanisms under consideration by the Internet Corporation for Assigned Names and Numbers (ICANN), in the context of its planned expansion of the Internet Domain Name System.
The WIPO Center is the leading provider of domain name dispute services and provides a rich range of resources for users and the general public. An excellent illustration of these resources is the freely available WIPO jurisprudential Overview. The WIPO Overview provides a distillation of panel findings in thousands of domain name cases filed with WIPO and is a unique tool used by parties, counsel and others around the world to find their bearings in cybersquatting jurisprudence. (annex 7)
Background on the UDRP
The Uniform Domain Name Dispute Resolution Policy (UDRP), which was proposed by WIPO in 1999 and has become accepted as an international standard for resolving domain name disputes outside the courts, is designed specifically to discourage and resolve the abusive registration of trademarks as domain names, commonly known as cybersquatting. Under the UDRP, a complainant must demonstrate that the disputed domain name is identical or confusingly similar to its trademark, that the respondent does not have a right or legitimate interest in the domain name and that the respondent registered and uses the domain name in bad faith.
Disputes are decided by independent panelists drawn from the WIPO Center's global list of trademark specialists. The domain name registration in question is frozen (suspended) during the proceedings. After reviewing a case, panelists submit their decision within a period of 14 days. If a panelist's decision to transfer a domain name is not challenged in a competent court within a period of ten business days, the registrar is legally bound to implement the panelist's decision. The entire case normally takes no more than about two months.
Annex 1 - Total Number of WIPO Domain Name Cases and Domain Names by Year
| Year | Number of Cases | Number of Domain Names |
| --- | --- | --- |
| 2000 | 1857 | 3760 |
| 2001 | 1557 | 2465 |
| 2002 | 1207 | 2042 |
| 2003 | 1100 | 1774 |
| 2004 | 1176 | 2599 |
| 2005 | 1456 | 3312 |
| 2006 | 1824 | 2806 |
| 2007 | 2156 | 3545 |
| 2008 | 2329 | 3958 |
| 2009 | 2107 | 4685 |
| 2010 | 2696 | 4367 |
| 2011 | 2764 | 4781 |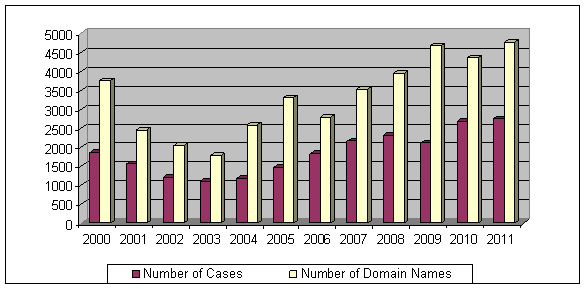 Annex 2 - Geographical Distribution of Parties in WIPO Cases in 2011: Top 25
| Complainant | No. Cases | | Respondent | No. of Cases |
| --- | --- | --- | --- | --- |
| United States of America (US) | 929 | | United States of America (US) | 786 |
| France (FR) | 300 | | China (CN) | 339 |
| United Kingdom (GB) | 244 | | United Kingdom (GB) | 178 |
| Denmark (DK) | 204 | | Australia (AU) | 171 |
| Germany (DE) | 149 | | Netherlands (NL) | 99 |
| Switzerland (CH) | 142 | | Spain (ES) | 94 |
| Netherlands (NL) | 122 | | France (FR) | 81 |
| Italy (IT) | 92 | | Canada (CA) | 68 |
| Sweden (SE) | 81 | | Turkey (TR) | 68 |
| Spain (ES) | 77 | | India (IN) | 63 |
| Turkey (TR) | 43 | | Republic of Korea (KR) | 51 |
| Canada (CA) | 40 | | Bahamas (BS) | 42 |
| Australia (AU) | 39 | | Indonesia (ID) | 39 |
| Mexico (MX) | 39 | | Mexico (MX) | 39 |
| India (IN) | 31 | | Russian Federation (RU) | 38 |
| Brazil (BR) | 26 | | Switzerland (CH) | 36 |
| Austria (AT) | 21 | | Germany (DE) | 35 |
| Ireland (IE) | 20 | | Panama (PA) | 34 |
| Liechtenstein (LI) | 18 | | Thailand (TH) | 27 |
| Belgium (BE) | 13 | | Japan (JP) | 23 |
| Japan (JP) | 13 | | Ukraine (UA) | 22 |
| Luxembourg (LU) | 13 | | Italy (IT) | 20 |
| Republic of Korea (KR) | 9 | | Romania (RO) | 17 |
| Malaysia (MY) | 8 | | Brazil (BR) | 15 |
| Singapore (SG) | 8 | | Sweden (SE) | 15 |
Annex 3 - Geographical Distribution of Panel (gTLD and ccTLD Cases)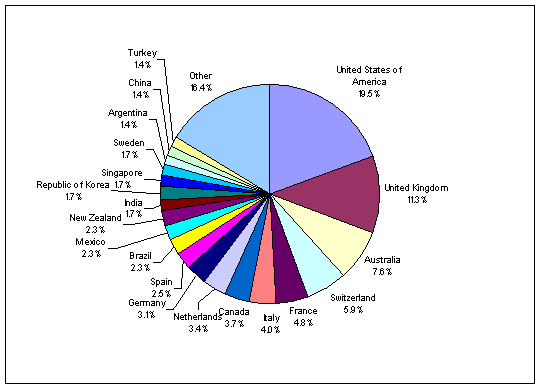 Annex 4 - Areas of WIPO Domain Name Complainant Activity (2011)
| Category | Percentage of Cases |
| --- | --- |
| Retail | 17.03% |
| Other | 12.71% |
| Internet and IT | 8.39% |
| Biotechnology and Pharmaceuticals | 8.02% |
| Fashion | 7.77% |
| Banking and Finance | 7.40% |
| Electronics | 4.44% |
| Heavy Industry and Machinery | 4.19% |
| Food, Beverages and Restaurants | 4.01% |
| Entertainment | 3.82% |
| Media and Publishing | 3.70% |
| Hotels and Travel | 3.27% |
| Automobiles | 3.15% |
| Insurance | 3.08% |
| Transportation | 2.65% |
| Telecom | 2.53% |
| Luxury Items | 2.04% |
| Sports | 1.79% |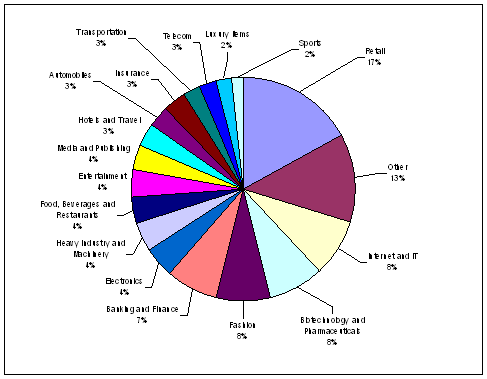 Annex 5 - Sample of WIPO Domain Name Cases (2011)
| Area | Sample Cases |
| --- | --- |
| Automobiles | American Automobile Association, Audi, Bentley, BMW, Chevrolet, General Motors, Honda, Lamborghini, Land Rover, Michelin, Pirelli, Porsche, Volvo, Volkswagen |
| Banking and Finance | Akbank Turk, Allianz, American Express, Barclays, Citibank, Crédit Mutuel, Diners Club, EFG Bank, Intesa Sanpaolo, Isbank, Macquarie, MasterCard, Saxo Bank, Tesco Finance |
| Biotechnology and Pharmaceuticals | Bayer, Eli Lilly, F. Hoffman-La Roche, Glaxo Group, Merck & Co, Novartis, Pfizer, Sanofi-Aventis, Walgreen Company |
| Education | Imperial College of Science, Technology and Medicine, Oxford University, The American University of Cairo, The University of North Carolina at Chapel Hill, The University of Windsor, University of Auckland, University of Melbourne, University Of Pennsylvania, University of Stuttgart, Yale University |
| Electronics | Asurion, Canon, Dyson, Electrolux, General Electric, IBM, Intel, Nilfisk, Osram, Philips, Samsung, Sharp, Siemens |
| Entertainment | Avid Life, Atlas Productions, Bwin, Delia Ephron, EMI, iTunes, Opera National de Paris, Plácido Domingo Opera Foundation, Twentieth Century Fox, Viacom, Virgin Entertainment |
| Fashion | Adidas, Birkenstock, Calvin Klein, Converse, Crocs, Dr. Martens, Elite Model Management, Estee Lauder, Feiyue, Fitflop, John Galliano, Karen Millen, L'Oréal, Luxotica, Missoni, Moncler, Paul Frank, Swarovski, Vibram |
| Food, Beverages and Restaurants | Arla Foods, Autogrill, Bacardi, Carlsberg, California Milk Processor Board, Coca-Cola, Krispy Kreme, Ladurée International, Nestlé, Nutricia, PepsiCo, Red Bull, Ritter Sport, Tetra Laval |
| Heavy Industry and Machinery | Alstom, ArcelorMittal, Areva, BHP Billiton, Caterpillar, Exxon Mobil, Grundfos, Petrobras, Total, Tractor Supply Company |
| Hotels and Travel | Accor, B & B Hotels, Four Seasons, Inter-Continental, La Quinta, Novotel, Six Continents Hotels, Ramada, Sheraton, Sofitel, Starwood, Viceroy |
| Insurance | Allianz, Allstate, Blue Cross and Blue Shield Association, Covea Humana, GEICO, Totus, Unum |
| Internet and IT | Apple, Citrix, Dell, eBay, Facebook, Google, Microsoft, Net-a-Porter, Paypal, SAP, Skype, Twitter, Wikimedia, Yahoo!, Zenos |
| Luxury Items | Burberry, Davidoff, Dolce & Gabbana, Etro, Fendi, Gassan Diamonds, Gucci, Hèrmes, J. Choo Limited, Omega, Pierre Balmain, Prada, Richemont, Tiffany |
| Media and Publishing | CBS, CNN, Direct TV, Euronews, ITV, John Wiley & Sons, Radio France, Supermedia, US Publishers, Vogue, Yellow Pages |
| Retail | ALDI, Argos, Costco, ECCO, HDM Furniture, IKEA, LEGO, Leclerc, Mattel, Oakley, Shaw Industries, Smart Voucher, Wal-Mart, Woolworths, Vibram |
| Sports | Asics, Adidas, Beachbody, Cleveland Browns, Doug Gilmour, FIFA, French Open, Harness Racing Australia, Links, Mammut, Mike Tyson, National Football League, Ryder Cup |
| Telecom | BlackBerry, British Telecommunications, Deutsche Telekom, Orange, Telstra, Turkcell, Verizon |
| Transportation | AIDA Cruises, Air Asia, Air France KLM, Easy Jet, Europcar, Flybe Group, International Trucks, Lufthansa, Mack Trucks, Oneworld, Scania, SNCF |
| Others | AGFA, Clifford Chance, Duracell, Experion, Kellogg Brown & Root, Mövenpick, Proctor & Gamble, Public Storage, Revlon, Seiko Epson, Valero, Vogel Paint |
Annex 6
Legal Rights Objections under ICANN's New gTLD Program
Annex 7
WIPO Overview of WIPO Panel Views on Selected UDRP Questions, Second Edition ("WIPO Overview, 2.0")
For more information, please contact the News and Media Division at WIPO:
Tel: (+41 22) 338 81 61 / 338 72 24