International Patent System Marks Two Millionth Filing – U.S. Mobile Technology Innovator, Qualcomm, files Landmark Application
Geneva, April 14, 2011
PR/2011/687
The two millionth international patent application under WIPO's Patent Cooperation Treaty (PCT) was filed recently1 by U.S.-based mobile technology company Qualcomm2.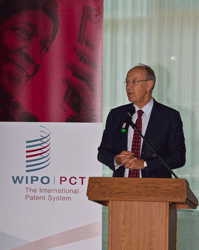 The PCT makes it easier for companies and inventors to seek patent rights in multiple countries. A single international patent application under the PCT has legal effect in all 142 countries bound by the treaty. PCT applicants receive valuable information about the potential patentability of their inventions and have more time than under the traditional patent system to decide in which of the PCT countries to continue pursuing patent protection. The PCT system consolidates and streamlines patenting procedures, postponing the payment of sizeable costs and providing applicants with a sound basis for important decision-making.
WIPO Director General Francis Gurry welcomed this development and noted that "Rapidly growing use of the PCT over the past six years – the time it took to go from one to two million international patent applications - reflects continuously increasing investments in innovation and the growing importance of protecting innovation outputs in international markets," noting, by comparison, that it took 26 years to receive the first one million PCT applications. He added that "significant growth in PCT membership has increased the attractiveness of the system and thereby contributed to healthy filing growth."
The Director General said over the years Qualcomm's growing use of the PCT – from 37 applications in 1995 to 1,677 in 2010 – shows the value of the international patent system to successful innovators. "In 2010, Qualcomm was the third largest user of the PCT, which provides a way to seek international patent protection that is efficient and allows firms to optimize their international patenting decisions," Mr. Gurry observed.
"We congratulate WIPO on this historic milestone," said Dr. Paul E. Jacobs, chairman and CEO of Qualcomm. "Our growth and success as a company would not have been possible without the strong protection of our inventions around the world. We look forward to contributing to the next million applications".
Video
The PCT system, first launched in 1978, is designed specifically to promote effective information sharing among patent offices, to avoid duplication of work and to facilitate access to valuable patent information.
Until a few years ago, the largest users of the PCT system originated mostly in the United States of America or Europe. The world has witnessed a significant change in the geography of innovation with East Asia emerging as the region that today accounts for the largest number of international patent applications. In 2010, use of the PCT increased by over 56% in China – which is now the fourth largest country of origin of PCT applications in the world - 20.5% in the Republic of Korea (5th), and almost 8% in Japan (2nd).
The value of the PCT system also lies in its capacity as a global repository of technological information. Under the PCT approximately 160,000 international patent applications are filed every year. This feeds a growing WIPO database, known as PATENTSCOPE®, which contains over seven million patent documents (a combination of international patent applications and patent documents from regional and national collections) that are fully-searchable and multilingual. The resulting database is an important collection of information about the "state of the art" in all fields of technology, and can be used by companies and individual inventors to either understand what the competition is doing ("patent landscaping") or to learn and inspire further innovation in the same technical space.
The overall top 20 filers from 2006 to 2010 have been : Panasonic Corporation (Japan), Koninklijke Philips Electronics N.V. (Netherlands), Huawei Technologies Co. (China), Robert Bosch GmbH (Germany), Siemens Aktiengesellschaft (Germany), Qualcomm Incorporated (USA), Toyota Jidosha Kabushiki Kaisha (Japan) , LG Electronics Inc. (Republic of Korea), Telefonaktiebolaget L M Ericsson (Sweden), Sharp (Japan), Nokia (Finland), NEC Corporation (Japan), BASF Aktiengesellschaft (Germany), Fujitsu Limited (Japan), 3M Innovative Properties Company (USA), ZTE Corporation (China), Motorola Inc. (USA), Microsoft Corporation (USA), Mitsubishi Electric Corporation (Japan), and Samsung Electronics Co., Ltd. (Republic of Korea).
_______________________

1 As this is an unpublished application, WIPO is unable to release details about the filing (PCT Article 30).
2 Qualcomm is a registered trademark of Qualcomm Incorporated. All other trademarks are the property of their respective owners.

For more information, please contact the News and Media Division at WIPO:
Tel: (+41 22) 338 81 61 / 338 72 24