Brands Tackle Cybersquatters in 2009, UDRP becomes Eco-Friendly
Geneva, March 23, 2010
PR/2010/635
Demand for WIPO's dispute resolution services, in particular relating to cybersquatting cases, continued in 2009 with trademark holders filing 2,107 complaints under procedures based on the Uniform Domain Name Dispute Resolution Policy (UDRP), which at WIPO became a paperless operation at the end of 2009. While this caseload represents a 9.5% decrease over 2008, it covers the highest number of individual domain names in a given year (4,688) since the UDRP - a quick and cost effective way of addressing allegations of cybersquatting - was launched ten years ago.
Since the UDRP's launch in December 1999, the WIPO Arbitration and Mediation Center (the Center) has received more than 17,000 UDRP-based cases. A total of some 31,000 domain names covering both generic and country code Top Level Domains (gTLDs and ccTLDs) have been handled by WIPO. (Table 1)
The UDRP has become accepted as an international standard for resolving domain name disputes outside traditional courts. Proposed by WIPO in 1999, it is designed specifically to discourage and resolve the abusive registration of trademarks as domain names, commonly known as cybersquatting.
Commenting on the success of the UDRP, WIPO Director General Francis Gurry said, "The UDRP has proven to be a pioneering and globally applicable low-cost alternative to court litigation. It offers a practical solution to the abusive registration of trademarks as domain names, a very real issue where the practical effect, legal status and desired outcome are normally not confined to any particular location," said Mr. Gurry.
"Another key element of the UDRP's popularity is the straightforward enforcement of panel decisions, without need for further judicial intervention, although this still remains an option. The UDRP can provide inspiration for alternative self-regulation in areas of commerce and other human activity that cross jurisdictional borders," said Mr. Gurry. He noted, in particular, the relevance of a UDRP-type approach to resolving disputes arising from a range of uses of identity on the Internet, such as on social networking sites, auction platforms and in search engines.
Parties based in 114 countries were named in WIPO cases in 2009, up 10% on the previous year, reflecting the global reach of cybersquatting and WIPO's services. In 2009, the Inter-Continental Hotel Group filed the largest UDRP dispute on record, involving 1,542 domain names in a single WIPO case.
Cases in 2009 were handled by 310 WIPO panelists from 46 countries. Although down 2% from 2008, English remained the most common language for WIPO proceedings (84%), largely because the majority of domain names involved were registered with US-based registrars.
Cases were also processed in 13 other languages, including (in order of frequency) Spanish, French, Dutch, German, Chinese, Italian, Japanese, Korean, Swedish, Polish, Portuguese, Romanian, and Turkish. The character set of the disputed domain names themselves remained overwhelmingly ASCII (English alphabet), with a small number of domain names in Chinese, Danish, French, German, Turkish and Spanish.
The United States of America (USA), France, the United Kingdom (UK), Germany, Switzerland and Spain remained the most frequent bases for complainants through 2009. The USA, UK, China, Canada, Spain, and the Republic of Korea were cited most frequently as respondents in alleged cybersquatting cases. (Table 2)
Among Top Level Domains, the .com gTLD remained the solid leader in terms of the number of domain names featuring in WIPO cases (87%). (Table 3)
Almost 24% of all cases filed in 2009 were settled prior to a panel decision. Of the remainder, 87% of the panel decisions ordered the transfer of the domain name(s) to the complainant (or cancellation of the name), and 13% denied the complaints, leaving the names in the possession of the registration holder. (Table 4)
WIPO Country Code Top Level Domains and Cases
The number of ccTLD registries designating WIPO to provide domain name dispute resolution services rose to 62 in 2009 with the addition of Angola (co.ao and it.ao), Bolivia (.bo), the Cayman Islands (.ky), Costa Rica (.cr), the Dominican Republic (.do), and Honduras (.hn). The WIPO Center continued to advise ccTLDs on registration conditions and dispute resolution procedures.
The overall percentage of ccTLD domain name cases handled by the WIPO Center in 2009 rose to 14% from just 1% in 2000. (Table 5) The largest number of these ccTLD cases were filed in the Netherlands (.nl) followed by Spain (.es), France (.fr), Switzerland (.ch), Mexico (.mx), Australia (.au), Romania (.ro), Tuvalu (.tv), Montenegro (.me), and Ireland (.ie).
Main Domain Name Case Sectors
Football (soccer) featured strongly in the WIPO Center's 2009 caseload, including the upcoming World Cup (fifaworldcup2010.com). English Premier League teams Fulham, Liverpool, Manchester United, Tottenham and West Ham brought a consolidated action against a single respondent engaged in selling tickets via domain names which included their respective club names. The decision established an important precedent about whether and when WIPO complainants are entitled to bring a consolidated complaint against a respondent (WIPO Case D2009-0331). Other football related complaints were filed on behalf of the South African Football Association, AC Milan, and Manchester City FC.
The top five areas of complainant activity were biotechnology and pharmaceuticals, banking and finance, Internet and IT, retail, and food, beverages and restaurants. (Table 6) As in past years, pharmaceutical manufacturers brought the largest number of cases due to permutations of protected names on web sites offering or linking to online sales of medications. The Center's caseload in 2009 covered a wide range of business and public interest sectors. (Table 7)
WIPO eUDRP Initiative
Anticipating the mandatory introduction on March 1, 2010 of WIPO-proposed changes to the UDRP Rules, the WIPO Center has been offering a paperless UDRP filing facility since mid-December 2009. In the first three months of its operation alone, the WIPO eUDRP has on some 1,000 occasions saved parties from having to send case documents by post. This new email-based facility has been positively received and filing rates at WIPO have increased by more than 13% in the period December 2009 through February 2010 as compared to the same period in 2008 and 2009. This new, greener WIPO facility is saving all parties time and money in the preparation and submission of case pleadings. It is also driving down the average length of proceedings, while continuing to ensure effective notice to the respondent.
Updated WIPO Precedent Tools
In 2009, the Center further enhanced its globally-consulted WIPO Legal Index of panel decisions by adding new search categories that track developments in case jurisprudence and reflect the evolution of domain name practices. New categories include Timing of rights; Pay-per-click and other landing pages; Prior knowledge/Notice of mark; Willful blindness; Constructive notice; Knew or should have known; Registrant search obligation.
The WIPO Overview of WIPO Panel Views on Selected UDRP Questions helps to ensure the consistency of WIPO UDRP filing and jurisprudence by distilling the Center's cases and describing panel positions on important case issues. An updated Overview of WIPO Panel Views is under preparation and is expected to be available by mid 2010.
New Generic Top Level Domains
The New gTLD Program of ICANN (the Internet Corporation for Assigned Names and Numbers), which is responsible for managing the gTLD space, seeks to expand the Domain Name System on an unprecedented scale. The associated potential for trademark abuse is a serious concern for brand owners and users. There are also concerns that this move will inhibit the development of an innovative Domain Name System that minimizes consumer confusion.
The WIPO Center in 2009 applied its experience of UDRP stewardship and management of sunrise mechanisms and continued to provide extensive substantial input on dispute resolution mechanisms designed to provide meaningful alternatives to court intervention in the future.
As a result of WIPO's efforts, ICANN's Top Level Domain draft applicant guidebook incorporates a dispute resolution procedure for trademark owners to file "legal rights objections" to a proposed domain in the pre delegation (application) phase.
A WIPO proposed post delegation (post-application) dispute resolution procedure is also included in ICANN's draft applicant guidebook. This provides a means for brand owners to file an objection against a domain registry whose operation or use of an ICANN-approved new domain is alleged to cause or materially contribute to trademark abuse. ICANN's current draft presents several critical differences from the WIPO Center proposal. These require further examination if this mechanism is to be effective in reducing the need for court action. The WIPO proposal seeks to encourage responsible registry behavior while serving as the foundation for other rights protection mechanisms aimed at curbing trademark abuse. As with other anti-cybersquatting proposals under discussion, any determination as to its design must ultimately be guided by the need to be workable and effective.
Noting the broader range of dispute options being developed in anticipation of ICANN's planned introduction of large numbers of domains, Mr. Gurry added that "those other mechanisms will in part be modeled on and interplay with the UDRP, but they will also need to be sufficiently distinct to offer larger value in a larger domain name space." WIPO actively engages with ICANN in the hope that such new mechanisms would form realistic and meaningful responses to legitimate intellectual property concerns.
WIPO Arbitration and Mediation of Intellectual Property Disputes
The WIPO Center also administers cases under the WIPO Arbitration, Expedited Arbitration, Mediation and Expert Determination Rules, which parties to commercial contracts can use for disputes arising from any type of intellectual property and technology transaction. This WIPO activity reflects the premise that efficient and effective dispute resolution contributes to the productive use of intellectual property assets.
As of December 2009, the WIPO Center had administered over 210 mediations and arbitrations, the majority of which were filed in the last five years. These cases involved a range of issues, such as patent infringement, patent licenses, information technology transactions (including telecommunications), distribution agreements for pharmaceutical products, copyright issues, research and development agreements, trademark co-existence agreements, art marketing and artistic production agreements, joint venture agreements, engineering disputes, and cases arising out of agreements in settlement of prior multi-jurisdictional intellectual property litigation. Most of these cases involve patent related issues, followed by information technology and telecommunications, trademarks and copyright.
In the case of WIPO-administered mediation, 73% of disputes are settled by the parties with the aid of an appointed mediator. In arbitrations under the WIPO Rules, 58% of cases are settled between the parties before an arbitral decision is made, suggesting that the arbitral process is also conducive to reaching a settlement.

The WIPO Center also provides procedural guidance to parties to facilitate the settlement of their dispute or its submission to mediation or arbitration. So far, these "Good Offices" requests have involved parties from Algeria, Australia, China, France, Germany, Haiti, India, Indonesia, Italy, Luxembourg, New Zealand, Papua New Guinea, Qatar, Romania, Russian Federation, Senegal, Spain, and the USA.
In late 2009, WIPO announced plans to establish in 2010 a branch of the Arbitration and Mediation Center in Singapore, with the support of the Government of Singapore.
WIPO Mediation and Expedited Arbitration Rules for Film and Media
The WIPO Center works with intellectual property owners and users and their representative organizations to facilitate or establish special alternative dispute resolution procedures specifically adapted to the particular features of recurrent disputes in their area of activity. Following earlier collaboration with the Association of International Collective Management of Audiovisual Works (AGICOA) for certain disputes between copyright holders, the WIPO Center introduced the WIPO Mediation and Expedited Arbitration Rules for Film and Media, at the Asia Television Forum in Singapore in December 2009. Developed in cooperation with industry experts, these new rules and corresponding model contract clauses and submission agreements, are particularly appropriate for international film and media transactions where parties require time and cost effective solutions to disputes that obstruct ongoing projects. Examples of transaction areas that can benefit from such dispute settlement facilities include financing, co-production, distribution, and broadcasting.
Table 1
Total Number of WIPO Domain Name Cases and Domain Names by Year
| Year | Number of Cases | Number of Domain Names |
| --- | --- | --- |
| 2000 | 1857 | 3760 |
| 2001 | 1557 | 2465 |
| 2002 | 1207 | 2042 |
| 2003 | 1100 | 1774 |
| 2004 | 1176 | 2559 |
| 2005 | 1456 | 3312 |
| 2006 | 1824 | 2806 |
| 2007 | 2156 | 3545 |
| 2008 | 2329 | 3958 |
| 2009 | 2107 | 4688 |

Table 2
WIPO Complainant Country Filing (Top 15 Ranking 1999-2009)
| Country | Number of Cases | Percentage of Cases |
| --- | --- | --- |
| United States of America | 7209 | 42.41% |
| France | 1860 | 10.94% |
| United Kingdom | 1277 | 7.51% |
| Germany | 981 | 5.77% |
| Switzerland | 872 | 5.13% |
| Spain | 770 | 4.53% |
| Italy | 554 | 3.26% |
| Netherlands | 354 | 2.08% |
| Canada | 339 | 1.99% |
| Australia | 294 | 1.73% |
| Sweden | 253 | 1.49% |
| Denmark | 218 | 1.28% |
| Japan | 186 | 1.09% |
| India | 171 | 1.01% |
| Brazil | 160 | 0.94% |
WIPO Respondent Country Filing (Top 15 Ranking 1999-2009)
| Country | Number of Cases | Percentage of Cases |
| --- | --- | --- |
| United States of America | 6536 | 38.45% |
| United Kingdom | 1428 | 8.40% |
| China | 940 | 5.53% |
| Canada | 785 | 4.62% |
| Spain | 765 | 4.50% |
| Republic of Korea | 642 | 3.78% |
| France | 552 | 3.25% |
| Australia | 399 | 2.35% |
| Netherlands | 313 | 1.84% |
| India | 272 | 1.60% |
| Germany | 262 | 1.54% |
| Russian Federation | 251 | 1.48% |
| Italy | 244 | 1.44% |
| Switzerland | 243 | 1.43% |
| Panama | 192 | 1.13% |
Table 3
gTLDs in WIPO Domain Name Cases (2009)
| gTLD | Number of Domain Names | Percentage |
| --- | --- | --- |
| .com | 3754 | 87.51% |
| .net | 206 | 4.80% |
| .org | 135 | 3.15% |
| .info | 99 | 2.31% |
| .mobi | 33 | 0.77% |
| .biz | 30 | 0.70% |
| .pro | 11 | 0.26% |
| .asia | 6 | 0.14% |
| .name | 6 | 0.14% |
| .tel | 6 | 0.14% |
| .travel | 4 | 0.09% |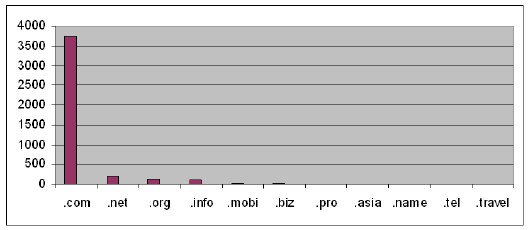 Table 4
Case Outcomes of All WIPO Decided Cases (2009)
| Case Outcome | Number of Cases | Percentage |
| --- | --- | --- |
| Transferred | 1286 | 84% |
| Denied | 188 | 13% |
| Cancelled | 39 | 3% |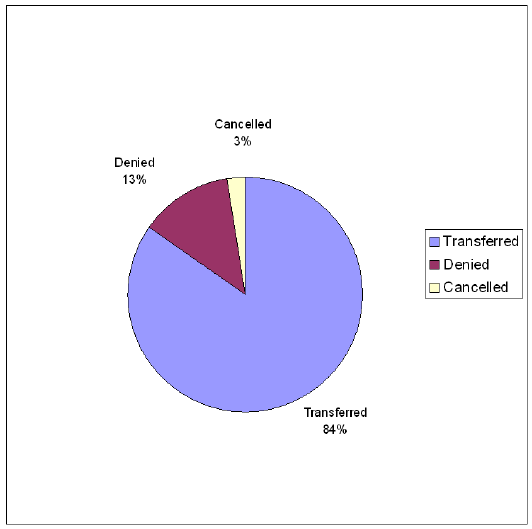 Table 5
ccTLDs among Total WIPO Cases (2000-2009)
| Year | Percentage of Cases |
| --- | --- |
| 2000 | 0.9% |
| 2001 | 3.2% |
| 2002 | 2.2% |
| 2003 | 4.3% |
| 2004 | 5.6% |
| 2005 | 6.5% |
| 2006 | 9.0% |
| 2007 | 9.5% |
| 2008 | 13.7% |
| 2009 | 14.4% |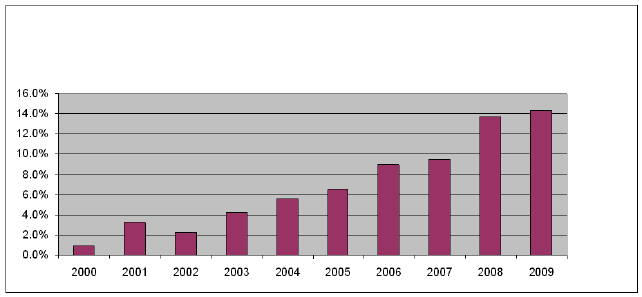 Table 6
Areas of WIPO Domain Name Complainant Activity (2009)
| Category | Percentage of Cases |
| --- | --- |
| Biotechnology and Pharmaceuticals | 9.52% |
| Banking and Finance | 9.30% |
| Internet and IT | 8.55% |
| Retail | 8.51% |
| Food, Beverages and Restaurants | 7.08% |
| Entertainment | 6.38% |
| Fashion | 6.33% |
| Media and Publishing | 6.26% |
| Other | 6.01% |
| Hotels and Travel | 5.51% |
| Telecom | 4.60% |
| Electronics | 4.34% |
| Automobiles | 4.33% |
| Heavy Industry and Machinery | 4.00% |
| Transportation | 3.62% |
| Sports | 2.36% |
| Insurance | 1.69% |
| Luxury Items | 1.62% |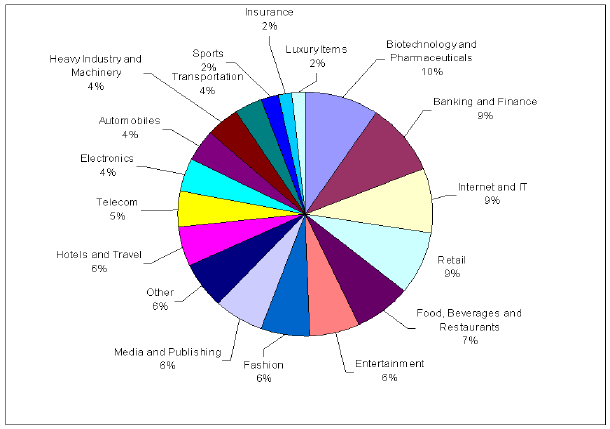 Table 7
Sample of WIPO Domain Name Cases (2009)
| Area | Sample Cases |
| --- | --- |
| Transportation | British Airways, Delta Air Lines, Lufthansa, Société Nationale des Chemins de Fer Français (SNFC), Quantas, Taca International |
| Automobiles | Audi, BMW, Porsche, Hertz, American Automobile Association |
| Delivery services | Deutsche Post, DHL International, United Parcel Service |
| Hospitality | Inter-Continental Hotels, Louvre Hotels, Sheraton International, Tiara Hotels |
| Media | Berlitz, CANAL+, CBS Broadcasting, HarperCollins, Indian Express, MTV, Wikipedia |
| Education | Emory University, Imperial College of Science, Technology and Medicine, Princeton University |
| Charity/non-profit | Children's Cancer Research Fund, Royal National Institute for Deaf People, Save the Children Foundation |
| Pharma | Bayer, Eli Lilly, F. Hoffman-La Roche, Pfizer, Sanofi-Aventis |
| Internet, electronics and telecom | Deutsche Telecom, eBay, Google, Intel, Microsoft, Oracle, Osram, Research in Motion's BlackBerry, Samsung, Siemens, SonyEricsson |
| Food | Asahi Breweries, Carrefour, Chivas Brothers, Coca-Cola, Danone, Kraft, Lindt Chocolate, Nestlé, PepsiCo, Unilever |
| Sports | Tour de France legend Eddy Merckx, Formula One, MLB, NFL, PGA Tour, Saint Andrews golf links |
| Fashion | Burberry, Cartier, Chanel, Christian Dior, Fabergé, Lacoste, Lancôme, L'OREAL, Louis Vuitton, Ralph Lauren, The Gap, Tiffany |
| Culture | Amblin Entertainment, the British Museum, Celia Cruz, Dreamworks Animation, Jim Morrison, Niagara Falls, Pippi Longstocking, Plácido Domingo, Twentieth Century Fox, Viacom |
| Finance | HSBC, Itaú Unibanco, MasterCard, NASDAQ |
| Industry | ABB, Electrolux, General Electric, Komatsu, Tata Sons |
For more information, please contact the News and Media Division at WIPO:
Tel: (+41 22) 338 81 61 / 338 72 24