WIPO & US Copyright Office Course Addresses Access to Copyright-protected works by Visually Impaired Persons
Geneva, March 16, 2010
UPD/2010/316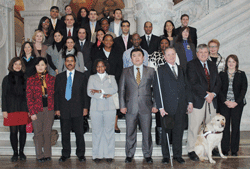 Photo by Cecelia Rogers, U.S. Copyright Office.
No copyright restrictions.
Improved access to copyright-protected content for the blind and other persons with visual or print disabilities (VIPs) was the focus of an international training course co-organized by the United States Copyright Office and WIPO in Washington from March 8 to 12, 2010. The International Training Program for Developing Countries and Countries in Transition on Emerging Issues in Copyright and Related Rights and Issues Pertaining to Blind and Visually Impaired Persons, brought together policy-makers and experts from 28 countries.
The program aimed to improve understanding of the elements of domestic and international copyright law that are relevant to making books, films and other copyright-protected content accessible to persons with print disabilities. It also focused on identifying practical measures that can improve the quality and quantity of these works in formats that are readily accessible to VIPs. Participants explored measures to provide relief and to enhance opportunities for access and also considered the obstacles and limitations that inhibit easy access to relevant technologies across national boundaries.
A number of countries have already taken steps to enhance access by VIPs to copyright-protected works and are confronting a number of common challenges. The training program underscored the need for different stakeholder groups to coordinate efforts in addressing the issues that universally confront the blind and persons with visual or print disabilities. Such an approach promises to benefit VIP communities in both developed and developing countries.
It is estimated that more than 90% of all VIPs reside in low-income developing countries. These individuals face significant social and economic constraints, including poor access to new technologies that offer enhanced access to copyright-protected works. A key challenge in mainstreaming these technologies is to develop practical solutions that have maximum potential impact in countries which have a high incidence of disability but lack the infrastructure and financial resources necessary to effectively address the issue. Other challenges include the need to cater for a wide variety of languages, cultures and levels of literacy.
The course was organized in the context of international efforts to explore how the intellectual property system can best meet the needs of VIPs by improving timely access to copyright-protected content.
WIPO has been mandated by its member states to deal 'without delay and with appropriate deliberation' with the needs of VIPs and to determine possible ways and means of facilitating and enhancing their access to protected works. This includes an analysis of limitations and exceptions to international copyright law. Normative discussions are taking place within WIPO's Standing Committee on Copyright and Related Rights (SCCR). This Committee is currently examining a proposal for an international treaty for improved access to copyright-protected works by visually and reading disabled persons.
WIPO is also hosting a Stakeholder's Platform which deals with the numerous practical and operational arrangements associated with securing access for print disabled persons to protected works. These activities fall under the umbrella of WIPO's Visually Impaired Persons (VIP) initiative, known as VisionIP which is a platform for the dissemination of information on intellectual property-related initiatives designed to facilitate access to protected content by the blind, visually impaired, and other reading-impaired persons.
For more information, please contact the News and Media Division at WIPO:
Tel: (+41 22) 338 81 61 / 338 72 24