Director General Wraps up Official Visit to Japan
Geneva, March 5, 2010
PR/2010/633

Francis Gurry addresses the WIPO High Level Forum on Global IP Infrastructure for Promotion of Innovation. Also on the poduium (from left to right) H.E. Mr. Tadahiro Matsushita , Senior Vice Minister for Economy, Trade and Industry, Mr. Tetsuhiro Hosono, Commissioner, Japan Patent Office, Mr. Yoshiyuki Takagi, Assistant Director General, Global IP Intrastructure Sector. WIPO.
WIPO Director General Francis Gurry wrapped up an official visit to Japan from March 1 to March 5, 2010, during which he met a number of high level Government representatives, including Minister of Economy, Trade and Industry Masayuki Naoshima, and Vice Minister of Foreign Affairs Koichi Takemasa, as well as Japan Patent Office (JPO) Commissioner Tetsuhiro Hosono.
Mr. Gurry also met with Japanese industry leaders and addressed a WIPO High Level Forum on the Global Intellectual Property Infrastructure for Promotion of Innovation
Video. He participated in a joint meeting of the APEC (Asia-Pacific Economic Cooperation) Intellectual Property Experts Group (IPEG) and the APEC Business Advisory Council in Hiroshima.
Japan is the largest extra-budgetary donor to WIPO's development-related activities, contributing to WIPO's technical cooperation programs in the Asia and Pacific region and Africa. Mr. Gurry thanked the Japanese Government for its "extraordinary generosity" and support of WIPO's capacity-building programs. He paid tribute to Japan's leadership in the field of innovation, its use of intellectual property to promote economic recovery and its emphasis on green innovation and innovation in the life sciences, which he said holds great promise for the future.
Meetings with Japanese officials reinforced WIPO's long-standing relationship with Japan. Discussions covered Asia's growing importance in the international intellectual property system, WIPO's capacity building activities in developing countries, in particular the South East Asian region, the role of intellectual property in meeting global challenges like climate change, and the role of balanced national intellectual property regimes in promoting development and growth.
At the High Level Forum on the Global Intellectual Property Infrastructure for Promotion of Innovation in Tokyo (March 1 to 2) Mr. Gurry said innovation in the contemporary economy is a "principal factor" for economic growth and improved quality of life. He referred in particular to increased investment in the generation of new knowledge, as indicated by the significant increase in global expenditure on research and development (R&D) which rose from 535 billion USD in 1996 to 1.1 trillion USD in 2007.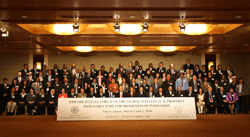 Group photo of WIPO High Level Forum on Global IP
Infrastructure for Promotion of Innovation
Mr. Gurry noted the important geographical shifts that are transforming the innovation landscape. He pointed to the Asia Pacific region's increasing share of the total global R&D expenditure, which in the last decade has risen from 24% to 30%. He also referred to the "extraordinary rise in the number of international patent applications that have been filed by applicants in Asia." In the last 15 years, the share of total international patent applications filed under WIPO's Patent Cooperation Treaty (PCT) by Japan, China and the Republic of Korea, has risen from 7.6% to 29.2%.
The Director General highlighted "shifts in patterns of innovation" and new trends in "open innovation and connected innovation". "The internationalization of innovation is a very important feature that we have seen emerge very strongly in the course of the last 10 years," he said. "Patterns and practices for corporations and enterprises are changing and it is less and less the case for a corporation to rely entirely on its own research and development to satisfy all of its innovation needs. Rather, more and more partnerships are being built across the industry to satisfy innovation needs."
Mr. Gurry underlined the importance of a balanced intellectual property system as a stimulus to innovation and its diffusion. He noted that while, historically, emphasis has been placed on the legal architecture of the international IP system, the time had come to also focus on its technical architecture. This, he said, was "a very important opportunity for sharing the social benefit of innovation …across the world."
During his visit, Mr. Gurry also met with leaders of Japanese industry, including Panasonic, the largest user of WIPO's PCT system which facilitates the process of obtaining patent protection in up to 142 countries. Japan is the second largest user of the PCT. In 2009, it was among the few industrialized countries to experience positive growth in its use of the system, with a 3.6% increase and some 29,827 international applications filed.
At the IPEG meeting, the Director General welcomed APEC's commitment to promoting the use and future development of the intellectual property system. IPEG was set up in 1996 to ensure adequate and effective protection, through legislative, administrative and enforcement mechanisms, of intellectual property rights in the Asia-Pacific region based on the principles of the World Trade Organization's Agreement on Trade-Related Aspects of Intellectual Property Rights (TRIPS Agreement) and other related agreements. IPEG has been especially active in providing IP capacity building programs in recent years.
For more information, please contact the News and Media Division at WIPO:
Tel: (+41 22) 338 81 61 / 338 72 24