WIPO Welcomes EU Ratification of the WIPO "Internet Treaties"
Geneva, December 14, 2009
PR/2009/626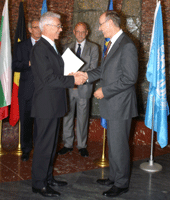 WIPO DG greets EU Ambassador Guth
The Director General of the World Intellectual Property Organization (WIPO), Mr. Francis Gurry, welcomed on December 14, 2009 the ratification by the European Union (EU) of the so-called "Internet Treaties" - the WIPO Copyright Treaty (WCT) and the WIPO Performances and Phonograms Treaty (WPPT) - which establish the basic standards of protection for copyright and related rights in the digital environment.
Noting that the EU plays a leading role in promoting use of the Internet and in developing on-line content, Mr. Gurry said its ratification of the treaties will positively influence the development of creativity within the digital environment in Europe and beyond.
In 2001, the EU adopted a European Copyright Directive which incorporates most of the provisions of the "WIPO Internet Treaties" concluded in 1996. All 27 EU member states have now implemented the European Copyright Directive. In 2000, the European Union and its member states took the formal decision to ratify the WIPO "Internet Treaties" together. Indeed, these two treaties also mark the first time that the EU is accorded full contracting party status in the field of copyright and related rights.
An EU statement said "By ratifying these Treaties, the European Union and its member states hope to breathe new vigor into the current treaty-making work of WIPO and encourage renewed commitment to moving forward on a high level of protection for creators and creative industries." Indeed the WIPO "Internet Treaties" update the legal principles underpinning international copyright protection and the rights of performers and phonogram producers on the Internet and other digital networks.
The "Internet Treaties" laid the ground for a balanced system of protection in the new technological environment in areas such as the interactive transmission of copyright content, limitations to copyright and the promotion of technologies that facilitate the distribution and use of creative content.
The WIPO "Internet Treaties" were adopted in December 1996 and entered into force in 2002. With these new ratifications, membership of the "Internet Treaties" will reach 88 for WCT and 86 for WPPT.
For more information, please contact the News and Media Division at WIPO:
Tel: (+41 22) 338 81 61 / 338 72 24