International Conference on Intellectual Property and Development: How to Benefit from the IP System
May 20, 2019
Hundreds of member state delegates, observers and other participants from across the globe joined a high-level discussion at WIPO on how to use the intellectual property system to further economic, cultural and social growth in developing countries.
The "International Conference on Intellectual Property and Development – How to Benefit from the IP System" took place on May 20, 2019, under the auspices of WIPO's Committee on Development and Intellectual Property (CDIP).
Welcome address
WIPO Director General Francis Gurry welcomed the participants, including hundreds of viewers registered to join in remotely via webcasting, and outlined how IP helps to promote development.
"The main impact on development, the direct impact, is through innovation and creative and cultural production. And these, of course, are the reasons for which we have intellectual property," said Mr. Gurry.
The benefits of innovation and cultural creation are extremely well known in the economic sphere. Their benefit is a source of growth and also as the competitive advantage that enterprises can enjoy. Intellectual property contributes to those policy goals by securing, or protecting, the competitive advantage that innovation or new cultural or creative production confers on enterprises.

Francis Gurry, WIPO Director General
Mr. Gurry highlighted several challenges for developing countries, including how to prioritize and strategize for innovation among other pressing policy requirements and how to handle the local ramifications of fast-changing technologies created in a global context.
Keynote speech
The keynote speaker, Kenyan Cabinet Secretary for Sports, Culture and Heritage Amina C. Mohamed, discussed her country's experiences with IP.
"The need for intellectual property rights to protect the inventions and creative works of individuals and firms is not new and has been recognized for centuries," she said. "This need has, as you well know, acquired unprecedented importance in our age, when knowledge capital, the product of the intellect, has increasingly become the basis of social and economic progress."
She said that IP will play an important role in the common response to global challenges including climate change, global health and food security. Amidst a wide range of issues, Ms. Mohamed highlighted the need for increasing use of the IP system by some competitors in the global sports industry - echoing the theme of World IP Day 2019 Reach for Gold: IP and Sports.
I single out the arts and sports sectors because the protection and commercialization of related rights offers an immense economic opportunity for millions of young people who are seeking gainful employment in the developing world.

Amina C. Mohamed, Kenyan Cabinet Secretary for Sports, Culture and Heritage
She underlined the disparity in earnings between Kenyan marathon champion Eliud Kipchoge and Portuguese football star Cristiano Ronaldo – despite their similar levels of athletic effort and achievement in their respective areas of competition.
"A number of factors may account for this contrasting situation, but the key one is the whole question of the role of IP rights in the promotion of the sports and creative sectors," she said. "In Kenya, as in many developing countries, appreciation of the value of IP rights in creativity, in general, and sports in particular, is fast-evolving and there is now widespread realization at the level of government that mechanisms need to be put in place to spur the use of IP rights," she said.
Other opening addresses
Also giving welcoming addresses were Ambassador, Hasan Kleib, Permanent Representative of the Republic of Indonesia to the United Nations Office and other international organizations in Geneva, and Chair of the Committee on Development and Intellectual Property (CDIP), and Indonesia's Chairman, National Creative Economy Agency Triawan Munaf.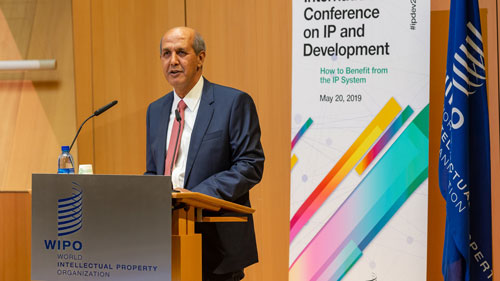 If the knowledge economy and the economy of ideas is to be part of the global economy, making intellectual property as one of the keys for growth and development, then there is always the need to assess, discuss and converse within and between communities to allow for a much less restrived flow of information and knowledge.

Hasan Kleib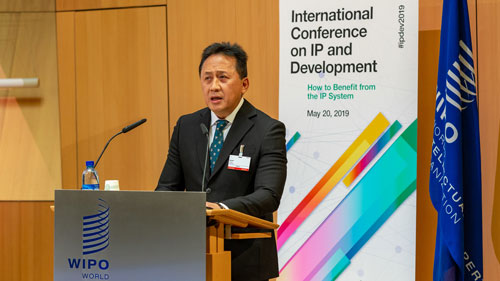 The arrival of the fourth industrial revolution has put IP at a central subject matter in economic policy and decision making, both by the public and private sector. It also challenges IP to evolve following the dynamics of the new digital world. This drive for IP to evolve is also felt within the context of IP in the copyright and creative industries, which are among the most dynamic sectors in the world economy and are regarded as an emerging high-growth area. … Copyright and creative industries leverage knowledge and information, that in turn triggers innovation creating socio economic wealth for society and contributing to the achievement of the Sustainable Development Goals.

Triawan Munaf
Find out more