Global Challenges Division
The Global Challenges Division addresses innovation and IP at the nexus of interconnected global issues, in particular global health, climate change and food security. It identifies opportunities to apply and scale up innovation-driven solutions that improve peoples' lives. The Division engages across a wide range of intellectual property-related global policy discussions and partners with a broad cross-section of stakeholders, contributing to the shared realization of the UN Sustainable Development Goals.
The Division is part of the Global Challenges and Partnerships Sector.
Our activities include:
WIPO GREEN – an online platform for technology exchange, which brings together key players to catalyze green technology innovation and diffusion through its database, network and acceleration projects.
Food security and climate change – through partnerships and discussions at all levels, we promote innovation and technology as contributors to addressing the global challenges related to food security and climate change.
Trilateral cooperation with WHO and WTO – the three organizations strengthen cooperation and practical coordination to support policy makers with enhanced empirical and factual information in the fields of public health, IP and trade.
Management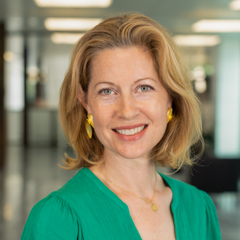 Director: Marion (Amy) DIETTERICH