Disposing of counterfeit goods: unseen challenges
November 2012
By Judith Soentgen, Building Respect for Intellectual Property Division, WIPO
The escalation of counterfeiting and piracy and the increasing effectiveness of customs authorities in detecting and confiscating intellectual property (IP) infringing products are creating added logistical and environmental dimensions to the multiple challenges associated with combating counterfeiting and piracy. In 2011, customs authorities in the European Union (EU) alone, seized some 115 million items (a 15 percent increase on goods seized in 2010) ranging from sunglasses, bags, and shoes, to medicines, electronic devices, batteries, refrigerants and pesticides. Over 75 percent of these goods were destroyed.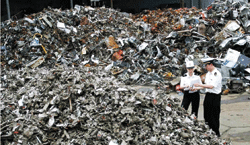 The storage and environmentally-sound disposal of
expanding quantities of confiscated IP-infringing
goods represent major logistical challenges for
national authorities. (Photo: Project REN (UNEP))
There is increasing recognition of the need to dispose of these goods in a safe and environmentally-sensitive way. This can be a costly and technically complex undertaking. Minimizing the environmental impact of disposal requires specialized facilities, expertise and high levels of stakeholder collaboration. This article considers some of the more innovative and cost-effective solutions being adopted to tackle this complex problem.
Dimensions of the challenge
One of the key objectives in disposing of seized goods is to ensure they are removed from all channels of commerce. While originally conceived as a means to protect private IP rights, increasingly, concerns about the social and environmental impact of these goods are coming to the fore. "Safe, secure disposal and storage of these goods is critical to ensure the environmental risks are mitigated and that harmful goods are disposed of in a manner that prevents diversion," observes David Blakemore, of the IP Rights (IPR) Business Partnership, a forum for public-private sector debate on issues relating to combating IP infringements. Achieving this objective is an increasingly costly and technically complex undertaking.
The international legal framework
Minimum international requirements for the disposal of IP-infringing goods are outlined in the Agreement on Trade-Related Aspects of Intellectual Property Rights (TRIPS Agreement), administered by the World Trade Organization (WTO). Article 46 of the Agreement states that IP-infringing goods should be "disposed of outside the channels of commerce in such a manner as to avoid any harm caused to the right holder, or, unless this would be contrary to existing constitutional requirements, destroyed." It further states that "the simple removal of the trademark unlawfully affixed shall not be sufficient, other than in exceptional cases, to permit release of the goods into the channels of commerce."
Current disposal options include recycling, open air burning, shredding, crushing, burying in landfill sites and donation to charities. The methods adopted, however, depend on the nature of the goods requiring disposal as well as the availability of appropriate disposal facilities.
Recycling
While not all IP-infringing goods are readily recyclable - especially those containing toxic substances - some goods can be dismantled and reused.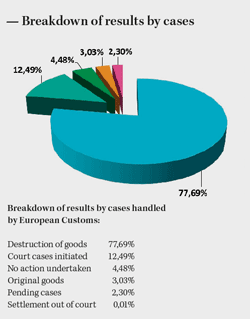 According to the
Report on EU Customs Enforcement
of Intellectual Property Rights,
in 2011, over 77 percent
of IP-infringing goods confiscated by European customs
authorities were destroyed. The bulk (97%) of products
confiscated were suspected of infringing a European
Community or national trademark.
The European anti-counterfeiting network, REACT, a non-profit, right holders' organization, for example, recycles some 95 percent of all counterfeit goods seized in the Netherlands. REACT offers its 185 plus member companies a practical and cost-effective solution for the disposal of counterfeit goods. Together with the national mental health authority, it co-owns a recycling facility in the Netherlands where goods are sorted, dismantled and processed for recycling.
Once the necessary legal processes have been finalized and Dutch customs approves the destruction of seized goods, REACT transports them to its recycling facility where they are sorted, dismantled and/or shredded. The remaining materials - such as polycarbonate granules derived from shredding pirated DVD/CDs - are sold on to specialist recycling outfits and used to produce a range of goods such as furniture, clothing, shopping bags or even construction materials for sports facilities and playgrounds.
This approach offers multiple advantages. "The facility offers a valuable means of mitigating negative environmental consequences while complying with the necessary requirement to ensure that the counterfeit products do not enter the channels of commerce," notes REACT director Ronald Brohm. It also offers employment to a large number of socially disadvantaged people and supports their reintegration into society. "Such an outcome requires close coordination and cooperation between Dutch customs, member companies and social agencies", Mr. Brohm observes, noting that "React will be looking elsewhere for similar opportunities to replicate the success that we and our partners have achieved in the Netherlands."
Donations
Another imaginative and environmentally benign method of disposal involves the donation of IP-infringing goods to social welfare bodies. After consultation with right holders, customs authorities in China, the Philippines and the UK frequently supply charities with IP-infringing goods. In the UK, for example, infringing clothing and footwear collected by the registered charity, "His Church" are de-branded, altered, re-marked with the charity's "HIS" brand and used for humanitarian purposes.
This approach, however, is feasible only when steps are taken to ensure the goods involved are not sub-standard, defective, dangerous or hazardous. Only after rigorous testing to ensure compliance with health and safety standards, are infringing goods donated to social welfare organizations.
Steps also need to be taken, in line with the TRIPS Agreement, to safeguard the rights of IP owners, particularly in terms of avoiding any harm to their reputation, and preventing the return of IP-infringing goods to the marketplace. It is not enough simply to remove a trademark that has been unlawfully affixed to a product. A variety of creative solutions are being adopted around the world. In the Republic of Korea, for example, customs authorities invited volunteers to alter counterfeit sneakers by decorating them with drawings. The redesigned shoes were then donated to orphanages.
Regulated incineration and landfill
Controlled incineration or use of officially registered landfill sites are other common methods of disposal. High-profile public ceremonies to destroy infringing goods are helpful in shaping public opinion and building respect for IP. The Thai authorities, for example, regularly organize destruction ceremonies. At a recent event in Phuket some 80,000 items with a street value of over 182 million baht (US$5.9 million) were destroyed, attracting widespread public and media attention. These methods, however, require careful management and adherence to environmental standards.
Hazardous waste
Mitigating the environmental impact of the disposal of counterfeit goods containing toxic elements poses particular challenges. The composition of certain counterfeit electronic devices is often not known, making it very difficult to determine the best means of disposal. Similarly, the disposal of counterfeit chemicals and pesticides that present serious environmental and health risks, can be costly and technically complex. While high temperature incineration is common for disposing of these toxic substances, this can generate air pollution and hazardous waste. Moreover, many countries do not have the necessary infrastructure or technical know-how to dispose of these substances safely.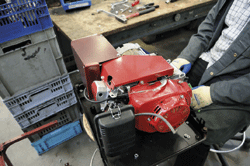 Dismantling counterfeit generators
Dismantling counterfeit toy watches
Garments being shredded in preparation for recycling (Photo: REACT)
While transporting hazardous IP infringing goods to countries with appropriate disposal facilities might seem an obvious solution, this can be impeded or even prevented by national or regional legislation. Transporting these goods across borders requires compliance with multi-lateral environmental agreements, such as the Montreal Protocol on Substances that Deplete the Ozone Layer and the Basel Convention on the Control of Transboundary Movements of Hazardous Wastes and Their Disposal, as well as compliance with customs regulations.
In this respect, awareness-raising among policy-makers is essential in creating an enabling legal and regulatory environment to open the way for greater cooperation between countries. Policymakers in Europe, for example, have submitted proposals to allow for the movement of goods destined for destruction between different countries within the customs territory of the EU under the supervision of customs authorities. These have yet to be adopted.
The technical difficulties associated with the environmentally-sound disposal of infringing goods containing harmful substances and hazardous waste, underline the importance of greater public-private cooperation and of broad sharing of technical information and experiences regarding disposal, as well as close cooperation between law enforcement and environmental agencies.
"The growing trade in IPR infringing products now so significantly increases the risk that we must collectively innovate to protect the global environment and our fellow citizens," observes David Blakemore. "The public and private sector must examine their existing communication, collaboration and information sharing protocols to determine if they are adequate at both the national and international level. This will provide us with the best chance to ensure that these type[s] of products are detected with certainty in global trade," he adds.
The way forward
Amid growing interest in finding efficient, cost-effective and environmentally friendly methods of disposal, WIPO is working with its international partners, including the United Nations Environment Programme (UNEP), and its member states to promote a clearer understanding of the dimensions of the challenge. In July 2012, in cooperation the Government of Thailand and UNEP, WIPO organized a Regional Workshop on the Disposal of Counterfeit Goods for the Judiciary, Law Enforcement Officials and Environmental Officers. "The Workshop was an eye-opener and was extremely helpful in enabling me to grasp the serious impact that counterfeit and IP infringing goods in general can have on the environment" observed Mr. Tohpong Smiti of the Department of Intellectual Property, Thailand.
The event brought together officials from Cambodia, Malaysia, the Philippines, Thailand and Viet Nam and was an important first step in fostering greater regional cooperation and in developing a consistent approach to and guidance in tackling this complex issue.
In the face of the daunting logistical challenges associated with the environmentally-sound disposal of counterfeit goods, participants underlined the importance of strengthening national legal frameworks on waste management and developing efficient and timely legal processes for the safe and efficient disposal of IP infringing goods. They also agreed that awareness-raising among policymakers, the general public and right holders was an essential part of policy development in this area.
As the disposal landscape continues to evolve, the long-term objective when disposing of IP infringing goods is to:
reduce the production and demand for infringing goods through more expansive and effective public education and awareness campaigns;
reuse all IP infringing goods that are certified as safe to donate, and to
recycle everything else.
The environmentally-sound disposal of confiscated IP infringing goods is becoming a priority for many countries. Tackling this complex challenge in a timely and efficient manner will go a long way in minimizing the costs and potential environmental harm associated with bottlenecks in the storage and disposal of IP infringing goods.
WIPO's Advisory Committee on Enforcement
Established by WIPO member states in 2002, the mandate of the Advisory Committee on Enforcement (ACE) focuses on technical assistance and coordination with relevant stakeholders to improve capacity to combat counterfeiting and piracy. It does not have a mandate to set norms. The Committee also promotes information exchange and public education activities to build respect for IP.
The ACE approaches IP enforcement in the context of broader societal interests and especially development-oriented concerns, with a view that "the protection and enforcement of IP rights should contribute to the promotion of technological innovation and to the transfer and dissemination of technology, to the mutual advantage of producers and users of technological knowledge and in a manner conducive to social and economic welfare, and to a balance of rights and obligations", in accordance with Article 7 of the TRIPS Agreement, as outlined in the WIPO Development Agenda (Recommendation 45).
The WIPO Magazine is intended to help broaden public understanding of intellectual property and of WIPO's work, and is not an official document of WIPO. The designations employed and the presentation of material throughout this publication do not imply the expression of any opinion whatsoever on the part of WIPO concerning the legal status of any country, territory or area or of its authorities, or concerning the delimitation of its frontiers or boundaries. This publication is not intended to reflect the views of the Member States or the WIPO Secretariat. The mention of specific companies or products of manufacturers does not imply that they are endorsed or recommended by WIPO in preference to others of a similar nature that are not mentioned.