WIPO'S First Open Day
June 2010
WIPO linked up with its United Nations (UN) partners in celebrating World Environment Day on June 5, opening its doors to the public to host the Organization's first Open Day. The event, which was a resounding success, was an opportunity for WIPO to showcase its activities and to explain to visiting members of the public, young and old, what intellectual property (IP) is all about and how it contributes to our daily lives.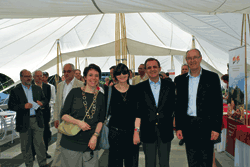 from the right: Ms. Sandrine Salerno, Mayor of the
City of Geneva, Ms. Micheline Calmy-Rey, Swiss
Federal Councillor and Head of the Federal
Department of Foreign Affairs, Mr. Sergei Ordzhonikidze,
UNOG Director General and Mr. Francis Gurry,
WIPO Director General (Photo: WIPO/Jewell)
The Open Day took place in the context of a weekend of activities organized jointly with UN partners, in cooperation with the Swiss Confederation, the Geneva Cantonal authorities and a number of local non-governmental organizations, including the Fondation de Genève, Agir and Mandat international.
"Many species, one planet, one future"
The event was inaugurated at an official ceremony attended by high-level officials at the gates of the UN in Geneva. Speakers underlined the importance of working together to protect the environment for future generations and echoed the theme of World Environment Day 2010, "Many species, one planet, one future." Many of the wide-ranging activities organized in the UN grounds in Geneva, on the Place des Nations and at WIPO focused on biodiversity and environmental sustainability, to mark the International Year of Biodiversity 2010.
Something for everyone
On one of the sunniest days of the year, an estimated 3,500 visitors crossed WIPO's threshold eager to find out more about the Organization and its activities, to explore the lobby, conference rooms and to enjoy a stunning panoramic view of Geneva, its lake and the Alps from the top floor. They also had a chance to get a birds' eye view of WIPO's new eco-oriented office building, due for completion later this year, and to view a scaled model of WIPO's new conference center on which work will begin early next year.
Eco-inventions
A full program of activities was on offer for all ages. Inventors of "green" technologies were on site to demonstrate their technologies and to explain why IP is important for them. Mr. Marc Parent, who has developed a pioneering means of producing drinking water from condensation, underlined the importance of patent protection as a means of reassuring and attracting investors to finance and support the commercialization process.
More adventurous members of the public – and some staff – tried out the Segway®, an alternative, eco-friendly mode of transport, on a dedicated circuit. In spite of a few near misses, there were no bumps or bruises! "What a thrill, it's a brilliant and fun way to get around!" exclaimed one happy traveler.
The Segway® is a self-balancing electric transportation device controlled by the natural movements of the rider. The brain-child of U.S. inventor and entrepreneur, Dean Kamen, it features a sophisticated combination of gyroscopes, computers and propulsion and energy management systems that respond to subtle shifts in balance.
The name "Segway" is a homophone of "segue" (a smooth transition, literally "follows" in Italian and Portuguese). The Segway® balances using sensors that detect changes in terrain and body position and the latest model does this up to 100 times per second. It can travel a distance of 24 miles/39 kms on a single charge. A 15-minute charge is good to travel one mile/1.6km and in most countries a full day's charge (between 8 and 10 hours) will cost less than the price of a newspaper. Mr. Kamen filed an international patent application of the Segway® in 2000 (WO/2000/075001) using WIPO's Patent Cooperation Treaty.


(Photo: WIPO/Jewell)
WIPO and its role
Visitors had an opportunity to visit a range of information stands covering all aspects of the Organization's work. They were able to learn about the basic elements of IP – patents, trademarks, designs, geographical indications and copyright – and to acquaint themselves with WIPO's role, mission and extensive activities. An enthusiastic and energetic group of staff volunteers was on hand to answer questions and explain the practical side of WIPO's work.
Spot the difference
Families had fun at the UPOV stand where they were able to learn about plant breeding and why new varieties are needed, and to see with their own eyes the differences that exist between new plant varieties. Plant breeders brought their work to life with games challenging adults and children to identify the characteristics of different varieties of roses, apples and wheat. This went a long way in communicating why plant variety protection is necessary to encourage the development of new varieties.
Debating the issues
In keeping with World Environment Day, WIPO hosted an insightful public debate on intellectual property and the environment, of which we highlight the main points in the following article. In a separate event, Mr. Gurry fielded questions on issues ranging from the future of copyright in the digital era and the implications for the music and film industries to IP and health, the life sciences and IP's role as a driver of innovation and economic development.
Celebrating quality origins
The Swiss Federal Office of Agriculture teamed up with the Swiss AOC/GIP Association to showcase a range of quality Swiss produce. These included the Ajoie sausage (Saucisse d'Ajoie), "a real pearl of Jura cuisine." This finely flavored pork sausage with a hint of cumin is produced from locally sourced products by 10 specialist butchers exclusively in the Porrentruy district of the Swiss Jura. It acquired its status as a geographical indication in 2002.
GI and AOC certification play a key role in adding value to locally produced specialist products, as well as helping to maintain small-scale operations and preserve the traditional knowledge, know-how and expertise that have developed in rural communities over hundreds of years. It is a guarantee of quality for consumers and helps to strengthen the identity and distinctiveness of local communities.
The Association regroups all those who have obtained AOC or GI status and supports certified producers with advice on marketing and promotional campaigns. It is also engaged in international debates to promote agricultural sustainability.
Local Geneva wines and juices, produced under the label Genève Région, Terre Avenir were a popular choice for many thirsty visitors! This, an initiative of the Office de Promotion des Produits agricoles de Genève (OPAGE), aims to re-align agriculture with its traditional role, namely producing basic products for local inhabitants.
The initiative is underpinned by the "principle that each state is entitled to choose its food supply freely and in accordance with collective regional or national interests." A multitude of items are sold under this label which features in many local food stores. It represents a guarantee that products are grown sustainably within Geneva and the surrounding area and offers a range of guided tours and tastings to raise awareness about the multifunctional role of farming, including its role in conserving natural resources and maintaining the rural landscape.
STOP piracy
Switzerland's Stop Piracy Campaign highlighted the threats posed by counterfeiting and piracy. This Campaign brings together Swiss businesses and governmental agencies in a public-private partnership to fight counterfeiting and piracy. This illegal trade costs the Swiss economy alone an estimated 2 billion Swiss francs annually inhibiting innovation, destroying jobs and endangering consumer safety and health.
Movie time
For those wishing to escape from the glare of the sun, there were a series of videos featuring artists and musicians who explain the destructive impact of copyright piracy on their livelihoods. Yann Arthus Bertrand's high impact and thought-provoking film "Home" was also screened. The unique aerial footage from the over 50 countries featured in the film movingly depicts Mr. Bertrand's wonder at the natural world and his concern about the current pace and scale of environmental degradation. The film ends on a positive note, challenging viewers to work together to create a cleaner, greener future.
WIPO's green team reaches out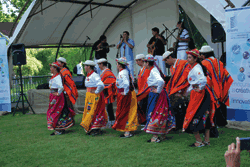 Folk dancers and musicians from Ecuador
(Photo: WIPO/Jewell)
WIPO's Carbon Neutrality Project joined other international organizations on the Place des Nations to explain the eco-friendly steps that are being taken by the Organization to reduce its carbon footprint. Children and adults were invited to contribute to two unique collective artworks by illustrating elements of their vision of an environmentally sustainable future.
In tune with nature
The passing crowds were also treated to a full musical program in the Organization's gardens, featuring the rhythmic beat of South African group "Black Earth," the evocative and colorful performances by Ecuadorean folk dancers, Nuestro Manantial (Our Spring) and the talented band of musicians, Siembra (Sowing).
The first WIPO Open Day was an occasion for the Organization to open its doors to the local community and to explain the relevance of its work in the world today. It was an opportunity for the many locals who have often admired WIPO's iconic building from afar to satisfy their curiosity by entering its doors and meeting those who work there. This colorful event really did offer something for everyone.
WIPO Welcomes Local Businesses for Roundtable Discussion
Ahead of the weekend's packed program of events, on June 4, WIPO teamed up with Geneva's Economic Development Service to host a roundtable discussion on how small and medium-sized enterprises (SMEs) and start-up companies can use IP to protect their innovations and sharpen their competitive edge. The event, which brought together more than 120 participants, many of whom were local entrepreneurs operating in the Geneva area, sought to highlight best IP management practices for SMEs and start-ups. A line-up of prestigious speakers shared their experiences and insights with the participants.
The session was opened by Geneva Councillor for Regional, Economic and Health Affairs Pierre-François Unger who noted that innovation and innovative products with high added value are the main drivers of growth. He said that in the current climate, companies that focus on innovation greatly improve their chances of success and will be the first to benefit from economic recovery. In his opening remarks, WIPO Deputy Director General Christian Wichard observed that in an innovation-based and service-oriented economy IP plays a key role in economic decision-making. He noted that in Switzerland, as in most countries, SMEs are the backbone of the economy and that it is crucial that they fully and optimally exploit their innovative and creative capacities.
WIPO and the Swiss Federal Intellectual Property Institute in Berne outlined the range of support services and resources available to SMEs and start-ups, including practical training courses, information materials and online databases, to support more effective use of IP by this dynamic business sector. Finally, participants heard from two local inventors and entrepreneurs who are well versed in using the IP system, namely Mr. Eric Favre, CEO of Monodor and inventor of the original "Nespresso" coffee capsule, and Mr. Giovanni Leo, co-founder and Chief Technology Officer responsible for IP management in the medical device start-up, Endosense. Both speakers underlined the importance of thinking about protecting IP in the early stages of business planning to optimize investment opportunities further down the line.
The WIPO Magazine is intended to help broaden public understanding of intellectual property and of WIPO's work, and is not an official document of WIPO. The designations employed and the presentation of material throughout this publication do not imply the expression of any opinion whatsoever on the part of WIPO concerning the legal status of any country, territory or area or of its authorities, or concerning the delimitation of its frontiers or boundaries. This publication is not intended to reflect the views of the Member States or the WIPO Secretariat. The mention of specific companies or products of manufacturers does not imply that they are endorsed or recommended by WIPO in preference to others of a similar nature that are not mentioned.